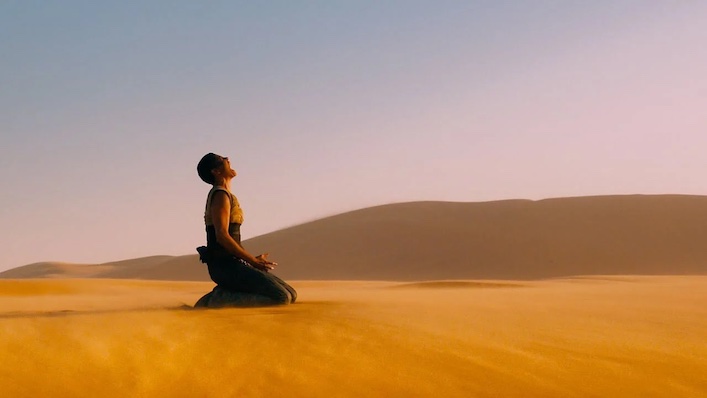 The good news is: Furiosa has a release date! The bad news is…

---
Here's some news to make you rip off your prosthetic arm, sink to your knees in a featureless desert landscape, and bellow at the sky in sorrow and rage.
Warner Brothers have announced a release date for Furiosa, the apocalyptic prequel to 2015's Oscar-scooping, groundbreaking Mad Max: Fury Road. Previously set to premiere in Australian cinemas in June of 2023, we're now looking at May 23, 2024 as our first chance to see Furiosa in cinemas.
That means it'll be almost a decade between the release of Fury Road and Furiosa, but audiences shouldn't have any trouble staying hyped up for the prequel's release. Fury Road was such a massive hit in large part due to Charlize Theron's soot-covered badass.
Sign up for Flicks updates
It was initially surprising to fans that titular character Max (Tom Hardy) literally took the passenger seat, while Furiosa and her rescued five wives of Immortan Joe were perhaps more central to the sequel's plot. But after a few all-timer action scenes, including Furiosa using Max's shoulder as a rifle stand, we were in love.
But love is a rollercoaster, and the joyous news that the next Mad Max film would be a Furiosa origin story was tempered by the fact that Charlize Theron would not be returning to the role. The actor admitted that the recast was "a little heartbreaking" to her and honestly, it's heartbreaking for all of us, gal.
The Queen's Gambit star Anya Taylor-Joy has since been cast as the younger version of Furiosa, with supporting players including Aussie beefcake Chris Hemsworth and Yahya Abdul-Mateen II, who is seemingly set on stealing every big genre franchise.
George Miller hasn't driven the Mad Max franchise in the wrong direction yet, and Taylor-Joy has shown off impressive action skills in the maligned New Mutants movie, so we're sure she'll absolutely kill it in the role.
But still…nothing will take away from the sting of waiting a further three years for this mad movie!!! Regional New South Wales has been confirmed as Furiosa's filming location, a lovely nod to how the original Mel Gibson films were shot near Broken Hill. So come on, Miller: chuck some guzzolene in those engines and fang it to 2024.