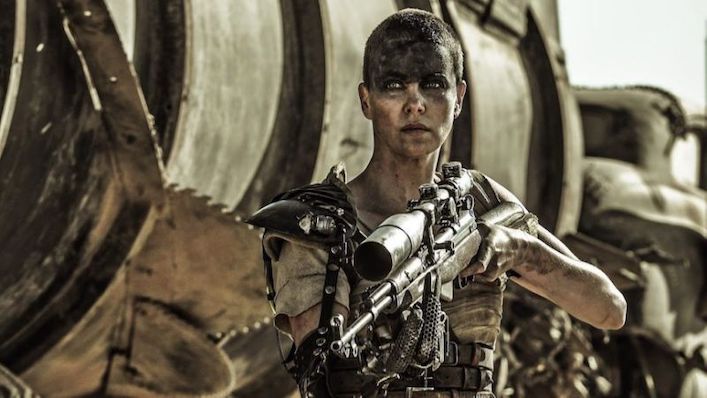 Charlize Theron is disappointed she won't return for Mad Max's Furiosa spin-off

---
About five years ago, Charlize Theron's performance as Furiosa in Mad Max: Fury Road was one of the film's most pleasant surprises. Not because she was terrific (duh), but because the role sometimes seemed more central than Tom Hardy as Mad Max Rockatansky himself.
Baked in soot and taking down baddies with one steampunk prosthetic arm, Theron was kind of the real hero of the film. And nobody, including the actor herself, could wait to see what happened to the character next.
Sign up for Flicks updates
But all things are not shiny and chrome. It seems the Mad Max franchise has moved in another direction, with director George Miller confirming that an upcoming Furiosa prequel will cast a younger actress in the role. Theron has admitted to feeling "heartbroken" over not returning to the character.
"A lot of women don't get a second chance, but when men make these movies and fail miserably, they get chance after chance after chance to go and explore that again. That doesn't necessarily happen for women," Theron explained to The Hollywood Reporter. She continued on to claim that action blockbusters are "not a very forgiving genre when it comes to women".
Why is this happening???? Charlize is Furiosa. That's it.

Just make a new film set in the same world with an original character. God damn. https://t.co/u7DeltO62Q

— ferdosa (@atomicwick) July 6, 2020
In Miller's announcement to the New York Times that he's casting a younger version of Furiosa, the Aussie director claimed to have made every attempt to keep Theron in the role. "For the longest time, I thought we could just use CG de-aging on Charlize, but I don't think we're nearly there yet", Miller said. "Despite the valiant attempts on The Irishman, I think there's still an uncanny valley".
Theron's statement to THR acknowledges to complexity of the decision while not downplaying the actress's sadness.
"Listen, I fully respect George, if not more so in the aftermath of making Fury Road with him. He's a master, and I wish him nothing but the best…(but) yeah, it's a little heartbreaking, for sure. Obviously, I would love to see that story continue, and if he feels like he has to go about it this way, then I trust him in that manner."
With all due respect to George Miller I'd much rather see a Fury Road spin-off with Charlize as Furiosa than a prequel with a younger actor. Part of the beauty of Fury Road is that we know what we need to about her past. I want to see what comes next. https://t.co/MX45l3N26T

— Richard Newby (@RICHARDLNEWBY) July 7, 2020
No matter who Miller casts as the younger Furiosa, Theron's performance has already been immortalized, and left some very big shoes for the next girl to fill. And speaking of immortal, you can check out Theron's latest action work in Netflix's The Old Guard, where it's clear that Theron can kick ass in any movie, century and role.