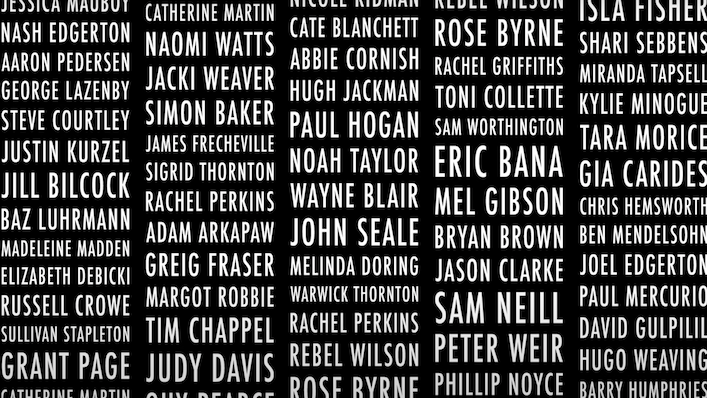 Celebrate homegrown talent at NFSA's upcoming Australians & Hollywood exhibition

---
These are strange times for the Australian film industry. Whilst coronavirus was keeping us from supporting the cinemas and Hollywood films we yearn for, it was also a banner year for the national box office, with all three top-performing films being homegrown titles at one point (for the first time in our box office history).
To celebrate the bewildering present, promising future and illustrious past of Australian filmmaking, there may be no better way than to visit the National Film and Sound Archive's upcoming exhibition Australians & Hollywood: A Tale of Craft, Talent, and Ambition. Opening in the ACT this December 4, the blockbuster show will illuminate the ongoing love story between Australian talent and the global screen industry.
Australians & Hollywood is not only NFSA's most ambitious project ever, but also the archive's first original show in two decades. The exhibition will feature "never-before publicly seen props, costumes, original documents, and footage from the NFSA collection", all related to the directors, actors, and craftspeople who make Aussie cinema the juggernaut that it is.
While the premiere of the exhibition itself is still months away, the teaser trailer below should get homegrown hype pumping in your veins: we see churning columns of recognisable names. There's filmmakers like Baz Luhrmann, George Miller, Peter Weir, Warwick Thornton; our old guard of acting talent Paul Hogan, David Gulpilil and Hugo Weaving; plus the youthful new locals taking over our screens right now—from Margot Robbie to Chris Hemsworth and Miranda Tapsell.
With its stated mission "to collect, preserve and share Australia's vibrant and diverse audiovisual culture", the National Film and Sound Archive is the ideal home for a celebration of this scope.
One previous visitor who is now part of the show herself? Black Widow director Cate Shortland, who describes her appreciation of NFSA. "As a young filmmaker I would visit the Film and Sound Archive in Canberra and watch material that I could not get anywhere else. It was special. It is humbling to have my work included. It makes me feel I have lived a life."
The Canberra organisation has previously curated shows on Heath Ledger, The Dressmaker and Aussie photojournalism, but NFSA Chief Engagement Officer Matt Ravier highlights the upcoming exhibition as a broader look at our national screen culture, saying: "This exhibition is both a celebration and provocation to rethink Australian cinema: at home, in Hollywood and beyond. It is time for Australians to be invigorated and inspired by our cinematic success stories."
If you're not a Canberra local, a road trip in the name of film might be in order, anytime from December 4 to April 25 of 2022 when Australians & Hollywood: A Tale of Craft, Talent, and Ambition will be the main attraction at NFSA. Visit their official website and stay tuned for more fascinating details of this must-see exhibition.