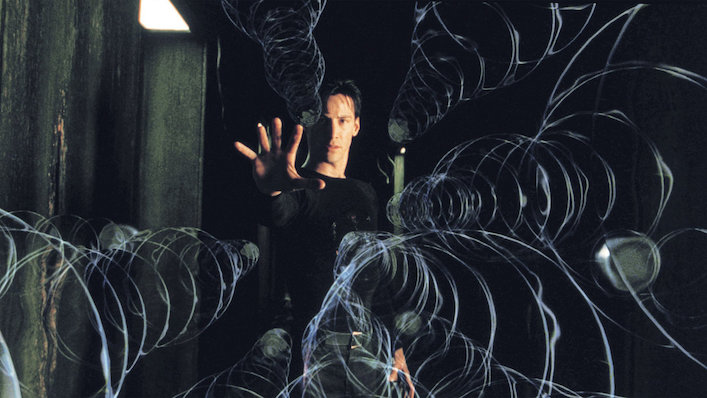 All three original Matrix films are now on Netflix for your spoon-bending pleasure

---
It's been over two decades now since the Wachowski's game-changing action film The Matrix spoke of sinister algorithms, humans enslaved by the pacifying visions of their hyper-intelligent machines.
Does that make it kind of ironic that all three films in the Matrix trilogy are now available on Netflix, the entertainment world's favourite self-destructive time-wasting algorithm? Sure, but it's hard to feel too much panic about that fact: instead, we're hyped that these slick movies are easier to watch than ever, and just in time for you to start building up a healthy buzz for the upcoming fourth film.
After subverting gender and genre alike in clever early films such as Bound, which Travis Johnson recently celebrated as "a smart and vital classic of modern queer cinema", filmmaking siblings The Wachowskis set their sights on world domination in 1999. World domination via robots, to be precise, with Keanu Reeves, Laurence Fishburne and Carrie-Anne Moss fighting to rescue humanity from its imprisonment in virtual reality.
Since then, the phrase "a glitch in the matrix" has been coined to refer to illogical moments in our so-called "real world" that seemingly prove it's all nothing more than Hugo Weaving's sinister simulation.
There seems to be a glitch in the matrix. pic.twitter.com/4HgKxhYdzv

— David Crowder (@crowdermusic) July 28, 2021
Whilst you're probably well-aware of that first film's dramatic success and enduring cultural impact (the bloody Looney Tunes are still making lame callbacks to those iconic fight scenes as recently as Space Jam 2: A New Legacy), Netflix has also recently added The Matrix Reloaded and The Matrix Revolutions to its film library. Not nearly as beloved as the first instalment in the trilogy, these sequels were filmed back-to-back primarily in Sydney's Fox Studios, broadening and complicating the mythology of Neo's various epiphanies to a mind-boggling degree.
Whether you're a true believer who'll stick it out through all three films, or you tend to just return to that first sensational blockbuster entry, Netflix's timing means you've got one good extra reason to do your homework when it comes to The Matrix trilogy. The upcoming fourth film in the Matrix trilogy, so far simply titled 'Matrix 4', is slated to arrive in cinemas on December 16 of this year.
Returning stars Keanu Reeves and Carrie-Anne Moss have been spotted filming a thrilling motorcycle chase for the film on the streets of San Francisco, but it's odd that we've seen nothing else about the movie. No teaser, no promo photos, no official title…it's as if Agent Smith himself has wiped them out of our reality. At least we know the cast includes Jada Pinkett Smith, Yahya Abdul-Mateen II, Neil Patrick Harris, Jonathon Groff, Priyanka Chopra, and previous Wachowski collaborator Christina Ricci. What an eclectic bunch.
I need the matrix 4 now pic.twitter.com/bbckzKFiJ7

— ugh (@thairdbitch) July 25, 2021
For now, choose the red pill (red for Netflix, I mean, not its creepy adoption by the alt-right) and find yourself in a world of immaculate fight choreo, existential philosophy, and sexy shiny latex. It's been all around you this whole time: you just needed Keanu to show you.