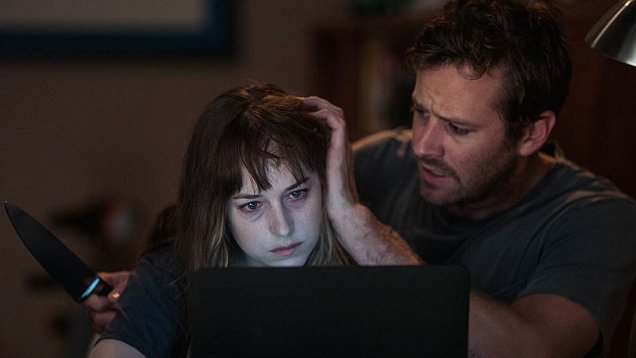 The most anticipated horror films of 2019

---
In recent years a glut of provocative horror movies with mainstream appeal have got everybody talking. Critic Alexandra Heller-Nicholas picks 10 of the most anticipated horror films arriving in 2019. 
Horror cinema grows and flourishes in the margins; its long history of indie and underground success stories make the mainstream still often the last place the genre's treasures appear. But in recent years particularly there has been an undeniable groundswell of thoughtful, provocative horror that has moved from its traditional niche stomping grounds to the multiplexes, such as Jennifer Kent's The Babadook, Ari Aster's Hereditary, Jordan Peele's Get Out and John Krasinski's A Quiet Place.
The horror slate for 2019 shows no sign of this trend abating, be it in terms of big-names with mainstream appeal or smaller movies destined to ignite the festival circuit.
Here's the best the year has to offer.
One of the most anticipated films of the year regardless of genre, Jordan Peele's sophomore effort is the domestic horror film Us, starring Lupita Nyong'o and Winston Duke. Teaming again with Blumhouse Productions after the astonishing success of his debut feature Get Out in 2017 – which garnered an award from the notoriously horror-shy Oscars, no less – the early promotional rumble for Us promises a film no less compelling, original and disturbing.
Unleashed at last year's Toronto International Film Festival and scheduled for a local 2019 release, if Australian filmmaker brothers Kiah and Tristan Roache-Turner impressed with their feature debut Wyrmwood, Nekrotronik is even more dazzling. Starring French cinema icon Monica Bellucci at her supernaturally demonic best, alongside Abe Forsythe's Lupita Nyong'o-fronted zom-com Little Monsters, Nekrotronic is one of the most anticipated Australian-directed horror films of the year.
With the underrated Christmas horror-comedy Krampus already under her belt, with Hereditary Toni Collette established herself as a horror performer supreme. While Hereditary's director Ari Aster prepares to release his next film this year – another horror movie, Midsommar – Collette continues her relationship with the genre in Dan Gilroy's forthcoming Velvet Buzzsaw alongside Jake Gyllenhaal and Rene Russo. Reinventing the horror trope of the haunted painting story, Velvet Buzzsaw will stream on Netflix in early February following its premiere at Sundance this month.
After the international success of his 2016 horror film Under the Shadow, British-Iranian filmmaker Babak Anvari returns with the forthcoming horror film Wounds. Adapted from Nathan Ballingrud's novella The Visible Filth, the film follows a bar tender whose life is rocked after discovering an abandoned mobile phone. Starring Armie Hamer and Dakota Johnson, the film also features Zazie Beets from Atlanta and Karl Glusman from Gaspar Noe's Love, Nicolas Winding Refn's The Neon Demon, and Tom Ford's Nocturnal Animals.
Sign up for Flicks updates
Few directors straddle genre and art cinema filmmaking with quite the same unrestrained zeal as Peter Strickland. Moving across genres and inspirations yet maintaining his signature dark and often humorously twisted vision in previous films such as Berberian Sound Studio and The Duke of Burgundy, even for admirers of the British director's work little could prepare them for the delightfulness of his horror-comedy film In Fabric. Following characters who cross paths with haunted dress purchased from a retro department store and its over-the-top Eastern European gothic sales assistants, In Fabric is creepy, hilarious and moving in equal measure.
Director Lars Klevberg joins in the remake fun this year with his interpretation of the 80s classic Child's Play pegged for release, but more interesting is his much-anticipated feature Polaroid, based on his earlier short film with the same name. Following the plight of a school teacher who discovers the haunted camera of the film's title, it stars Kathryn Prescott from Skins in the lead role, as well as a small appearance by the legendary Grace Zabriske (Sarah Palmer from Twin Peaks).
The Turning
Horror has long looked at history for inspiration, and if the hubbub around the whitewashing of Michael Chaves's adaptation of the Mexican folktale The Curse of La Llorona leaves something to be desired, there are more thoughtful reimaginings of famous tales in the works. Renowned for her 2010 biopic The Runaways, Floria Sigismondi has adapted Henry James's famous 1898 gothic novella The Turn of the Screw in The Turning. Produced by Steven Spielberg and starring Stranger Things's Finn Wolfhard, Sigismondi's background as a music video director for goth idols like Marilyn Manson and The Cure make her a perfect choice for director.
Rabid
Horror filmmakers needn't look as far back as the 19th century for ideas, and horror remakes increasingly feel like they make up a significant proportion of new genre releases. 2019 sees reboots of The Grudge, Pet Sematary, Jacob's Ladder and the sequel to the recent remake of Stephen King's It all set for release. Enter Canadian identical twin filmmakers Jen and Sylvia Soska – aka The Twisted Twins – and their version of David Cronenberg's cult horror classic Rabid. Featuring horror icon Lynn Lowry from Cronenberg's Shivers in a small role, like the Soska's previous cult favourites American Mary and Dead Hooker in a Trunk, Rabid will be a remake highlight.
The Perfection
With its world premiere at Texas's Fantastic Fest last September leaving audiences screaming in their seats, Netflix snapped up stalwart film and television director Richard Shepard's love letter to exploitation cinema, The Perfection. A film too easily to spoilt with a traditional plot synopsis, its story of two young, ambitious violinists (Logan Browning and Get Out's Allison Williams) is incandescent with both joy and rage, a perfect snap shot of the volatile, impassioned terrain of contemporary gender politics.
The Lighthouse
The big question after Robert Eggars' debut feature The Witch swept the world in 2015 was: what next? While The Witch's star Anya Taylor-Joy is set to star in the horror-themed Marvel blockbuster The New Mutants this year, Eggars rejected his initial plans for a Nosferatu adaptation and instead made The Lighthouse with Willem Dafoe and Robert Pattinson. Little is known about the film beyond its historical New England setting, but considering the fearless originality and undeniable talent driving The Witch, The Lighthouse will be well worth the wait.