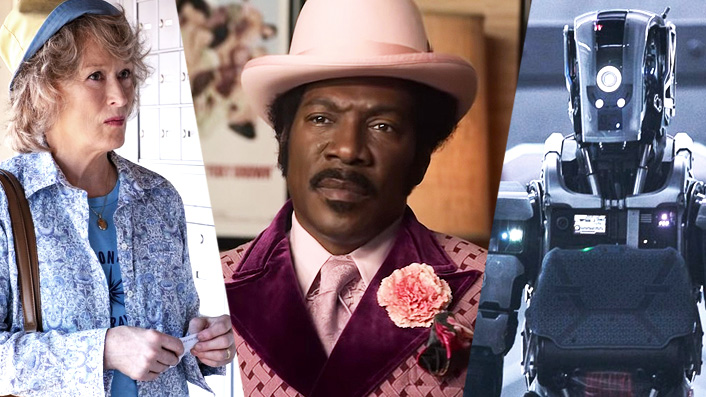 The best straight-to-streaming films of 2019

---
Some of the best films of 2019 never made it into cinemas. Critic Sarah Wards picks the highlights of  last year that went straight to streaming platforms.
Some of the best films of 2019 didn't receive a theatrical release in Australian cinemas. The pointless battle between streaming and traditional theatrical exhibition has earned ample attention this year, with online platforms moving into the filmmaking game in a significant way.
Netflix financed shockers, such as the Mads Mikkelsen-starring John Wick wannabe Polar, and let Michael Bay indulge his worst proclivities in 6 Underground. But the streaming behemoth and a number of other services have also delivered stellar movies this year, even if they didn't make it to the big screen.
Highlighting films only available outside of a cinema, this list excludes movies that received a general theatrical run in Australia – including Marriage Story, The Irishman, The Two Popes, The King, The Report and Brittany Runs a Marathon.
Here are 2019's straight-to-streaming standouts.
It's amusing that, just as The Addams Family is reborn as a literally cartoonish remake, the best animated film of the year focuses on a severed, scampering hand. Said wandering meat hook doesn't have a name, but it is clearly trying to reunite with its other parts in I Lost My Body, the gem of a feature debut by French writer/director Jérémy Clapin.
Co-adapting Amelie screenwriter Guillaume Laurant's book Happy Hand with the scribe himself, this bittersweet movie not only follows the meandering mitt, but also pizza delivery boy Naoufel (Hakim Faros). The latter's story spans love, tragedy and trying to start anew, with expressive animation filling each frame with melancholic yearning. Still, it's the hand segments that truly astonish in their visuals as well as their humour.
Marking the first feature by French actor-turned-director Mati Diop, Atlantics blends supernatural drama, romance and real-world concerns in Dakar. In doing so, it became the first film directed by a black woman to screen in competition at Cannes – and it won the festival's Grand Prix for its efforts. Rightfully so, too.
A gorgeously shot, sensually layered, constantly surprising feature, it steps into the life of teenager Ada (Mame Bineta Sané), who flits from swooning over the one she loves (Ibrahima Traore) to marrying one she doesn't (Babacar Sylla).  While Diop is already known for acting in Claire Denis' 35 Shots of Rum, this heralds the start of a promising career on the other side of the camera.
Dropping virtually simultaneously, Fyre: The Greatest Party That Never Happened and Fyre Fraud make a compelling double. One made by Netflix, the other by Hulu (receiving a televised broadcast in Australia) they each have murky areas but, combined, they catalogue the train wreck that was the failed 2017 Fyre Festival.
And, they scratch an itch that many people mightn't know they had: marvelling at the horrors that arrogance and wealth can bring, and revelling in the inevitable downfall. The Greatest Party That Never Happened is the superior of the two, content-wise, but the entire story told by both sits in 'you have to see it to believe it' territory.
Smart, suspenseful and featuring a formidable performance by young Danish actor Clara Rugaard, I Am Mother deserved a theatrical run. Australian filmmaker Grant Sputore's debut feature fills a big screen easily with its high-concept sci-fi tale of a girl (Rugaard), a robot (voiced by Rose Byrne) who has raised her since birth and the stranger (Hilary Swank) who comes knocking on their highly fortified door.
Steeped in ideas that aren't just the realm of dystopian speculation, this is a tense, taut musing on nature, nurture and motherhood. It's both richly designed and shot.
A few years back, Steven Soderbergh claimed that he was retiring. Then he made two seasons of exceptional TV show The Knick, 2017's Logan Lucky, 2018's mobile phone-shot Unsane, and now two features this year for Netflix.
With High Flying Bird, he spins basketball contract negotiations into a gripping sports drama, as aided by a meaty lead performance by The Knick and Moonlight's Andre Holland. In The Laundromat, he gets playful with the Panama papers — and with a cast that includes Antonio Banderas, Matthias Schoenaerts, Jeffrey Wright, Meryl Streep, Gary Oldman and Sharon Stone. The latter movie is especially blunt, but still entertaining.
Hala (Apple TV+)

Australian actress Geraldine Viswanathan has enjoyed an impressive past two years. She proved amusing and authentic in teen comedy surprise Blockers, then more than held her own against Daniel Radcliffe and Steve Buscemi in existential sitcom Miracle Workers. She also put in a potent lead performance in Sundance hit Hala.
The latter, which was acquired by Apple at the festival, dives into the life of its eponymous Muslim-American character as she skates, goes about normal high-school life and grapples with her parents' ideas for her future. Naturalistically shot and keenly observed, it's another breakout role for the rising star, as well as a perceptive addition to the coming-of-age genre.
Before Martin Scorsese got cinema-owners all hot and bothered by daring to make The Irishman for Netflix (the only company who'd finance it, it bears stressing), he released another film on the platform. Rolling Thunder Revue: A Bob Dylan Story is styled as a documentary, features genuine archival footage and contemporary interviews, but also adds playful, fictionalised flourishes.
Unsurprisingly, it's a wonder. It helps if you like Dylan, of course. But that's not the only drawcard, or reminder that Scorsese is as talented at indulging and gleefully toying with his love of music documentaries as he is as a dramatic filmmaker.
The obsession that mastering a musical instrument requires, especially under a strict mentor, has already given cinema Whiplash this decade. Now, it also delivers The Perfection. But, switching to cello, giving Allison Williams another great psychological horror role after Get Out, leaning into its genre and decisively making a statement, this is firmly its own film.
Williams plays an ex-prodigy drawn back to her old passion just as a new star pupil (Logan Browning) is pushed into the spotlight. The rest is best left to writer/director Richard Shepard to unleash, and unleash he does in a highly entertaining fashion.
Eddie Murphy is dynamite in Dolemite Is My Name – particularly when he's uttering that phrase. And, starring as comedian, musician, singer and actor Rudy Ray Moore in this engaging 70s-set biopic, he gets the opportunity to exclaim it often. Moore did so himself, creating the character of Dolemite for his comedy gigs, then jumping to comedy records, and finally making self-financed blaxploitation film Dolemite.
Directed by Hustle & Flow's Craig Brewer, and also featuring a memorable turn by Wesley Snipes, this is a spirited, poignant and humorous account of Moore's rise to fame, as well as a film about filmmaking in the Ed Wood and The Disaster Artist mould. And Murphy is simply spectacular.
Starring Donald Glover, scripted by his brother Stephen Glover and directed by regular Atlanta helmer Hiro Murai, Guava Island spins a story around Childish Gambino songs. Partway between visual concept album and music-driven film – so halfway between Lemonade and Purple Rain – it dropped online and was screened at Coachella simultaneously, with Rihanna and Black Panther's Letitia Wright also featuring.
While the 56 minute piece proves short on story, it's big on style, mood and ambition and tone. Shot in Cuba and resembling a postcard even when it skews dark, it's handsome and enjoyable as it charts a musician's attempts to host a festival.