The 10 best Australian films of 2020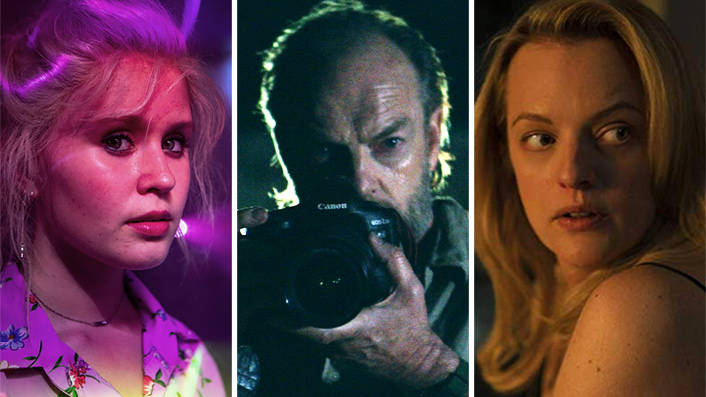 The best homegrown films of 2020 are a diverse bunch that demonstrate Aussie cinema at its finest.
The idea that Australian cinema only tells the same stories over and over again has always been ludicrous, but 2020's slate of movies to reach screens dispenses with that notion emphatically. The year's standouts include a reimagining of one of the country's oft-mythologised historical figures and a subversive take on an iconic horror tale—as well as films about a cancer-stricken teen, an Afghan cameleer and a Indigenous boy determined to fight for his community.
See also
* All new movies in cinemas
* All new streaming movies & series
We've picked 10 in total, which all received a general theatrical or streaming release over the past 12 months and demonstrate Aussie cinema at its finest.
Where to watch
Proving infectiously engaging from its opening take on a meet-cute—with teenage cancer patient Milla (Eliza Scanlen) and older drug dealer Moses (Toby Wallace) crossing paths at a Sydney train station—Babyteeth is as emotionally raw as it is stylistically involving. This isn't a standard illness weepie.
Focusing on Milla's journey, as well as the reaction of her parents (Essie Davis and Ben Mendelsohn) to her new infatuation with Moses, Babyteeth finds recognises the messiness of its premise in a way that few other films about the subject even try to achieve. Adapted by screenwriter Rita Kalnejais from her play of the same name, and brought to the screen with big but nuanced emotions and superb performances, it marks a stellar debut film for director Shannon Murphy.
Where to watch
Fans of Justin Kurzel's Macbeth always knew he could never make a standard Ned Kelly movie. Viewers of his disquieting debut Snowtown, about the shocking murders in South Australia, were also well aware that he likes to push audiences out of their comfort zone.
Accordingly, True History of the Kelly Gang is exactly the take on Australia's famed bushranger that Kurzel was likely to make—in that it's bold, brutal, inventive, unconventional, textured and thought provoking. Via its stunning visions of the Aussie landscape and its savvy mirroring of Kelly's iconic helmet as a visual framing device, it's also a movie that couldn't have been directed by anyone else. The story comes from Peter Carey's novel, but the visceral impact is all Kurzel.
Where to watch
Another of 2020's exceptional debuts, The Furnace takes place against the backdrop of Australia's forbidding desert—but writer/director Roderick MacKay views it from a perspective previously unseen in the country's cinematic output. For Afghan cameleer Hanif (Ahmed Malekv), it's purgatory. In 1897, with no other method of moving goods across the nation, he works with other men from India, Afghanistan and Persia to trek across the golden expanse. Then a tragedy changes his routine, and chance sees him team up with a gold thief (David Wenham) in a quest to secure his passage home.
Sign up for Flicks updates
This isn't an action-packed movie. Rather, a thoughtful interrogation of a chapter of the past barely known by Australiansand of the people, factors and attitudes have forged our national identity.
Where to watch
When Edna (Robyn Nevin) goes missing, her daughter Kay (Emily Mortimer) and granddaughter Sam (Bella Heathcote) return to the family home in regional Victoria to find her. From this seemingly ordinary premise, first-time filmmaker Natalie Erika James crafts both an unsettling creepfest—complete with a corroding abode that's instant nightmare fuel—and a dread-fuelled but tender exploration of the ravages of ageing in general and dementia specifically.
That's a tricky balance, but one that she perfects with both scares and sensitivity. Relic is eerie and unnerving; also poignant and heartbreaking. It benefits from three influential factors: exceptional set design, a command of tone that bristles from the outset but never sinks into one mode, and three outstanding leads.
Where to watch
A straight modern-day adaptation of HG Wells' The Invisible Man would've served no-one, so Leigh Whannell doesn't attempt that feat. Instead, he reimagines the story in a variety of smart and savvy ways in this Sydney-shot remake, including placing the victimised Cecilia (Elisabeth Moss) rather than the titular figure at its centre. In the movie's opening, she flees an abusive relationship with an optics engineer. But, weeks later after her ex's purported suicide, she's stalked by strange but unseen events—but no-one believes her.
Moss adds another complicated and compelling character to her ever-growing list of such women, while Whannell deploys the thrills and kinetic action that served him so well in 2018's Upgrade to pitch-perfect effect. The filmmaker also helms Universal's best attempt to bring back its Classic Monster franchise yet.
Where to watch
Filmmaker Maya Newell has already demonstrated her ability to tell moving and crucial childhood tales that help paint a portrait of Australia at its most inclusive, courtesy of her 2015 documentary Gayby Baby. In My Blood It Runs does the same; however, it's no mere do-over.
With 10-year-old Arrernte/Garrwa boy Dujuan Hoosan at its centre, this was always going to be a distinctive film. The resident of Hidden Valley Aboriginal Town Camp, in Alice Springs, not only heartily embraces his culture, but is well aware of how Indigenous Australians are seen and treated—and he's determined to do whatever he can to make a difference. He's a healer and can speak three languages, too, but he's also no stranger to struggle and trouble. In slice-of-life, observational style, Newell captures it all.
Where to watch
Morgana Muses is a woman like few others, and the documentary that shares her name also boasts that trait. Directed by Isabel Peppard and Josie Hess, it engages with its subject—starting with Morgana on a shoot, climbing into a makeshift grave—while also willingly surveying her ups and downs. Unhappy with her small-town life after decades of marriage, Morgana decided to leave her husband. Her intentions were grim, in fact, but what was meant to be a last hurrah ended up inspiring her to try her hand at erotic art.
Morgana, the film, details how its eponymous figure became a star in the age-positive, body-positive, feminist pornography scene; however it also ensures that its audience sees Morgana, the person, for who she is. She spent half a lifetime being viewed by everyone else's terms, after all, and this doco doesn't repeat that mistake.
Where to watch
Among Brazen Hussies' plethora of important points, this detailed documentary reminds viewers that history shouldn't be forgotten. That's an accurate statement in general, but it rings especially true in reference to the Australian women's liberation movement—which started the fight for gender equality in living memory.
Its pioneers are well aware that their battle isn't over yet. Filmmaker Catherine Dwyer spends much of her film listening to their tales, which touch upon everything from the ban on women in public bars to the treatment of single mothers, and she could've made an entire series simply based on their memories and anecdotes. As vital as these first-hand accounts are, however, Brazen Hussies pairs them with a treasure trove of archival material. This is a movie that both tells and shows, and it's gripping.
Where to watch
Eleven years after Cedar Boys, Serhat Caradee returns with another movie about Middle Eastern men in Sydney's suburbs. This time the writer/director turns his attention to the radicalised Jamal (Tyler De Nawi), who returns to Australia to see his dying mother (Helen Chebatte) after a stint fighting overseas. His brother, academic Omar (Danny Elacci), tries to sneak him into a family gathering to say goodbye. First, though, the two men chat through Jamal's time with the Islamic State, his reasons for joining and his hopes now he's back—subjects that'll keep coming up in conversation as more of his relatives, including his angry and disapproving father (Taffy Hany), discover his presence. A Lion Returns is a talk-heavy feature, but engagingly so. Indeed, it's more intimate than most ripped-from-the-headline dramas as a result.
Where to watch
Hugo Weaving turns in one of the most vulnerable performances of his wide-ranging career as a war photographer who is reluctantly forced to come to terms with the impact of his photojournalism—on his own life, marriage and sense of self; and on those he has captured in his frames. But he is almost outshone by his co-star Andrew Luri, a first-timer with magnetic screen presence, who plays a refugee trying to forge a new existence in Australia.
There's much that's impressive about this fictional feature debut from Ghosthunter filmmaker Ben Lawrence, including its astute handling of weighty subject matter; however its performances (including from Hayley McElhinney and Bolude Watson) top the list. They're the reason  this drama proves both rich and delicate, as well as potent.