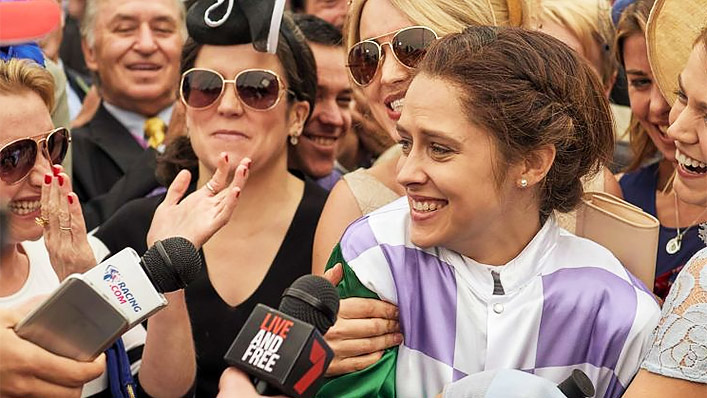 The most inspiring female characters in Australian film

---
Ride Like a Girl joins a plethora of Australian films featuring inspiring women in all shapes, forms and guises.

Dashing across the finish line at the 2015 Melbourne Cup, Michelle Payne gave Australian sport one of its most inspiring stories. Making history will do that – as will conquering 100-to-one odds, overcoming serious injuries that threatened to cut her racing career short, and becoming the first female jockey to win the race that stops the nation in its 150-year-plus duration.
With her true tale turned into a feel-good biopic in Rachel Griffiths' feature directorial debut Ride Like a Girl, Payne now canters into just as illustrious company. Bringing the jockey's story to the big screen, the film joins a plethora of local movies centred around inspiring women in all shapes, forms and guises.
From literary pioneers and fearless explorers, to frazzled mothers and oppressed children, Aussie cinema boasts an array of examples.
Sign up for Flicks updates
Blazing a trail as one of Australia's great female literary pioneers, Miles Franklin also conjured up one of the nation's great fictional female figures. It's a case of like author, like protagonist with My Brilliant Career's spirited Sybylla. She is the young woman eager to become a writer, despite late 19th-century societal expectations pushing her in the opposite direction.
Brought to the screen in Gillian Armstrong's 1979 drama, Sybylla ranks among the country's standout female characters – if not the standout Aussie female character. In the six-time AFI-winning film, that's a communal effort, thanks equally to Franklin's stellar story, Armstrong's astute direction and Judy Davis' phenomenal performance.
As a no-nonsense barrister stuck in a small town in outback Western Australia, Asta Cadell (Deborra-Lee Furness) isn't just inspirational – she's formidable. Initially stranded while awaiting a part for her broken-down motorcycle, she's instantly greeted by an insular and inhospitable community.
When she befriends young Lizzie (Simone Buchanan), a terrified rape victim blamed for her own attack by law enforcement and even her own family, Asta makes further waves. In Steve Jodrell's searing 1988 film, she doesn't back down, motivating Lizzie to finally stand up for herself, too. Furness is a force to be reckoned with here and, 31 years on, the movie hasn't lost an ounce of its power.
Before Griffiths became a filmmaker and set her sights on directing an inspiring story, she starred in one of the greats – and she's just one of Muriel's Wedding's impressive women. Both the eponymous Porpoise Spit resident (Toni Collette) and her old high school pal turned new best friend Rhonda (Griffiths) have ample flaws, and navigate an array of ups and downs.
Inspiration springs from a person's journey, however, rather than their starting point. Indeed, in terms of determination to overcome everything thrown their way, this pair fit the bill. That they waver, make mistakes and are far from perfect is to be expected, with this beloved Aussie comedy embracing the duo warts and all.
Marking Rachel Perkins' feature directing debut, as adapted from Louis Nowra's play, Radiance brings three sisters together for their mother's funeral. With the trio long gone their own ways, it's a complicated reunion – between an opera singer (Rachael Maza) happy to ignore the past, the responsible middle sister (Trisha Morton-Thomas) with the weight of the family's world on her shoulders, and the idealistic, optimistic youngest sibling (Deborah Mailman).
Alone, they all bear their strengths and weaknesses, as this textured movie makes plain. Thoughtfully directed and performed, it's how these women chart their shared emotional terrain, however, that pushes them firmly into inspirational territory.
A film of searing injustice, Rabbit-Proof Fence is also a film of near-unparalleled perseverance. And, as comes with the terrain, of deep-seated inspiration too.
Harking back to an atrocious chapter in Australia's much-too-recent history, Phillip Noyce's drama follows three girls – 14-year-old Molly (Everlyn Sampi), her eight-year-old sister Daisy (Tianna Sansbury) and their ten-year-old cousin Gracie (Laura Monaghan) – as they flout the regressive policy of the time, run away from the camp they've been banished to due to their mixed-race parentage, and set off in search of home. Based on a true story, theirs is a heart-wrenching journey, with the trio trekking 2400 kilometres along the titular structure.
In 1977, at the age of 27, Robyn Davidson left Alice Springs. Her company: a dog and four camels. Her destination: the country's west coast. Her mode of transport: just her humped animal companions, as well as her own two feet. Partway through the 2700-kilometre journey, she agreed to write about her quest for National Geographic, then went on to pen a book about her experience.
Adapted for the screen by John Curran, with Mia Wasikowska walking in Davidson's footsteps, Tracks relives her an epic cross-country endeavour. A trek not only across Australia's beautiful but harsh landscape, but through this awe-inspiring woman's inner grit.
It takes time, fortitude and determination to weather the storm that is grief. A single mother widowed while she was in labour, all of the above are in short supply for Amelia Vanek (Essie Davis). And, when her highly strung six-year-old son Samuel (Noah Wiseman) starts being haunted by a pop-up book character, her reserves quickly dwindle.
But Amelia is a fighter, not only against the supernatural presence that inexplicably lingers in her home, but against anything that might threaten her son and their fraught two-person family. Battling a literal boogeyman, facing her internal demons, doing whatever it takes for those she loves: that's as rousing as it gets.
Returning to the dusty outback locale of Dungatar, Myrtle Dunnage (Kate Winslet) knows how to make an entrance. She hasn't been back since she was a girl, and she knows she won't receive a warm welcome – but that doesn't stop this fabulously attired seamstress.
Wading through her past, seeking revenge for old ills and revitalising the town that was so happy to shun her, Myrtle is determined to make a splash. Bringing Rosalie Ham's The Dressmaker to the screen, Jocelyn Moorhouse is as well. The result is one Australia's most memorable recent characters – and films.