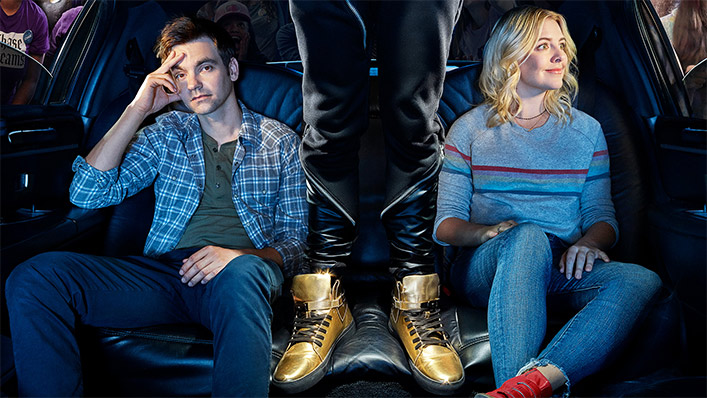 Now on Stan, The Other Two is the best sitcom you haven't seen yet

---
Created by Saturday Night Live alumni Chris Kelly and Sarah Schneider, The Other Two is a hilarious and heartfelt sitcom that explores the impact of show business upon families, writes critic Sarah Ward.

On paper, The Other Two sounds like a stock-standard showbiz-skewering sitcom. Like Difficult People, it follows two New Yorkers hovering on the edges of the industry. Like Barry, it features awkward auditions and crushing realisations that fame doesn't come calling for everyone.
Following BoJack Horseman's hoofsteps, it lays bare the reality of both seeking and achieving stardom. As seen in UnREAL, it also shows the manoeuvring and manipulation required to project even the appearance of success. Like 30 Rock did so well, it mocks the mechanics of the entertainment industry. And, as evidenced in Better Things, it explores the impact of show business upon families.
See also
* Best new movies & series on Stan
* All new streaming movies & series
Created by ex-Saturday Night Live writers Chris Kelly and Sarah Schneider, The Other Two has plenty in common with these series. Indeed, it doesn't hide that fact. But the show boasts its own premise and perspective, finding a savvy angle and astute approach to a familiar concept. Charming, heartfelt and often also silly, it's filled with incisive and hilarious gags, and also feels authentic. As a result, any thoughts of other comedies disappear as quickly as the latest big viral thing's blink-and-you'll-miss-it fame.
Sign up for Flicks updates
The setup: Chase Dubek, aka ChaseDreams (Case Walker), is America's new singing sensation. The 13-year-old rockets into the spotlight when his first single, 'Marry U at Recess', makes him the next Justin Bieber (and he sports the requisite baby face and baseball caps, of course). This isn't his story, however. He has a Scooter Braun-esque manager, Streeter Peters (Ken Marino), who'll do anything to maintain his client's popularity. There's a cynical record label executive, Shuli Kucerac (Wanda Sykes), too. Chase's widowed mother Pat (Molly Shannon) is always close by as well, in extra-supportive stage mum-style. This isn't their story either, though, with The Other Two focusing on Chase's siblings.
Nearing her 30s, Brooke (Helene York) also chased—and achieved—dreams as a teen. At Chase's age, she moved to New York to become a professional dancer, but, years later, she's struggling with her future plans. When the series opens, seeing 50 dicks over the summer is her latest idea. Also in his 20s, Cary (Drew Tarver) is an aspiring actor. His best career moment: sneaking off from his waiter job to audition for a TV commercial role as 'man who smells fart'. His worst career moment: being forced to pretend he's straight to land said flatulence-sniffing gig.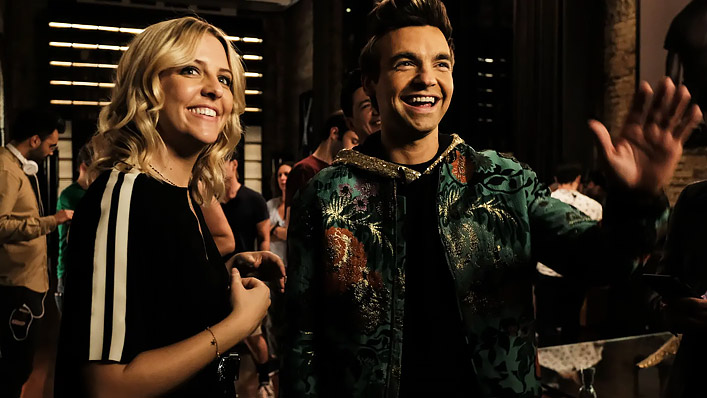 Like most 20-somethings, Brooke and Cary are just trying to keep it together, let alone work out what they want and how to get it. Now, unexpectedly, they also have their baby brother's fame to deal with. They both feel like they're going nowhere, all as Chase is absolutely everywhere. It's a testament to Kelly and Schneider that, though the scene is set for it, The Other Two isn't a tale of sibling rivalry.
Instead, displaying the same tenderness and melancholy evident in Kelly's 2016 film Other People, this a sitcom set in the entertainment world, eager and willing to tear it to comic shreds, happy to drop pop-culture references everywhere (including a pitch-perfect Call Me By Your Name gag and the ridiculous concept that is 'Grease on Mars', but focused on its characters first. More than that, The Other Two is dedicated to building realistic characters, empathising with them and never laughing at them. (York's energetic yet grounded performance, Tarver's knack for awkwardness and their visible rapport all help immensely.)
Brooke and Cary are envious of Chase, whose success makes them feel more aimless than they already did. Still, they always put looking out for their little brother above any pettiness. The Other Two doesn't short-change Chase, either; he's a nice, normal teen who lucked into stardom and really just thinks it's okay. And, while Pat enjoys the perks—staying in Justin Theroux's house, being on Watch What Happens Live, writing a kids' book about a dolphin mother whose son becomes famous—she's excited but never over-zealous.
The Other Two can spit out savage take-downs of showbiz with the best of them. It takes aim at more than enough targets: the commodification of celebrities, the transactional nature of fame, string-pulling powerbrokers, desperate hangers-on, the fickleness of popularity, and the entertainment industry's sexism, ageism and homophobia, to name a few. It also does so frequently, perceptively, cleverly and amusingly. But this is a smart, funny and kind-hearted comedy that saves its scathing parody for the world it's set in, not the people suddenly caught in its web—and it's all the better for it.