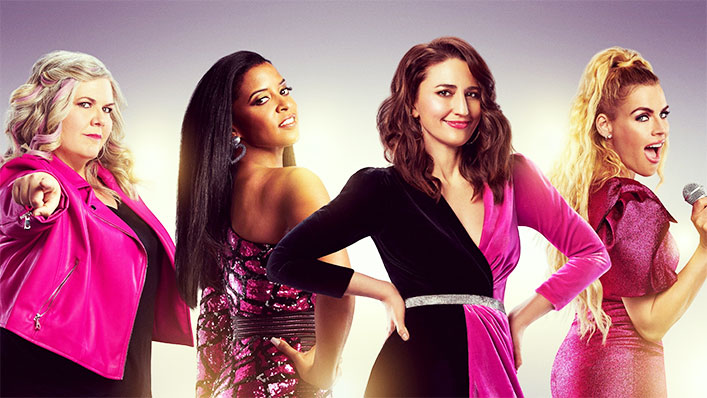 Stan's Tina Fey-produced Girls5eva is pure sitcom gold

---
A one-hit girl group returns to the spotlight in the hilarious Girls5Eva (now on Stan), which blasts society's preconceptions about women in their forties. Here's critic Sarah Ward's review.
After the surviving members of a turn-of-the-century girl group learn that a popular rapper has sampled their only hit, they decide to give stardom another shot. That's the premise of new Tina Fey-produced series Girls5eva—and it's pure sitcom gold. Also gleaming brighter than a Grammy: singer Sara Bareilles, Hamilton Tony-winner Renée Elise Goldsberry, Dawson's Creek and Cougar Town alum Busy Philipps, and AP Bio scene-stealer Paula Pell, who play the ex-pop idols. This comedy has an irresistible hook, but it also knows how to make its catchy beats pack a punch.
See also:
* Best new movies & shows on Stan
* All new streaming movies & series
Two decades have passed since the titular act soared up the charts, then sunk just as fast. Dawn (Bareilles), Summer (Philipps), Wickie (Goldsberry) and Gloria (Pell) haven't always kept in touch since, and only cross paths now because their royalty cheques will be thrown away if Dawn doesn't deliver them. Much of the opening episode provides backstory, incorporating clips from Girls5eva's heyday, with Bareilles, Philipps and Goldsberry playing the 20-year-old versions of their characters. Pell doesn't do the same, which makes her entrance nothing short of glorious.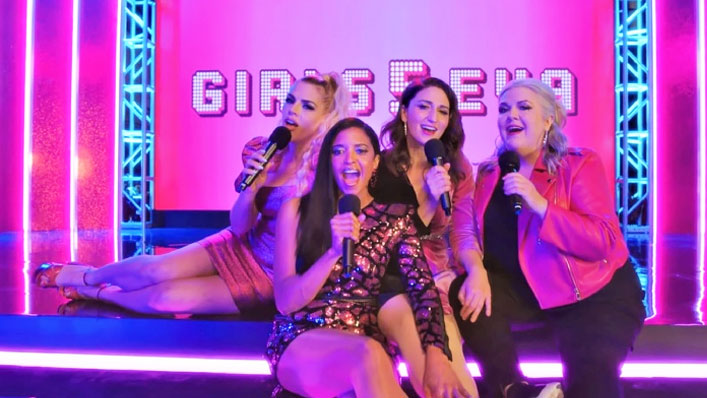 Just eight minutes in, Girls5eva blasts society's preconceptions about women in their forties, setting the tone for the series to come. Creator and writer Meredith Scardino knows that Hollywood usually treats every woman over 30 as if they're all the same age, calls it out, and turns it into a savagely funny gag and a killer stroke of casting. Girls5eva doesn't try to justify Pell's role; nor should any movie or TV show that deploys her always-welcome presence. But the world in general ignores and stereotypes women past their twenties—a truth that Scardino interrogates throughout the eight episode first season.
Gags abound about other topics, including three staples in Fey's sitcoms: the entertainment industry's ridiculousness, New York's chaos, and life's constant unpredictability. Girls5eva resembles a cross between 30 Rock, Unbreakable Kimmy Schmidt, the New Jersey-set Great News and the Lorne Michaels-produced The Other Two. But at the heart of every decision the reformed Girls5eva makes, and every roadblock that gets in their way, is an attitude that Dawn, Summer, Wickie and Gloria have encountered for too long. They're accustomed to being disregarded, but they're no longer wiling to let that be the status quo.
Dawn—once known as the "chill one"—is wracked with anxiety, worried that even daring to chase her dream will make her a bad mother. Summer took her role as the "hot one" so strongly to heart that she's never once contemplated shedding those labels. Narcissistic and over-the-top, Wickie has spent decades trying to smash through the doors that keep closing in her face. As for Gloria, she hid her sexuality so that she could fit the ideal image the first time around; she won't make that mistake again.
Girls5eva isn't an in-depth character study but, portrayed with energy and commitment by its stellar central quartet, there's truth and texture in the group's journey. The show's jokes cut deeper and garner big, smart laughs as a result. Girls5eva revels in being silly, lovingly satirising the Britney Spears and Spice Girls-driven era of pop music. It helps that Jeff Richmond, Fey's husband and a driving force behind 30 Rock's 'Werewolf Bar Mitzvah' and Kimmy's 'Peeno Noir', composes the show's side-splittingly amusing songs.
The series is a mile-a-minute pop culture-themed joke factory. It delivers Fey's best cameo yet—this time as a dream version of Dolly Parton. It'd be entertaining in a disposable way if it didn't also have something to say. And it lingers not only because it's funny, or because of earworm lyrics like "gonna be famous 5eva, cuz 4ever's too short", but because it does all of the above while truly pushing its forty-something characters into the spotlight.