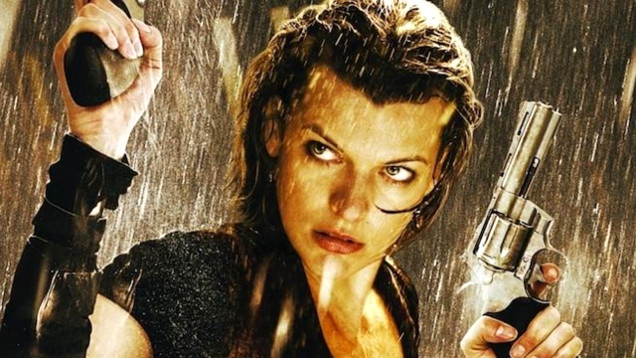 Milla Jovovich's 20 year legacy as the female action star of her generation

---
It's a man's world and nowhere is that more true than Hollywood. Yet despite the demon lizard patriarchy, Milla Jovovich has done something few people expected of the model-turned-actress: she has built a career as an enduring female action star, writes Maria Lewis. 
For decades now, the male action star has carved a sweet little niche for himself in Hollywood. First starting as the ever-buff, always-accented bros of the eighties like Arnold Schwarzenegger, Jean Claude Van Damme, Sylvester Stallone and Dolph Lundgren, before the nineties gave us character actors turned heroes like Bruce Willis, Nic Cage and Wesley Snipes. The naughts provided a range, from Tyler Durdens to Jason Bournes, to Spartan soldiers with an eight-pack to IRL Polynesian Gods like The Rock.
Yet the female action star has always existed as something on the periphery: an oddity rather than the norm. Women haven't had the luxury of being able to do only action like their male peers. A Linda Hamilton, a Sigourney Weaver, a Jamie Lee Curtis, an Uma Thurman, for example, become famous for an iconic action role like Sarah Connor, Lt. Ellen Ripley, Laurie Strode or Beatrix 'The Bride' Kiddo. However, it is a lone role. Action as a genre becomes one they rarely visit: instead they have to keep their work diverse, shuffling from serious dramas to romantic comedies to family fare.
The examples of female stars who have managed to stay exclusively in the action sphere are rare. Angelina Jolie is one thanks to Lara Croft, but also the likes of Mr & Mrs Smith, Wanted and Salt. Michelle Rodriguez might have the highest box-office gross behind her thanks to the enduring Fast & Furious franchise, but also the likes of Avatar and the more high-end Widows. Michelle Yeoh, Zoe Saldana, Scarlett Johansson, Pam Grier, Kate Beckinsale and Lucy Liu are all names in the mix…but Milla Jovovich has made a career out of being the exception to the rule.
Sign up for Flicks updates
For over 20 years, she has forged an intentional path as the world's leading female action star. As she transitioned over from modeling in the nineties, parts in the Robert Downey Jr Oscar-vehicle Chaplin and Richard Linklater's Dazed & Confused didn't necessarily give us a clear idea of what kind of direction the runway star turned thespian would take. Then came a little (big) movie called The Fifth Element in 1997, becoming a colossal box-office hit at the time but also an enduring sci-fi action classic. Her portrayal of the otherworldly ass-kicker Leeloo was not a one off. In between a part in Spike Lee's He Got Game alongside Denzel Washington, she reunited with The Fifth Element filmmaker and then husband Luc Besson to play historic ass-kicker Joan Of Arc in 1999.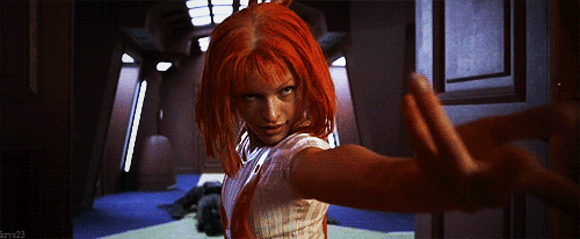 With a comedic turn in Zoolander here and a supporting role in a forgettable Michael Winterbottom flick there, by 2002 Jovovich was Alice from Resident Evil. Making the conversion from video game console to cinema screen, the action-horror series cemented her place in the genre as she did all the things a female action star is want to do: kick ass, take names, look great while loading a gun in slow-motion. With six films in the franchise over the course of 15 years, Resident Evil is the most successful film series based on a video game to date. It has grossed more than $1.2 billion at the box-office worldwide and a large part of that has to do with Jovovich.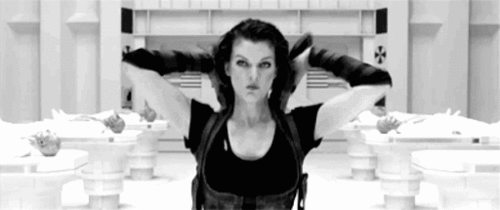 If she's headlining a film, fans know what they're gonna get when they show up. She's as reliable in an action vehicle as any one-syllable dude – Arnie, Sly, Snipes – despite varied results. There's Ultraviolet (deeply shoddy),  A Perfect Getaway (underrated thriller), Survivor (spy fare with bonus Bond), The Three Musketeers (OTT ridiculous fun) and the new Hellboy from Neil Marshall, in which she plays comic book supervillain Nimue the Blood Queen. Currently deep on the Hellboy reboot press tour, it's a role that's slightly unusual. After all, it's a glossy, expensive blockbuster that she's not headlining (she's second billed after David Harbour) and in her 25+ year career, that's something that doesn't happen often.
Jovovich's future filmography is just as consistent. There's two spy action thrillers (Hummingbird, The Rookies) and along with big budget video game adaptation Monster Hunter, set to be directed by Resident Evil franchise writer/director – and her spouse – Paul W.S. Anderson. None of these films will win Oscars, nor are they intended to. Yet that doesn't take away from the significance of what Jovovich has achieved. She's the enduring, singular female action star of her generation and has carved a highly profitable and successful niche for herself with blood, sweat, tears … and an ability to look good while loading a gun in slow-motion.