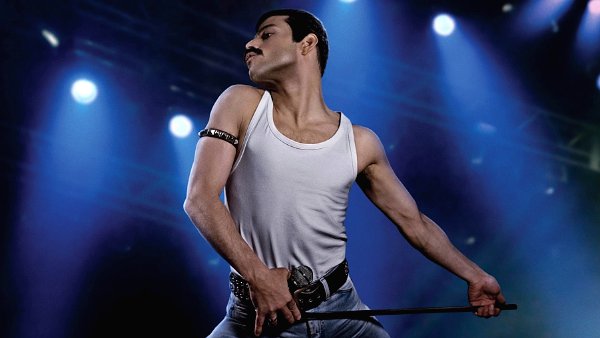 The smash-hit Bohemian Rhapsody may be the first biopic about Freddie Mercury, but it is far from the first time Queen music has been used in movies. From Wayne's World to Highlander to Shaun of the Dead, critic (and Queen aficionado) Travis Johnson looks back at cinema's most memorable uses of Queen songs. 
The Freddie Mercury biopic Bohemian Rhapsody is in cinemas now, having garnered less-than-rapturous reviews but earning plenty of love from fans in the form of spectacular box office receipts, so what do we know? Lead actor Rami Malek is earning good notices for his turn as Queen lead singer Mercury, but the real drawcard is surely the film's numerous recreations of live Queen shows, culminating in their landmark set at 1985's Live Aid concert.
Of course, this isn't Queen's first trip to the movies. The glamtastic quartet's bombastic, baroque sound has featured in plenty of films over the years, including cult sci-fi oddity, Flash Gordon to hitman-with-a-heart action comedy, Grosse Point Blank to beloved satirical zombie flick, Shaun of the Dead. Here then are some of the best…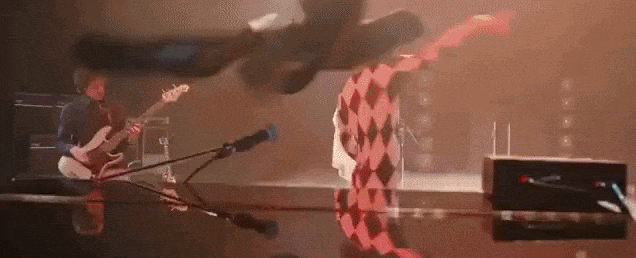 The Movie: The second best Saturday Night Live movie ever made (The Blues Brothers remains number one, and that's not going to change any time soon), the free-wheeling, hard-rocking Wayne's World follows the adventures of Wayne Campbell, suburban teen metalhead and host of the titular cable access talk show, as he tries to fend off an avaricious executive (Rob Lowe in an early comedic role) who wants to exploit Wayne's World for his own ends.
The Music: Tooling around his hometown Aurora, Illinois in best mate Garth Algar's Mirth Mobile, Wayne decides to give the evening a suitably epic soundtrack. "I think we'll go with a little Bohemian Rhapsody, gentlemen." He proclaims, brandishing a cassette tape. Cue headbanging, an instantly iconic scene, and Bohemian Rhapsody heading back to the top of the charts 17 years after its initial release.
Princes of the Universe (Highlander, 1986)
The Movie: Directed by Australian Russell Mulcahy from an original script by Gregory Widen, Highlander follows a secret war between feuding immortal warriors who can only die by decapitation. Silly accents abound as Frenchman Christopher Lambert plays the eponymous Scottish swordsman, while Scotsman Sean Connery plays his mentor, an ancient Egyptian masquerading as a medieval Spaniard. It all comes to a head in modern day New York City, with Lambert's Connor McLeod going blade to blade with Clancy Brown's hulking barbarian, the Kurgan.
Sign up for Flicks updates
The Music: Michael Kamen provided Highlander's haunting orchestral score, but Queen came on board to provide six songs: Princes of the Universe, A Kind of Magic, Who Wants to Live Forever, Gimme the Prize, One Year of Love, and a never-released cover of Frank Sinatra's New York, New York. The band were not actually the production's first choice: British rockers Marillion turned down an offer because working on the soundtrack would have clashed with their touring schedule. Luckily, Queen said yes, and their songs are now synonymous with the long-running urban fantasy franchise.
Under Pressure (Grosse Pointe Blank, 1997)
The Movie: John Cusack is in excellent form as depressed hitman Martin Q. Blank who heads home to affluent Grosse Point to attend his high school reunion – and to whack someone while he's there. Complicating things: his ex-girlfriend, Debbie (an amazing Minnie Driver), who he still has feelings for; rival hitman Grocer (Dan Ackroyd), who is trying to unionise the freelance assassination game; and his own growing certainty that there may be more to life than killing strangers for money. If you're thinking 'What if John Hughes directed Point Blank', you're on the right track.
The Music: Under Pressure, a collaboration between Queen and David Bowie, is one of the more popular Queen soundtrack options – it's been used on eight films, compared with Bohemian Rhapsody's three. Here it's just one part of an absolutely killer line-up of songs curated by Joe Strummer of The Clash. With cuts from The Jam, Siouxsie and the Banshees, Violent Femmes, and more, if you're a fan of retro-alternative tunes, you'll be in heaven. However, Under Pressure features in one of the film's most pivotal scenes, in which a close encounter with an innocent infant puts our man Martin on the path to redemption.
Flash (Flash Gordon, 1980)
The Movie: Based on the lung-running comic strip created by Alex Raymond, this iteration was brought to the screen in 1980 by producer Dino de Laurentiis and director Mike Hodges (Get Carter). Sam J. Jones is heroic footballer Flash Gordon, whisked off to the planet Mongo by mad scientist Dr Hans Zarkov (Topol) to do battle with evil tyrant Ming the Merciless (Max von Sydow). Ostensibly an attempt to cash in on post-Star Wars science fiction craze, Flash Gordon's camp tone, outrageous, euro-infused design sense, and occasionally shoddy effects work mean it eventually attained 'camp classic' status.
The Music: Queen crafted almost the entire soundtrack for the film, with composer Howard Blake working on additional orchestral arrangements. Released as an album, it's easily the most unusual of Queen's works: only two songs have lyrics, and they're mostly dialogue samples from the film itself. Still, the band's gleefully OTT approach to the whole affair is a perfect fit for the material, and it's a joyless fan who can resist singing along to "Flash! Flash! I love you! But we only have 14 hours to save the Earth!"
The Movie: Moving on from their cult British comedy TV series Spaced, director Edgar Wright and comedians Simon Pegg and Nick Frost reunited for Shaun of the Dead, a loving tribute to zombie movies in general and the great George A. Romero's cinematic oeuvre in particular. Pegg is Shaun, an underachiever going through something of an existential crisis after his girlfriend Liz (Kate Ashfield) dumps him, when the universe decides to pile even more on his plate in the form of a zombie apocalypse that sweeps through London. Comedy and carnage ensue, with appearances from Dylan Moran, Bill Nighy, Lucy Davis, Jessica Hynes, Martin Freeman and more.
The Music: Trapped in local boozer The Winchester, Shaun and friends are trying to keep a low profile when Nick Frost's oafish Ed thoughtlessly attracts the attention of the ravening horde. Seconds later the gang are trying to beat a zombified bartender to death to the strains of Queen's upbeat rocker, Don't Stop Me Now, as it blasts from the jukebox, pool cue blows synchronised with the beat. It's a throwaway moment, really, but the use of the song is incongruously funny that what could have been a straight up action beat becomes a classic scene.
We Will Rock You (A Knight's Tale, 2001)
The Movie: Brian Helgeland's cheerfully anachronistic medieval adventure sees the late, great Heath Ledger as William Thatcher, a lowborn squire with ambitions above his station. Taking up his dead master's armour and adopting the name Sir Ulrich of Liechtenstein, our guy becomes the darling of the jousting circuit, along the way romancing Shannyn Sossamon's alluring princess and earning the enmity of haughty Count Adhemar (Rufus Sewell). All other considerations aside, Paul Bettany is fantastic as future literary light Geoffrey Chaucer, who acts as William's hype man.
The Music: A Knight's Tale's most notable accomplishment is the decision to use modern rock songs on its soundtrack. There was actually a small vogue for this around the time – Jake Scott's highwayman actioner Plunkett & Macleane did the same thing, predating A Knight's Tale by two years. However, A Knight's Tale fared considerably better in the marketplace than box office bomb Plunkett & Macleane, which is probably down to the fact that watching people joust to We Will Rock You is awesome.
The Show Must Go On (Moulin Rouge!, 2001)
The Movie: Baz Luhrmann's delirious jukebox musical tells the story of star-crossed lovers Christian (Ewan McGregor) and Satine (Nicole Kidman) in fin de siècle Paris. He's a naive poet, she's a cynical courtesan, and around swirls all the colour and excitement of the Montmarte district. A backstage drama, a tribute to unbridled creativity, a doomed romance, and a sing-along classic, Moulin Rouge! Is campy, courageous and downright spectacular in equal measure, and stands as not only Luhrmann's best film, but his statement of artistic intent.
The Music: In a film packed to the gills with showstopping numbers, Jim Broadbent and Nicole Kidman's rendition of Queen's The Show Must Go On stands out above them all. Taken from Innuendo, the final album the band recorded before Freddie Mercury's death, here the song is recontextualized into the narrative of the film with Satine, knowing she's dying of tuberculosis, sending Christian away and committing to mounting the stage at the titular nightclub one last time. Yes, it's a cover, but it's lost none of the power and pathos of the original cut – and, in fact, may actually have gained some here.