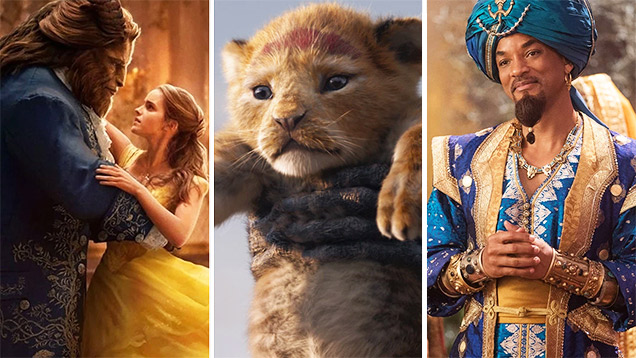 Disney's live-action remakes, ranked from best to worst

---
The Lion King is the latest Disney movie to be given a glossy new remake. Which are the best and which are the worst? Sarah Ward ranks them all.

As Mufasa explains to young Simba in the original The Lion King, the natural world enforces its own order. "Everything you see exists together in a delicate balance," the big cat tells his offspring and future successor. "When we die, our bodies become the grass, and the antelope eat the grass. And so we are all connected in the great circle of life."
A quarter-century later, Disney revisits this scene in the new Lion King. Of course, for more than two decades, the studio has turned its underlying idea into a mantra. The circle of life, Mouse House-style, starts with a classic tale that's rendered into animation, beloved by audiences and watched by generations. Then, with the first film held in the same esteem as the story behind it, it's remade to look as lifelike as possible. In the future, it's easy to foresee today's realistic remakes getting the same treatment all over again — two live-action versions of The Jungle Book already exist – however the cycle also keeps spinning thanks to Disney's penchant for sequels.
Disney remakes of Disney movies don't just comprise their own circle of life now; they're just a simple fact of life. 2019 has already delivered Dumbo, Aladdin and The Lion King.
So, with cinemagoers returning to the Pridelands again, we've ranked Disney's do-overs from best to worst.
Sign up for Flicks updates
1) Pete's Dragon
At its heart, Pete's Dragon is a simple boy-and-his-pet movie, just with a dragon rather than a dog. It's also an us-against-the-world film, about two lonely souls finding solace in each other's company. And yet, this enchanting all-ages affair tells its tale with such heartfelt emotion – and such warm performances from child actors Oakes Fegley and Oona Laurence, as well as Robert Redford – that it channels the wonder of having such a magical creature as a best friend. Writer/director David Lowery doesn't put a foot, or giant dragon's paw, wrong.
Director Jon Favreau's blockbuster first frolic with digitally recreated animals is a work of eye-popping special-effects detail – and, crucially, one that nods as much to its original source material, aka Rudyard Kipling's tales, as its animated inspiration. Darkness and ditties combine to winning effect, as do photorealistic jungle creatures and the engaging performance of Neel Sethi as man-cub Mowgli.
In every frame, Beauty and the Beast looks like a classic, with director Bill Condon highlighting lavish staging and costuming. And yet, with Emma Watson taking on the role of Belle, this tale as old as time feels like more than an expensive rehash. The story remains much the same, but its progressive spirit comes hurtling from the modern era as it champions a woman's right to guide her own life.
Kenneth Branagh's fondness for well-known figures has spanned Hercule Poirot, Thor, Frankenstein and plenty of Shakespeare, making Cinderella an easy fit for the his filmmaking resume. While this live-action update looks the timeless part in everything from its pumpkin carriages to sprawling balls, it's served best by its stellar casting. It makes great use of not only Lily James and Richard Madden, but also Cate Blanchett and Helena Bonham Carter.
There's no need to say "oh bother" about Winnie the Pooh's latest outing – which mightn't be as delightful as the character's last animated film in 2011, but still proves abundantly charming. Starring a well-cast Ewan McGregor as an adult Christopher Robin, it makes Pooh, Tigger, Piglet, Eeyore, Kanga, Roo, Owl and Rabbit look like the cherished playthings they are, which is fitting for a movie about never taking life too seriously.
Among its fairy tale remakes, Maleficent ranks among Disney's least slavish, focusing on Sleeping Beauty's evil fairy godmother. Not every reinterpreted choice works; however this is another live-action remake that makes the most of its stars. With Angelina Jolie proving commanding in the eponymous role, it's easy to see why the film has spawned a sequel.
In bringing an adorable elephant with oversized ears to life, Dumbo makes viewers believe in its high-flying outcast. That's one of its highlights, with others including an earnest tone and a willingness to ponder the corporate machine. Alas, there's also much that's thin and formulaic, including Tim Burton dallying with familiar themes.
Narrative-wise, The Lion King doesn't mess with a winner. Visually, it breathes extraordinary life and detail into its African creatures. And yet, there's an unshakable feeling of dissonance when the two combine, as might be expected when layering well-known voices over a virtual nature video. Indeed, when Billy Eichner's Timon and Seth Rogen's Pumbaa are let loose, their new jokes prove the best touch.
Guy Ritchie's Aladdin was always going to have big shoes to fill, and his star Will Smith too – Robin Williams' voice work as Genie, and the film he enlivened, are that beloved. As a result, the new movie always seems like it's trying to balance paying tribute to its predecessor and finding its own personality, with emphasis on the former. As a display of colour, movement and music, however, it's suitably lively.
In the same year that Disney introduced The Lion King to the world, it also turned The Jungle Book into a live-action feature. Starring Jason Scott Lee, Cary Elwes and a pre-Game of Thrones Lena Headey, the 1994 film takes the flesh-and-blood part seriously, focusing on humans and robbing the animal characters of their voices. While there's much to catch the eye – as well as a willingness to forge its own path – the end result is fun enough, but thin.
101 Dalmatians is as cartoonish as Disney's live-action remakes get – other than its sequel, which added a dog and arrived four years later. But it did kickstart Disney's focus on star casting as a key element in its do-over plans. Glenn Close's devilish turn as Cruella de Vil is the main reason to watch, although hardly a highlight on her resume. Next year, the tale will bark again, with Emma Stone playing the canine-hating character in a live-action origin story.
Tim Burton's hyperactive, over-stylised sensibilities should've been a perfect fit for Alice in Wonderland, but the 2010 film brings out the director's most grating traits. It's another in his tiring, overdone series of collaborations with Johnny Depp. Leading lady Mia Wasikowska deserved better – although the film does exceed its James Bobin-directed sequel, Alice Through the Looking Glass.