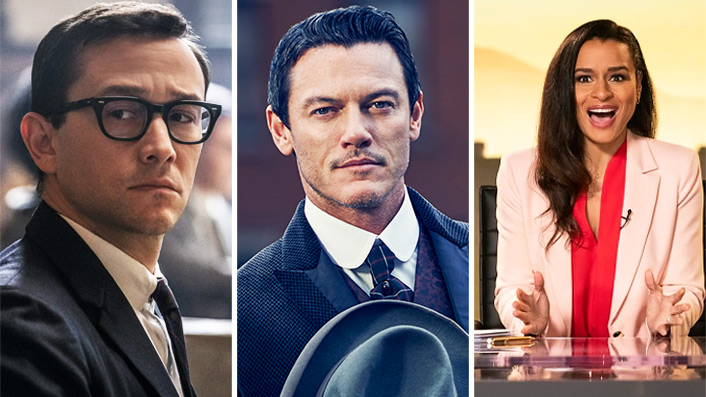 Best new movies and TV series on Netflix Australia: October 2020

---
Each month, loads of new films and TV shows are added to Netflix Australia's library. Critic Craig Mathieson presents his picks for titles worth watching. For the full list of everything arriving on the platform, scroll down. Also check out our top 50 movies on Netflix list.
Top picks: TV

Netflix has been scooping up broadcast television's leading creators with maxed-out contracts. But while there's been plenty of coverage for the deals afforded to Shonda Rhimes and Ryan Murphy, the streaming service now also has a show from Darren Starr, whose CV will forever be headlined by Sex and the City. Emily in Paris has more than a touch of that epochal hit's DNA, as well as Starr's more recent success Younger.
Lily Collins (The Blind Side, Okja) plays an American executive seconded to her company's latest acquisition: a French luxury goods marketing firm. Cue Parisian locations, impeccable costume design and Gallic hunks who declare "you don't come to Paris to be good." Some spunk and self-awareness will be needed to make this fashion fantasy enjoyable and relevant.
"Instead of making an unnecessary second season, launch an anthology!" just might be a programming philosophy at Netflix. Having had success with the Criminal franchise and Black Mirror, the streaming service has now made a spiritual successor for The Haunting of Hill House, the acclaimed 2018 horror season about a family of troubled adult siblings still burdened by the events that befell them and their parents when paranormal phenomena overtook their home during childhood.
Sign up for Flicks updates
Creator and lead director Mike Flanagan returns, as do several cast members, with the new season taking inspiration from a foundation horror text—Henry James' The Turn of the Screw. Victoria Pedretti plays a governess hired to look after children who've lost their parents who starts to believe the family home is haunted. If it matches Hill House then you can expect both sudden scares and lingering revelations.
This period detective thriller set a terrifically high benchmark in its first season, intertwining the inequality and tribalism of 1896 New York with procedural detail and inexplicable chills. Adapted from Caleb Carr's 1994 best-seller, The Alienist introduced an exemplary cast: Daniel Bruhl (Rush) as the brilliant but uncompromising Dr Laszlo Kreizler, who pioneers criminal psychology before it even has a name, Dakota Fanning as Sara Howard, the blue blood who eschews society to be the first woman employed by the NYPD, and Luke Evans as John Moore, Kreizler's friend and colleague.
The show's pungent period detail averted any nostalgic glow. The new season picks up a year after the first concluded, with the trio searching for the kidnapped infant daughter of the Spanish consul.
A cult paperback novel about the inner realms and everyday difficulties of unexpected genius written by Walter Tevis, who remains best known for The Hustler, this story of an orphaned American girl who discovers that she has an otherworldly talent for chess has been obsessing both readers and Hollywood since it was published in 1983. One of the many attempted film adaptations was to have been directed by Heath Ledger, but the text has finally arrived as a Netflix series, written and directed by Scott Frank, who put together one of Netflix's earliest and best original series: the feminist western Godless.
Anya Taylor-Joy, who in The Witch and Split displayed a self-possession so fierce it was frightening, will play the teenage and adult Beth Harmon: a distaff Bobby Fischer in the 1960s setting who has her own demons to wrangle alongside grandmasters to beat.
Top Picks: Movies + Specials

The legal dynamics and verbal ripostes of the courtroom have always appealed to Aaron Sorkin. Nearly three decades after his breakthrough play A Few Good Men became a Hollywood hit, he returns with this timely historic drama about the Vietnam War activists whose protests during the Democratic convention in 1968 Chicago resulted in federal charges and a trial that made headlines across America.
As with 2017's Molly's Game, Sorkin directs his own screenplay, with a stacked cast that includes Sacha Baron Cohen, Eddie Redmayne, Yahya Abdul-Mateen II and Jeremy Strong among the accused, Mark Rylance and Joseph Gordon-Levitt as rival lawyers, and Frank Langella as the presiding judge. Expect trademark debates and stirring monologues.
No British filmmaker has enjoyed a more varied and unpredictable career over the last 10 years than Ben Wheatley, who's done everything from inexplicable horror (Kill List) and period Pinter psychedelia (A Field in England) to dystopic style (High-Rise) and an all-star shoot-em-up (Free Fire).
One of the stars of the latter, Armie Hammer, returns for Wheatley's new gambit, an adaptation of the already much adapted 1938 Daphne du Maurier Gothic novel about a young woman who marries a wealthy widower only to tangle with his gaslighting housekeeper and foreboding family home. Alongside Hammer, Lily James and Kristin Scott Thomas play the new bride and her inquisitor respectively. What does it have to top? Just Alfred Hitchcock's 1940 version with Laurence Olivier and Joan Fontaine.
No viral success has been more welcome in 2020 than that of Sarah Cooper, the American stand-up comic whose lip-sync performances of Donald Trump's press conference answers have memorably stripped away the artifice of his office to reveal the deluded ramblings of a wholly incapable leader. Going viral and a Netflix special are close to cause and effect these days, and this hour-long piece will mix sketches and short interviews that examine issues including politics, race, and gender. Actor Natasha Lyonne (Russian Doll) directs, and the chances are good that Cooper's signature act will have an exclusive segment or two.
All titles arriving on Netflix Australia in October
October 1
Oktoberfest: Beer & Blood: In 1900 Munich, ambitious brewer Curt Prank uses brutal tactics on his quest to build a beer hall that will dominate the city's lucrative Oktoberfest.
Bom Dia, Verônica: hile hunting for a dating-site predator, an underused police clerk discovers an abused wife with a horrific secret — and a web of conspiracy hiding it.
All Because of You (Pasal Kau): After falling for a guest, an unsuspecting hotel staff becomes embroiled in a hostage scheme and discovers true love in an unlikely place.
Carmen Sandiego: Season 3: Carmen and her crew touch down in Mexico City, New Orleans, Venice and more on their quest to stay one step ahead of V.I.L.E.
The Worst Witch: Season 4: A series of challenges push Mildred and Ethel's magical powers to the limit as they compete for the honor of being named Head Girl.
Magnolia: On one random day in the San Fernando Valley, a dying father, a young wife, a male caretaker, a famous lost son, a police officer in love, a boy genius, an ex-boy genius, a game show host and an estranged daughter will each become part of a dazzling multiplicity of plots, but one story.
Riding in Cars with Boys: The fresh, funny, touching and true story of writer Beverly Donofrio (played by Drew Barrymore, who ages from 15 to 35 in the role), reveals her coming of age in the late 1960s and her whole life colored by an event that happened when she was 15. The events span more than two decades, as the young heroine experiences often-humorous, sometimes-irreverent, but certainly a unique personal journey to make something meaningful of her life.
The Hungover Games: After celebrating too much, hung over friends wake up in a futuristic dystopia and have to battle to save their friend.
The SpongeBob SquarePants Movie: In this lively animated adventure, undersea oddball SpongeBob SquarePants and his starfish friend, Patrick, embark on a quest to clear the name of Mr. Krabs, the owner of the Krusty Krab restaurant, who has been framed for stealing the crown of ocean deity King Neptune. Leaving the familiar confines of Bikini Bottom, SpongeBob and Patrick venture out towards Shell City, where they hope to find Neptune's crown, but numerous obstacles stand (or float) in their way.
New Girl: Season 1 – 7: Jess, a bubbly, off-beat teacher, who is known to burst into song, catches her boyfriend with another woman. Newly homeless, she moves into a loft with three single guys she's never met before. Nick, a jaded, law-school dropout isn't the best of company. Schmidt is a flashy, eccentric businessman who believes he is Yahweh's gift to women. Winston is a former athlete who doesn't know what to do, but really needs a win. Can this dysfunctional group handle the adorkable new girl?
October 2
Song Exploder: Take a deep dive into favorite songs as artists break down the creative process and reveal their inspirations in this series based on the hit podcast.
Emily in Paris: Emily, an ambitious twenty-something marketing executive from Chicago, unexpectedly lands her dream job in Paris. Her new life is filled with intoxicating adventures and surprising challenges as she juggles work, friendships, and romance.
Serious Men: When a slum dweller spins a web of lies in pursuit of the upward mobility he has long craved, his ruse could be especially dangerous for his young son.
Vampires vs. the Bronx: A group of young friends from the Bronx fight to save their neighborhood from a band of vampires.
The Binding: While visiting her fiancé's mother in southern Italy, a woman must fight the mysterious and malevolent curse intent on claiming her daughter.
Ahí te encargo: An ad creative and a successful exec have a great marriage — until he wants to be a dad just as her star is rising. Then he brings someone new home.
Òlòtūré: A young, naïve female journalist goes undercover to expose the shady business of human trafficking in Nigeria and encounters a brutal underworld.
Dick Johnson Is Dead: Filmmaker Kirsten Johnson and her elderly father stage his death in various ways to help them confront his inevitable demise with humor and poignancy.
A Go! Go! Cory Carson Halloween: Cory, Chrissy and Freddie are on the hunt for king-sized candy bars this Halloween! But are all the treats worth the trek to the spooky side of town?
October 4
David Attenborough: A Life on Our Planet: A broadcaster recounts his life, and the evolutionary history of life on Earth, to grieve the loss of wild places and offer a vision for the future.
October 6
StarBeam: Halloween Hero: Greedy Captain Fishbeard is stealing everybody's Halloween treats for himself, but StarBeam and Boost have some tricks up their sleeves to save the day!
October 7
Do Do Sol Sol La La Sol: Lovely pianist Gurara hits rock bottom when she meets the rough and mysterious Fritta Sunwoojun. Can Fritta bring Gurara back to life?
Private Lives: In a world where data is no longer private, con artists uncover a sinister surveillance scheme headed by the government and a greedy corporation.
To the Lake: Facing the end of civilization when a terrifying plague strikes, a group risks their lives, loves — and humanity — in a brutal struggle to survive. From 1-2-3 Production.
Hubie Halloween: Hubie Dubois (Adam Sandler) thanklessly spends every Halloween making sure the residents of his hometown, Salem, celebrate safely and play by the rules. But this year, an escaped criminal and a mysterious new neighbor have Hubie on high alert. When people start disappearing, it's up to Hubie to convince the police (Kevin James, Kenan Thompson) and townsfolk that the monsters are real, and only he can stop them. Hubie Halloween is a hilarious family film about an unlikely hero with an all-star cast including Julie Bowen, Ray Liotta, Noah Schnapp, Steve Buscemi and Maya Rudolph, produced by Happy Madison.
October 9
Deaf U: In this docuseries, a tight-knit group of deaf students share their stories and explore the perks and pitfalls of life at Gallaudet University.
The Haunting of Bly Manor: From The Haunting of Hill House creator Mike Flanagan and producer Trevor Macy comes THE HAUNTING OF BLY MANOR, the next highly anticipated chapter of The Haunting anthology series, set in 1980s England. After an au pair's tragic death, Henry Wingrave (Henry Thomas) hires a young American nanny (Victoria Pedretti) to care for his orphaned niece and nephew (Amelie Bea Smith, Benjamin Evan Ainsworth) who reside at Bly Manor with the estate's chef Owen (Rahul Kohli), groundskeeper Jamie (Amelia Eve) and housekeeper, Mrs. Grose (T'Nia Miller). But all is not as it seems at the manor, and centuries of dark secrets of love and loss are waiting to be unearthed in this chilling gothic romance. At Bly Manor, dead doesn't mean gone.
Ginny Weds Sunny: Eager to marry but constantly rejected by women, a bachelor hopes to win over a former crush by accepting help from an unlikely source: her mother.
The Forty-Year-Old Version: Desperate for a breakthrough as she turns 40, down-on-her-luck New York playwright Radha reinvents herself as a rapper and searches for her true voice.
Fast & Furious Spy Racers: Season 2: Rio: When one of their own goes missing, the Spy Racers must leave LA and head to Brazil to take down a crime organization in Rio.
Super Monsters: Dia de los Monsters: Super Monsters visit Vida's home town for a Dia De Los Muertos parade where they meet some new Super Monsters.
October 12
Kipo and the Age of Wonderbeasts: Season 3: Against all odds, Kipo and the gang ended an old enemy's reign of terror. Now they're on a mission to fight a fierce anti-Mute evildoer: Dr. Emilia.
The Intern: Starting a new job can be a difficult challenge, especially if you're already retired. Looking to get back into the game, 70-year-old widower Ben Whittaker (Robert De Niro) seizes the opportunity to become a senior intern at an online fashion site. Ben soon becomes popular with his younger co-workers, including Jules Ostin (Anne Hathaway), the boss and founder of the company. Whittaker's charm, wisdom and sense of humor help him develop a special bond and growing friendship with Jules.
October 13
The Cabin with Bert Kreischer: After years on the grind, Bert Kreischer sets out on a purifying retreat to a remote cabin to cleanse his "mind, body and soul." In The Cabin with Bert Kreischer, a new 5-episode docu-series, the comedian is joined by his celebrity friends as he attempts bizarre therapy techniques, intense physical challenges, and ridiculously improvised encounters with nature. Special guests include Anthony Anderson, Big Jay Oakerson, Bobby Lee, Caitlyn Jenner, Deon Cole, Donnell Rawlings, Fortune Feimster, Gabriel Iglesias, Joel McHale, Joey Diaz, Kaley Cuoco, Nikki Glaser, and Tom Segura. The Cabin with Bert Kreischer premieres globally on Netflix on October 6, 2020.
Octonauts & the Great Barrier Reef: The Octonauts must find a way to hold back hungry swarms of coral-eating starfish to save a new friend's fragile home on the world's biggest reef.
October 14
BLACKPINK: Light Up the Sky: Record-shattering Korean girl band BLACKPINK tell their story — and detail the hard-fought journey of the dreams and trials behind their meteoric rise.
October 15
Social Distance: Shot in isolation, this tragicomic anthology series features both dark and funny takes on how people strive to stay connected while staying apart.
A Babysitter's Guide to Monster Hunting: When high school freshman Kelly Ferguson (Tamara Smart) reluctantly agrees to babysit Jacob Zellman (Ian Ho) on Halloween, the last thing she expects is to be recruited into an international secret society of babysitters who protect kids with special powers from monsters. In order to keep Jacob safe from harm, Kelly teams with no-nonsense chapter Vice President Liz Lerue (Oona Laurence), tech genius Berna Vincent (Troy Leigh-Anne Johnson), creature expert Cassie Zhen (Lynn Masako Cheng) and potions master Curtis Critter (Ty Consiglio) to defeat a Boogeyman known as "The Grand Guignol" (Tom Felton), a glamorous witch named "Peggy Drood" (Indya Moore) and their legion of mysterious monsters. Based on the first installment of Joe Ballarini's popular scary book series of the same name, A Babysitter's Guide to Monster Hunting is directed by Rachel Talalay, produced by Ivan Reitman and Amie Karp, with Naia Cucukov, Tom Pollock, and Ilona Herzberg executive producing. Alessio Scalzotto, Tamsen McDonough, Ashton Arbab, Crystal Balint, and Ricky He also co-star in this action-packed adventure about working together to overcome your fears.
Love Like the Falling Rain: Fearing rejection, a young man struggles to declare his feelings for his best friend, who soon falls for another man — until a fateful incident.
Rooting for Roona: In rural India, a child with hydrocephalus gets a chance at life-changing surgery after her photos go viral. This documentary charts her journey.
Batman Begins: A young Bruce Wayne (Christian Bale) travels to the Far East, where he's trained in the martial arts by Henri Ducard (Liam Neeson), a member of the mysterious League of Shadows. When Ducard reveals the League's true purpose — the complete destruction of Gotham City — Wayne returns to Gotham intent on cleaning up the city without resorting to murder. With the help of Alfred (Michael Caine), his loyal butler, and Lucius Fox (Morgan Freeman), a tech expert at Wayne Enterprises, Batman is born.
October 16
La Révolution: 1787, France. While investigating a series of mysterious murders, Joseph Guillotin – the future inventor of the world famous 'Guillotine' – uncovers an unknown virus: the Blue Blood. The disease, quickly spreads amongst the French aristocracy, driving them to murder ordinary people and soon leads to a rebellion… What if the French Revolution didn't happen the way we were told?
Alguien tiene que morir: In 1950s Spain, a couple summon their son home from Mexico to introduce him to his fiancée, but are shocked when he returns with a ballerino.
Star Trek: Discovery: Season 3: This season truly takes the Discovery crew where no one has gone before: 930 years into the future. And the Federation has undergone a few changes.
Grand Army: Five students at the largest public high school in Brooklyn take on a chaotic world as they fight to succeed, survive, break free and seize the future.
Dream Home Makeover: Shea and Syd McGee of Studio McGee help their clients realize dream spaces that reflect their personal style, all while building their own new home.
The Trial of the Chicago 7: What was intended to be a peaceful protest at the 1968 Democratic National Convention turned into a violent clash with police and the National Guard. The organizers of the protest—including Abbie Hoffman, Jerry Rubin, Tom Hayden and Bobby Seale—were charged with conspiracy to incite a riot and the trial that followed was one of the most notorious in history.
Pup Academy: Season 2: Pup Academy is back in session! But a new threat arises as a wicked plan to destroy the bond between humans and dogs takes shape.
The Last Kids on Earth: Book 3: As the four pals continue to live it up with their monster allies, Jack worries a newly discovered radio transmitter may put an end to the fun.
The Big Bang Theory: Season 12: The Big Bang Theory is a comedy about brilliant physicists, Leonard and Sheldon, who are the kind of "beautiful minds" that understand how the universe works. But none of that genius helps them interact with people, especially women. All this begins to change when a free-spirited beauty named Penny moves in next door.
October 19
Unsolved Mysteries: Volume 2: In six new episodes, Unsolved Mysteries profiles more unexplained disappearances, tragic events, and bizarre occurrences. Perhaps one viewer holds the key to solving these cases. Detectives, journalists, and family members offer intriguing theories in this gripping series, from the creators of the original docuseries, Cosgrove/Meurer Productions, and 21 Laps Entertainment, the producers of Stranger Things.
October 20
The Magic School Bus Rides Again The Frizz Connection: Lightning splits the Magic School Bus into three pieces, scattering the class across the globe with different versions of Ms. Frizzle aboard each bus!
Paranormal Activity 4: It has been five years since Katie (Katie Featherston) murdered her sister and disappeared with her infant nephew, Hunter, in tow. Now, a new family is about to fall prey to nighttime terrors. A mysterious accident next door leads to teenage Alex (Kathryn Newton) and her family becoming the temporary guardians of Robbie (Brady Allen), a very creepy neighbor boy. Cameras installed throughout Alex's home capture the sinister events that unfold after Robbie's arrival.
October 21
My Next Guest Needs No Introduction With David Letterman: Season 3: TV legend David Letterman teams up with Dave Chappelle, Robert Downey Jr. and more for another season of in-depth interviews and curiosity-fueled excursions.
Rebecca: After a whirlwind romance in Monte Carlo with handsome widower Maxim de Winter (Armie Hammer), a newly married young woman (Lily James) arrives at Manderley, her new husband's imposing family estate on a windswept English coast. Naive and inexperienced, she begins to settle into the trappings of her new life, but finds herself battling the shadow of Maxim's first wife, the elegant and urbane Rebecca, whose haunting legacy is kept alive by Manderley's sinister housekeeper Mrs. Danvers (Kristin Scott Thomas).
October 22
You Me Her: Season 5: Izzy returns to Portland to find that life has continued on without her.
The Alienist: Angel of Darkness: Sara Howard calls on her friends Dr. Laszlo Kreizler and journalist John Moore for assistance when she's hired to find the Spanish ambassador's kidnapped baby, leading to the discovery of a disturbing series of murders.
Cadaver: A family is invited into a theatre performance during an apocalypse and promised a meal and a good night as escapism for the situation. After their meal and during the performance they start to realise all is not what it seems and they realise they have to escape a group of cannibals who have made their choices to survive the apocalypse. They have to decide whether to join or fight.
October 23
Perdida: Antonio sets himself up to be arrested so he'll be sent to Colombia's worst prison, La Brecha. He's after the man who kidnapped his daughter years ago.
Move: Discover the brilliant dancers and choreographers who are shaping the art of movement around the world in this documentary series.
Barbarians: Three people's fates are interwoven in the Battle of the Teutoburg Forest in 9 A.D., during which Germanic warriors halt the spread of the Roman Empire.
The Queen's Gambit: Based on the novel by Walter Tevis, the Netflix limited series drama THE QUEEN'S GAMBIT is a coming-of-age story that explores the true cost of genius. Abandoned and entrusted to a Kentucky orphanage in the late 1950s, a young Beth Harmon (Anya Taylor-Joy) discovers an astonishing talent for chess while developing an addiction to tranquilizers provided by the state as a sedative for the children. Haunted by her personal demons and fueled by a cocktail of narcotics and obsession, Beth transforms into an impressively skilled and glamorous outcast while determined to conquer the traditional boundaries established in the male-dominated world of competitive chess. The series is directed and written by two-time Academy Award nominee Scott Frank and executive produced by Frank, William Horberg and Allan Scott, who also co-created the series. THE QUEEN'S GAMBIT stars Anya Taylor-Joy, Marielle Heller, Thomas Brodie-Sangster, Moses Ingram, Harry Melling and Bill Camp.
Over the Moon: In this animated musical, a girl builds a rocket ship and blasts off, hoping to meet a mythical moon goddess. Legendary animator Glen Keane directs.
Bridesmaids: Annie (Kristen Wiig) is a single woman whose own life is a mess, but when she learns that her lifelong best friend, Lillian (Maya Rudolph), is engaged, she has no choice but to serve as the maid of honor. Though lovelorn and almost penniless, Annie, nevertheless, winds her way through the strange and expensive rituals associated with her job as the bride's go-to gal. Determined to make things perfect, she gamely leads Lillian and the other bridesmaids down the wild road to the wedding.
Forgetting Sarah Marshall: Struggling musician Peter Bretter (Jason Segel) is better-known as the boyfriend of TV star Sarah Marshall (Kristen Bell). After she unceremoniously dumps him, he feels lost and alone but makes a last-ditch bid to get over it by going to Hawaii. However, she and her new boyfriend (Russell Brand) are there in the same hotel.
Les Misérables: After 19 years as a prisoner, Jean Valjean (Hugh Jackman) is freed by Javert (Russell Crowe), the officer in charge of the prison workforce. Valjean promptly breaks parole but later uses money from stolen silver to reinvent himself as a mayor and factory owner. Javert vows to bring Valjean back to prison. Eight years later, Valjean becomes the guardian of a child named Cosette after her mother's (Anne Hathaway) death, but Javert's relentless pursuit means that peace will be a long time coming.
This Is 40: After many years of marriage, Pete (Paul Rudd) is the sole male in a household that includes his wife, Debbie (Leslie Mann), and two young daughters (Iris Apatow, Maude Apatow). As Pete struggles to keep his record label afloat, he and Debbie navigate a three-week course of sex and romance, career victories and financial hardships, aging parents and maturing children. They'll have to learn to forgive, forget and enjoy the rest of their lives — before they kill each other.
Bridget Jones: The Edge of Reason: The sequel to "Bridget Jones's Diary" finds Bridget (Renée Zellweger) working as a TV host and still dating barrister Mark (Colin Firth). But Bridget is jealous of the time Mark spends with a co-worker (Jacinda Barrett), and, despite a vacation meant to smooth things over, ends their relationship. On assignment in Thailand, she has a dalliance with her disreputable ex, Daniel (Hugh Grant), and is temporarily jailed on the false accusation of drug smuggling, before Mark comes to the rescue.
The Bourne Ultimatum: A former CIA assassin continues his quest to fill in memory gaps. When a `Guardian' reporter stumbles onto his trail, the man spies his chance to blow the Blackbriar black-ops brigade wide open. With some very powerful people intent on keeping their skeletons buried, he is in more danger than ever before, as his former paymasters send a series of elite killers after their reformed ex-colleague.
About Time: When Tim Lake (Domhnall Gleeson) is 21, his father (Bill Nighy) tells him a secret: The men in their family can travel through time. Although he can't change history, Tim resolves to improve his life by getting a girlfriend. He meets Mary (Rachel McAdams), falls in love and finally wins her heart via time-travel and a little cunning. However, as his unusual life progresses, Tim finds that his special ability can't shield him and those he loves from the problems of ordinary life.
Nanny McPhee: Widower Cedric Brown (Colin Firth) hires Nanny McPhee (Emma Thompson) to care for his seven rambunctious children, who have chased away all previous nannies. Taunted by Simon (Thomas Sangster) and his siblings, Nanny McPhee uses mystical powers to instill discipline. And when the children's great-aunt and benefactor, Lady Adelaide Stitch (Angela Lansbury), threatens to separate the kids, the family pulls together under the guidance of Nanny McPhee.
8 Mile: The people of Detroit know 8 Mile as the city limit, a border, a boundary. It is also a psychological dividing line that separates Jimmy Smith Jr. (Eminem) from where and who he wants to be. A provocative fictional examination of a critical week in Jimmy's life.
King Kong: Peter Jackson's expansive remake of the 1933 classic follows director Carl Denham (Jack Black) and his crew on a journey from New York City to the ominous Skull Island to film a new movie. Accompanying him are playwright Jack Driscoll (Adrien Brody) and actress Ann Darrow (Naomi Watts), who is whisked away by the monstrous ape, Kong, after they reach the island. The crew encounters dinosaurs and other creatures as they race to rescue Ann, while the actress forms a bond with her simian captor.
Mr Bean's Holiday: Mr Bean is going on holiday to the south of France, looking for a quiet and sunny trip in the Riviera. However, his trip doesn't go as smoothly as he expected when he has to face a series of misunderstandings and totally unfortunate coincidences. Eventually, Mr Bean will end up spoiling the last film of the snobbish director Carson Clay and appearing by accident at the Cannes Film Festival.
Wild Child: Sixteen-year-old Poppy (Emma Roberts) has everything her unlimited credit cards can buy, and a spoiled attitude to match. After a final thoughtless prank, her exasperated father (Aidan Quinn) ships her off to boarding school in England. There, Poppy meets her match in a stern headmistress (Natasha Richardson) and a class full of girls who will not tolerate her selfishness.
Neighbors: New parents Mac (Seth Rogen) and Kelly (Rose Byrne) move to the suburbs when they welcome an infant daughter into their lives. All goes well with the couple, until the Delta Psi Beta fraternity moves in next door. Mac and Kelly don't want to seem uncool, and they try their best to get along with frat president Teddy (Zac Efron) and the rest of the guys. However, when the couple finally call the cops during a particularly raucous frat party, a full-scale war erupts.
October 27
Sarah Cooper: Everything's Fine: An hour of funny single-camera vignettes dealing with issues of politics, race, gender, class and other light subjects.
Chico Bon Bon: Monkey with a Tool Belt: Season 4: There's no problem that Chico Bon Bon and his "Fix-it Force" can't solve. From building a new skate park to stopping a vehicle from falling off a cliff, this crew takes care of any engineering troubles headed their way.
Blood of Zeus: A commoner living in ancient Greece, Heron discovers his true heritage as a son of Zeus, and his purpose: To save the world from a demonic army.
Vilas: Serás lo que debas ser o no serás nada: A journalist spent a decade crusading against one of the largest sports corporations on the planet to prove that Guillermo Vilas was the world's best tennis player of his time.
October 28
Nobody Sleeps in the Woods Tonight: Addicted to technology, a group of teens attends a rehabilitation camp in the forest, but a sinister force there intends to take them offline forever.From Akson Studio.
Holidate: Sloane (Emma Roberts) and Jackson (Luke Bracey) hate the holidays. They constantly find themselves single, sitting at the kids table, or stuck with awkward dates. But when these two strangers meet one particularly bad Christmas, they make a pact to be each other's "holidate" for every festive occasion throughout the next year. With a mutual disdain for the holidays, and assuring themselves that they have no romantic interest in the other, they make the perfect team. However, as a year of absurd celebrations come to an end, Sloane and Jackson find that sharing everything they hate may just prove to be something they unexpectedly love.
October 30
Suburra: Season 3: The final judgement in the battle for land in an Italian seaside town is close, and the criminals are ready to play the game for the last time.
Somebody Feed Phil: Season 4: "Everybody Loves Raymond" creator Phil Rosenthal travels the globe to take in the local cuisine and culture of San Francisco, Singapore, Hawaii and more.
Bronx: A team of cops investigating the seedy underbelly of Marseille, France, find themselves in over their heads as they realize that some of their fellow officers may be deep in the pockets of the city's gangs, and they risk losing their jobs — or worse — unless they can set things right.
His House: After making a harrowing escape from war-torn South Sudan, a young refugee couple struggle to adjust to their new life in a small English town that has an unspeakable evil lurking beneath the surface.
The Day of the Lord: Menéndez is a retired priest who lives in his dark and ruinous apartment turning his back on the world. He suffers from a crisis of faith and is haunted by horrible nightmares and acts of his past that torture him. One day, he receives the visit from Sebastián, an old friend who knows Menéndez's past business. He claims his daughter is possessed by the devil and begs for Menéndez's help to exorcize her, although he's well aware of the aggressive methods the priest uses. Pushed by Sebastián's insistence and his inner conflict, Menéndez takes this case as a chance for redemption. He has a new goal in life but is she really possessed or will she suffer a senseless torture?
Undated
Start-Up: Young entrepreneurs aspiring to launch virtual dreams into reality compete for success and love in the cutthroat world of Korea's high-tech industry.
Secrets of the Saqqara Tomb: A team of archaeologists excavate never before explored passageways, shafts and tombs, piecing together the secrets of Egypt's most significant find in almost 50 years.
ARASHI's Diary Voyage ep13 & 14: Following a performance to celebrate the enthronement of the new emperor, ARASHI members head to Jakarta, where they kick off their "Jet Storm" tour to meet their fans in Asia.
A Suitable Boy: Modernity confronts tradition in post-Partition India as a young student resists an arranged marriage and a politician's son has a transgressive affair.
---
See also
* Best new movies and TV series on Stan
* Best new movies and TV series on Amazon Prime
* All new streaming movies & series