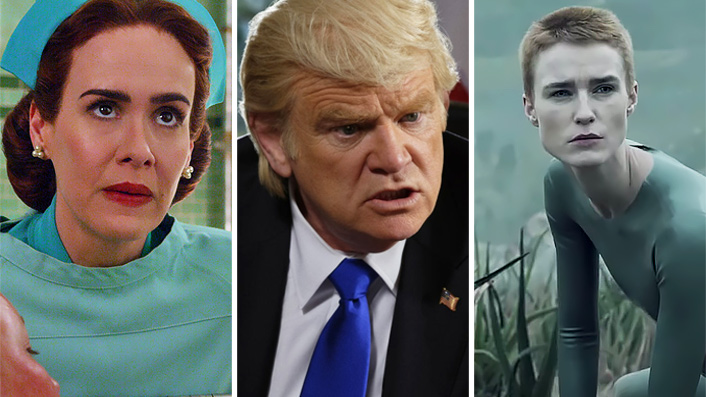 8 new TV shows arriving in September that we're excited about

---
Spring is finally here. It's the season of clean outs and new beginnings. And let's face it, there's nothing more important to overhaul than your watchlist. To help you figure out where to begin, here are some fresh shows headed our way in September…
See also
* All new streaming movies & series
* Watch the latest movie & TV trailers
Where to watch: Netflix
If you're a fan of the Wallander books or the two TV series they have already inspired, you'll be excited about this show. But you don't have to have knowledge of them to enjoy it—it's a reimagining of the famous police inspector as a young man, but set in the present day, acting as a whole new start to the story. Here, Wallander is a fresh-faced and ambitious rookie cop investigating his first case—an experience that sets him on a path that changes him forever.
Where to watch: Binge
Produced by Ridley Scott (who also directed by the first two episodes) and starring Australia's own Travis Fimmel, Raised by Wolves has the makings of a great sci-fi phenomenon. After the destruction of Earth, two androids named Father and Mother raise a group of human children on the only inhabitable planet—but their way of life is threatened when another human colony discovers them. The premise in itself is interesting, and we can expect tight storytelling and thrilling action sequences to build on it.
Away (September 4)
Where to watch: Netflix
September is a good month for sci-fi fans. This Netflix series stars Hilary Swank as an astronaut who leaves behind her husband and teen daughter at a critical personal time in order to command an international space crew on a mission to Mars. While the space journey is an important part of the show, the real strength lies in the exploration of relationships and what it means to be human.
Where to watch: Netflix
Netflix's kdrama list is always growing, and Record of Youth is one of the most exciting to be released this year based on the cast alone. It's about twenty-somethings trying to achieve their dreams, which sounds simple enough, but with Park So-dam of Parasite fame and fan favourite Park Bo-gum in the lead roles (who has previously starred in dramas such as Reply 1988 and Love in the Moonlight), it's sure to be worth watching.
Where to watch: Netflix
Canadian comedian Katherine Ryan takes the leap from stand-up to sitcom in this British series about a "fashionably disruptive" single mother who decides she wants to have another baby, and turns to her ex—and father of her first child—for help. Ryan has said she's playing an "exaggerated version" of herself in the series, and that her character is a bad person but a good mother. The trailer is very funny, so here's hoping the series backs it up (signs are looking good).
Where to watch: Netflix
The Last Word is a German series about a woman named Karla whose world falls apart when her husband of 25 years suddenly dies. Sounds depressing, but this is actually a (dark) comedy. On the day of the funeral, Karla decides to use her unique way with words to become a eulogist. If the trailer is anything to go by, The Last Word promises to be a funny, warm and moving exploration of grief, love and life.
Ratched (September 18)
Where to watch: Netflix
Ryan Murphy reunites with frequent collaborator Sarah Paulson (and a bunch of his other favourites) for this new take on One Flew Over The Cuckoo's Nest. Paulson stars as the titular Nurse Ratched, telling the origin story of the famous villain. If that wasn't enough to hook you in, maybe the rest of the cast will: Sharon Stone, Finn Wittrock, Charlie Carver, Sophie Okonedo and Rosanna Arquette are just some of the stars in the ensemble.
Where to watch: Stan
While some of us turn to TV to escape the politics of real life, others enjoy using fictional frameworks to unpack true events. If you fall in the latter camp, The Comey Rule will be for you. Based on James Comey's autobiography A Higher Loyalty, it tells the story of the then-FBI director and his relationship with President Donald Trump in the months following November 2016. Jeff Daniels is playing Comey, while Brendan Gleeson stars as Trump. It's set to be a (virtual) water cooler event.