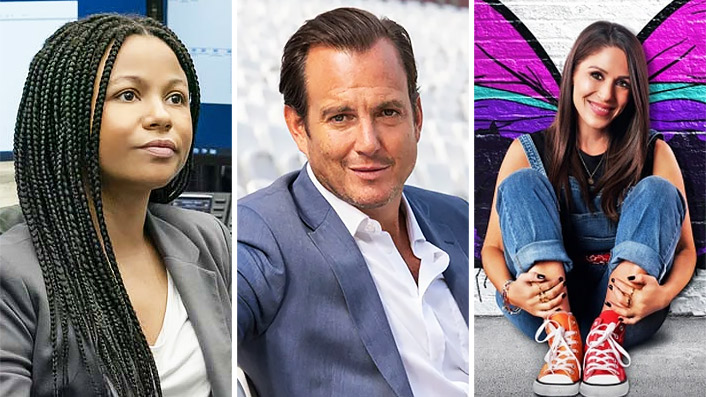 7 new shows arriving in February that we're excited about

---
We're already a month into 2021, but it feels like the entertainment calendar is only just seriously kicking off. Holidays are over, and work and homework have settled into our brains.
See also
* All new streaming movies & series
* Watch the latest movie & TV trailers
What better way to cope than by switching them off (or at least engaging them in more fun pursuits) with a new TV show or two? To help you do just that, here are the February offerings we're most excited about…
Now on BINGE
Industry takes us into the world of investment banking. If the thought of that makes you go cross-eyed, don't worry: this is a compelling character vehicle with sharp writing that will make you want to keep watching.
The show focuses on a group of young graduates competing for limited positions at a prestigious London investment firm. They're from diverse backgrounds and with very different outlooks on life (and their own secrets and burdens they're trying to hide), making for plenty of drama.
Now on Netflix
If you got hooked on Virgin River and need something to fill the comfort-watch hole it's left in your life, Firefly Lane might do the trick. Based on the popular novel of the same name by Kristin Hannah, it's about two friends and the ups and downs they experience across three decades. Starring Katherine Heigl and Sarah Chalke as the two friends, Aussie Ben Lawson is also in the cast. Warning: you will need tissues.
Now on Stan
First airing in the UK in 2019, Stan is now bringing this critically acclaimed mini-series to our shores. The Virtues is brutal but remarkable, following a man named Joseph (Stephen Graham in an incredible performance) whose life falls apart when his ex-wife and son move to Australia. He heads to Ireland to reunite with his sister and confront his painful past—including memories he has repressed. It's extremely intense, but well worth watching.
Coming to Stan
Dropping new episodes weekly from February 12, Clarice is a follow-up to the story told in The Silence of the Lambs. It takes place one year later, in 1993, as Clarice Starling returns to working with the FBI and copes with the aftermath of what she's experienced. The series stars Australian actress Rebecca Breeds as Clarice, and it looks to be an emotional and compelling psychological thriller.
Coming to Stan
The Inbetweeners fans, rejoice! Its creators, Damon Beesley and Iain Morris, are back with a brand new show, this time focused on a group of young players on a fictional English Premier League team.
Expect the classic banter and jokes-at-the-characters'-expense that you know and love, plus the occasional tender and heartfelt moments. And this time, there's bonus Will Arnett! The American comedian takes on the role of the football club's chairman. Be ready for many (many) penis jokes.
Coming to Netflix
'We're like the Gilmore Girls, but with bigger boobs,' a character exclaims in the trailer for Ginny & Georgia, which just about sums up the pitch for this show. It's about a fast-talking young mum and her teen daughter moving to a small town, with all the Stars Hollow-esque new relationships and cozy connections that suggests—only this time with a 2021 edge and inclusivity. There's also much more baggage in the backstory than a privileged rich girl wanting to run away from her family. Intriguing!
Coming to Stan
There's been a lot of reboots lately, and it doesn't look like they're slowing down. Punky Brewster is the latest '80s title getting a new life. Original star Soleil Moon Frye returns all grown up as the titular Punky, and her best friend Cherie is once again played by Cherie Johnson.
The former foster kid Punky is now a single mother raising three kids (Freddie Prinze Jr plays her ex—'90s nostalgia on top of '80s nostalgia!). Punky's life changes when she meets a young foster child who reminds of her past selft. The original show was both funny and meaningful to a lot of people, so it'll be interesting to see if the reboot can recapture the magic—not to mention entice a whole new generation.