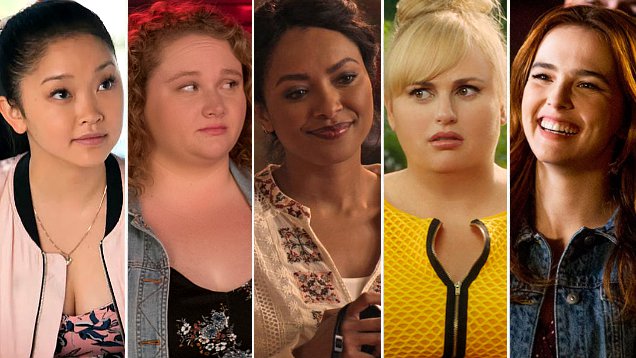 What are the best and worst rom-coms on Netflix? Jenna Guillaume picks 15, and ranks them from worst (ugh!) to best (incredible!).
This is the sequel to the hugely popular A Christmas Prince, picking up one year after the first movie and following American blogger Amber (Rose McIver) as she prepares for her wedding to King Richard of Aldovia (Ben Lamb). Unfortunately, what should be wacky and fun wedding hijinks are bogged down by plotlines about economic policy (yes, really) and Amber's obnoxious father offending half the palace. There is just not enough romance OR comedy in this tedious affair.
Based on a novel by Beth Reekles that started out life as a Wattpad fiction, The Kissing Booth tells the story of teen Elle (Joey King), who has a deal with her best friend (Joel Courtney) to never date his brother (Jacob Elordi). But whoops, she ends up dating him! And her best friend gets mad! And the whole thing is totally regressive and misogynistic and gross. It had so much potential, wasted.
Harper (Gillian Jacobs) takes her two best friends (Vanessa Bayer and Phoebe Robinson) along on a work trip to Barcelona, and somehow they wind up in Ibiza pursuing the object of Harper's lust. This is more of a comedy than a rom-com, but there is a romance subplot, which means Netflix pushes it in the latter category. So let's judge it as such! Yeah…it's a terrible rom-com (and comedy, for that matter). Sure, there are a couple of funny moments, and Richard Madden is utterly dreamy as a hot-but-awkward DJ – it's just too bad that in between all that it's pretty boring.
Based on the Cyrano de Bergarec story, Sierra Burgess Is A Loser follows the titular Sierra (Shannon Purser) as she pretends to be popular girl Veronica (Kristine Froseth) in order to win the heart of Jamey (Noah Centineo). Yep, she catfishes him. If it reminds you of The Truth About Cats and Dogs, it has a very similar plot, only without the heart or warmth that makes that movie work. It's a pretty nasty tale, and another example of wasted potential.
Netflix really went hard on the Christmas rom-coms in the last two years. The Holiday Calendar is (almost) the worst of the lot. It stars Kat Graham as Abby, a photographer who inherits a magical advent calendar that she thinks will lead her to her true love. She starts dating a doctor (Ethan Peck) but her best friend (Quincy Brown) has other ideas about who she should be with. This movie would have worked better if Graham and Brown had ANY chemistry, but there were sadly no sparks.
Noah (Adam DeVine) is in love with his friend Avery (Alexandra Daddario) and about to watch her marry someone else (Robbie Amell). He wishes he could go back to when he first met Avery and avoid the friendzone so HE could be the one marrying her. With the help of a magic photo booth, he does! Only things don't work out quite how he had hoped. Look, this movie is fine. Just fine! There's nothing super wrong with it – but nothing totally right either.
Lona (Sami Gayle) and Bennett (Jacob Latimore) are rivals on their high school debate team who hate each other. If you've seen literally any rom-com you know exactly where this is heading. It's mostly predictable, but there's one particular gut-punching twist that I didn't see coming – so while Candy Jar is quite funny, be prepared to also cry. All in all, though, it's a warm and uplifting movie.
Eliza Taylor stars as spoiled heiress Ellen Langford, who gets sent by her father to a small town in order to learn the ~true meaning of Christmas~. Naturally, the first thing she does when she arrives is meet the hunky Jake (Jake Lacy) and the two eventually hit it off, despite seeming to have nothing in common at first. Yes, it's cheesy. Yes, it's cliched. But it's also a lot of fun, and Taylor's charisma really helps to elevate the material.
An imperfect but sweet tale of a teen boy (Alex – played by Daniel Doheny) figuring out his sexuality and eventually coming out. His relationship with Claire (Madeline Weinstein), who he deeply loves, combined with his crush on new boy Elliot (Antonia Marziale), make for a confusing and bumpy ride for both Alex and the audience at times – but the pay-off is rewarding.
Amber (Rose McIver) wants to be an investigative journalist, so when she stumbles into being the nanny for the royal family of Aldovia (don't ask), she uses it as a chance to uncover their secrets. Too bad she falls in love with the soon-to-be-king Richard (Ben Lamb) along the way! Listen, this is a TERRIBLE movie. But it's also wonderful. Yes, it can be both things at once. Unlike its sequel, it's quite endearing in its ridiculousness. Once you accept its so-bad-it's-good qualities and go along for the ride, you're in for a treat.
Yes, another Christmas rom-com! This is the last one on the list, I promise – although certainly not the last one Netflix will produce, you can be sure of that. The Princess Switch stars Vanessa Hudgens in not one but TWO roles – a Chicago baker named Stacy, and Margaret, the Duchess of Montenaro. When the pair meet and discover they're identical, naturally their immediate response is to switch places. And naturally they both fall in love with men in the other person's life. And naturally it's all incredibly goofy and absurd. But it's also truly delightful, and perfect Christmastime viewing.
Willowdean (Danielle Macdonald) is a plus-size teen who enters her mother's (Jennifer Aniston) beauty pageant to spite her. Dumplin' is another movie that is more comedy than rom-com – and actually, more dramedy than anything else. But like Ibiza, it has a strong romance subplot that still qualifies it for this category. And unlike Ibiza, it's actually really great! The romance is lovely, and the comedy is gold. Most of all, it's an incredibly heartfelt story about body image, grief and growing up.
Harper (Zoey Dutch) and Charlie (Glen Powell) are two overworked assistants who think it's a brilliant idea to set up their tyrannical bosses (Lucy Liu and Taye Diggs) so that they'll mellow out a little. Except Harper and Charlie get much more than they bargained for when they begin to fall for one another instead. Set It Up stands out mostly because Dutch and Powell have stellar chemistry, but the script is also great. While it's not a parody, the film cleverly subverts several rom-com tropes. It's just a cracking good time.
Rebel Wilson's new rom-com – which is a parody of rom-coms – got a cinematic release in the North America, but was released as a Netflix original internationally, including here in Australia. In it, Wilson plays cynical architect Natalie, who thinks rom-coms are completely unrealistic and awful. So of course she bumps her head and wakes up to find her life has turned into a rom-com. In sending up all the standard tropes, Isn't It Romantic shows a great affection for the source material while pushing the boundaries of what a rom-com can and should look like. Wilson and co-stars Liam Hemsworth, Adam DeVine and Priyanka Chopra are all fantastic in their roles. It's a hilarious movie and has a really lovely current of self-love running through it. Definitely give it a go if you haven't already.
Based on the novel by Jenny Han, To All The Boys I've Loved Before sees introverted teen Lara Jean (Lana Condor) getting involved in a fake relationship with popular jock Peter Kavinsky (Noah Centineo) for plot reasons. The candy-coloured movie is so gosh darn charming, with lots of funny moments, some moving scenes and, most importantly, an incredibly swoon-worthy romance. Condor and Centineo absolutely crackle in their scenes together, and Condor herself has wonderful comic timing. I've rewatched this movie approximately 167 times, and I'm not even exaggerating. It's rom-com perfection.