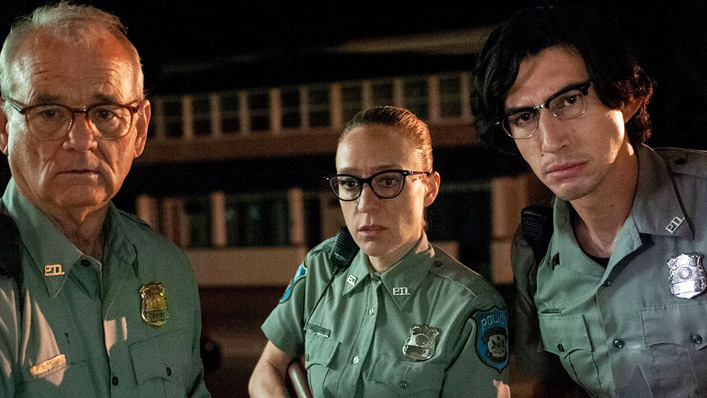 The Dead Don't Die is Jim Jarmusch's amusing and political zombie movie

---
Legendary indie filmmaker Jim Jarmusch brings his dry, droll eye to the classic zombie flick, with a cast that includes Bill Murray and Adam Driver. It's both amusing and clearly political but still slight, writes critic Craig Mathieson.
The deadpan won't die down in the new film from Jim Jarmusch. Even as a "full on zombie apocalypse" takes shape, the eternally sly and surreptitious downtown Manhattan movies graduate keeps the tone on an even keel and the comical queries archly straight. When Bill Murray's Cliff Robertson, the chief of police in the small Middle American town of Centerville, turns up in the film's opening scene, visiting the forest home of local eccentric Hermit Bob (Tom Waits), he has his hands in his pockets, as if taking a stroll. The undead, when they arrive, may stagger and limp, but life already moves a low-key pace.
Cliff is soon querying his junior officers, Ronnie (Adam Driver, with a hint of Christopher Walken in some of his line readings) and Mindy (Chloe Sevigny) about law enforcement staples such as coffee and donuts, while the locals go about their everyday business and the new undertaker, Zelda Winston (Tilda Swinton), matches a Scottish accent with samurai sword practice. The pacing is deliberately calm – people worry about whether "polar fracking" has knocked the earth off its axis, which is starting to impact on daylight's length and signal reception, but no-one really panics. In Jarmusch's take the world really does end with a whimper.
Jarmusch has long turned cinematic genres inside out, whether it's the western (1995's Dead Man) or the samurai drama (1999's Ghost Dog), the espionage thriller (2009's The Limits of Control) or the vampire epic (2013's Only Lovers Left Alive). His approach is the same here, beginning with a nod to the genre's founders, such as Night of the Living Dead pioneer George A Romero. But even as the dead rise from the graves neither hysteria nor heroics take hold.
Jarmusch doesn't treat a zombie outbreak as a mysterious crisis, but an eventuality the locals have been primed for by popular culture. "I'm thinking zombies," Ronnie declares after faces and intestines are chewed at the local diner, and he's not the only one.
Sign up for Flicks updates
What partially separates The Dead Don't Die from Jarmusch's back catalogue is that he doesn't actually dig into the genre and its philosophy. There are references, but little remaking of history or implied heresy; the elegant vampires of Only Lovers Left Alive, for example, provided an alternate history of 20th century underground culture. The writer/director sees the zombie in flatter terms, as a metaphor for a society that is happy to consume itself. It's a bluntly political take, treating polar fracking as a substitute for climate change – everyone knows it's a major issue, but they comfort themselves with official denials until it's too late.
Steve Buscemi's curmudgeonly farmer wears a red 'Make America White Again' cap, and perceives the zombies coming for him as illegal immigrants. Jarmusch never overly stresses these observations, in the same way that he casts teen idol Selena Gomez and doesn't do a great deal with her, and the plot itself never really changes direction. It's amusing, but there's a level of meta commentary, complete with the lead actors stepping out of character, that leaves The Dead Don't Die too inert for its own good. In the end, Jarmusch just can't find that much to truly laugh about in society's downfall.