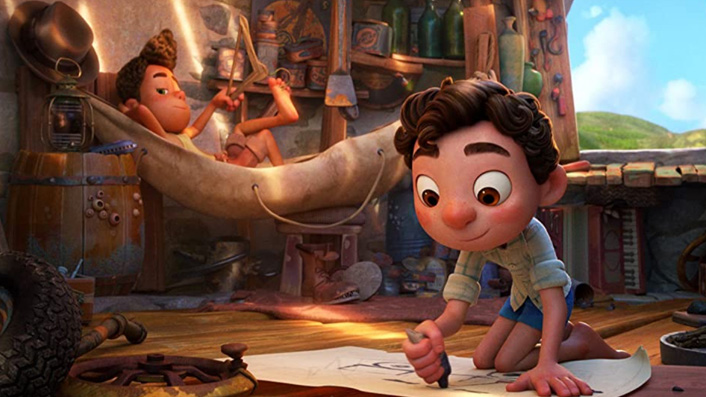 Storytelling magic's in short supply in Pixar's pretty but shallow Luca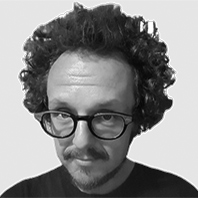 ---
Pixar's Italian Riviera-set coming-of-age film about a very fishy young boy is a minor effort from the acclaimed studio. Here's critic Luke Buckmaster's review.

The sea creature protagonist of Pixar's new animation longs to experience the world above the surface, where there's CGI-rendered linguine, shiny Vespa scooters, oxygen that doesn't kill him (instead it transforms him into the body of an ordinary boy) and the buzz and thrum of human society. But don't bother, I felt like saying: there's not much of a difference between this world and yours. If it's a magical place you're looking for, little mate Luca, you won't find it in the Italian Riviera (where much of the film is based). You won't find it under the sea either.
See also:
* Movies and shows now on Disney+
* All new streaming movies & series
Director Enrico Casarosa presents the oceanic universe that Luca (voice of Jacob Tremblay) and his family inhabit as an inverted version of our own, full of symbolic stand-ins and relatable day-to-day scenarios. Early on the perky protagonist greets his neighbours and helps a school of child-like little fish cross a gap on the ocean bed (the equivalent of a road). When his mother yells "lunch is ready!" Luca greets his fam around the dinner table, just like us, as mum gasbags about an upcoming talent show and wizened old grandma reflects on times passed.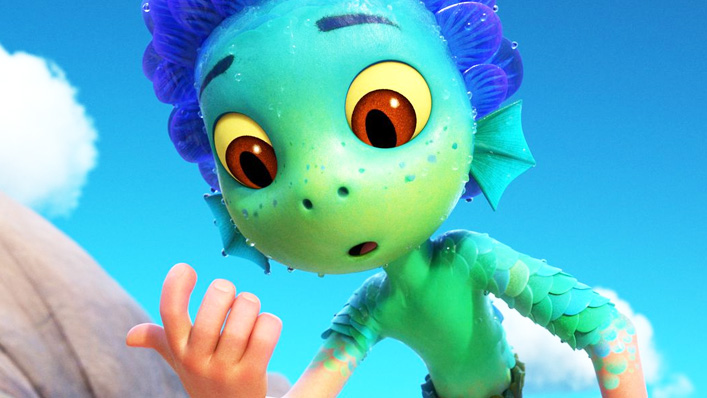 What a bland way to consider the ocean: not as an amazing alternate universe full of wonder and mystery but a cutesy world conceptually the same as our own. And if we were to consider this a magical place, Casarosa leaves it pretty quick, brings its residents to us, then asks them to adapt to the human world— normalizing the extraordinary. Given the fish in Luca's universe are already anthropomorphized humans, what, then, does he and his mischievous fellow-fishy pal Alberto (Jack Dylan Grazer) really change into when they go above the surface?
Frolicking around on the outskirts of a picturesque Italian town, Luca and Alberto draw pictures, muck around with a bicycle and fantasize about riding a Vespa. We genuinely want them to head into town—a lovely, quaint little place called Portorosso—because in these scenes the film is treading water: halfway to realizing its literal take on the fish out of water premise.
Upon their arrival, Casarosa and his screenwriters (Jesse Andrews and Mike Jones) give the pair a clearly defined goal (obtaining a Vespa) pursued through a familiar trajectory (competing in a race). Luca and Alberto are understandably alarmed that the townspeople like fishing so much they have erected artistic works celebrating this ancient pastime—including a centrepiece fountain sculpture depicting a buff spear-clad fisherman grabbing a sea creature by the neck.
All this is supposed to say: they don't like their kind (which is exactly the kind of attitude Luca's parents warned him about; they forbade him from going to the surface and are miffed by his treachery). This could have fuelled deeper insight: into xenophobia or racism, for instance, like in Paddington. The marmalade-loving bear didn't transform into human appearance; he was different and his differences make him special. Or Luca could have represented a gay romance, a suggestion Casarosa himself has scotched. The director might as well have said: goodness, no, we don't want our film to stand for anything other than what's on the tin.
The townsquare is beautifully crafted, with, like other elements in this film, a tactile aesthetic that makes you want to grab it, touch it, get on the street and explore. During the first visit to Portorosso I enjoyed peeking inside the local cafe, where a jolly espresso-sipping man leans against the counter; and at a tiny balcony, where two children eat slices of watermelon half the size of their heads; and at a bunch of old-timers playing cards on an outside table. A pleasant sense of community anchors the square as a social space—and it's also the film's spatial centre.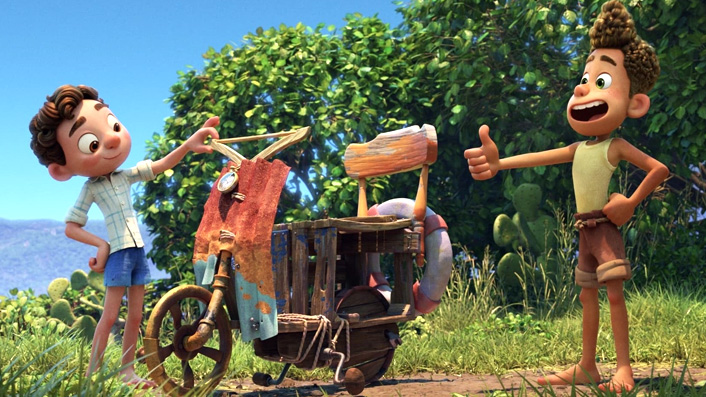 It doesn't take long before Casarosa rolls out the Disney bully trope: this villain, Ercole (Saverio Raimondo), not the jerk jock or Gaston-like alpha male but a snivelling pompadoured braggart. Meanwhile the role of the sweet, red-headed, bookish young girl Giulia (Emma Berman) emphasizes the essential decency of humans. She helps the boys train for their overarching challenge: a competition that involves bicycling, wolfing down pasta and swimming.
That last one is a little complicated, because when Luca and Alberto get water on them they revert back to their original fish form. This central tension creates a memorable depiction of ombrophobia—the fear of rain. I waited for a scene in which the boys watched Gene Kelly twirl around a lamppost in Singin' in the Rain, aghast and in fetal position as it pelted down on the MGM soundstage, his 'walking down the lane with a happy refrain' inducing cold sweats and nervous breakdowns.
This moment never came—although that tension involving contact with water plays an important part of an action-packed finale that, while a little mawkish, matches spectacle and sentiment quite well, despite taking the entire film to get there. Luca will inevitably patch things up with his mother and father and learn some life lessons. Are these human lessons, or fish lessons? It doesn't matter. In this world there's no difference. Not much magic either.