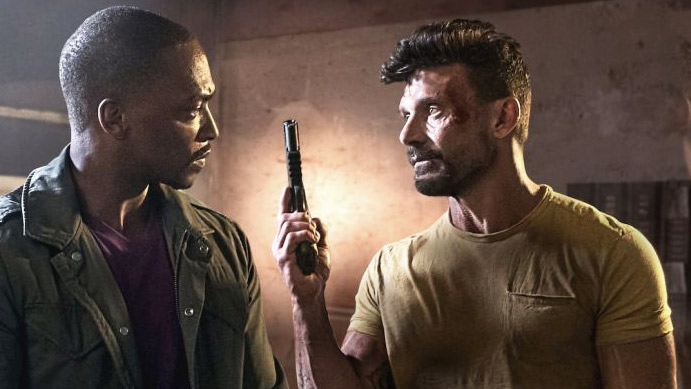 Netflix's Point Blank is a damn good action movie full of grievous bodily harm

---
Looking for a kick arse, hardboiled action movie to watch this weekend? Check out Point Blank, says critic Blake Howard.
Lean, mean high order violence, surprising emotional poignancy and champagne cineaste humour. Director Joe Lynch's Point Blank is precisely the kind of muscular, throwback buddy thrill ride one could hope for.
ER Nurse Paul (Anthony Mackie) is in a no-win situation: bust out prisoner Abe (Frank Grillo) – who is a thief accused of murdering the District attorney – or never see his pregnant wife Taryn (Teyonah Parris) again. Breaking Abe out is only half the battle; a volley of crooked cops and criminals alike have debts to be paid and scores to settle.
Point Blank is a Frank Grillo vehicle, designed for him to flex his acting chops. Grillo's character Abe is a bad arse enforcer, tethered to the edge of morality by his paternal nurturing of his brother Mateo (Christian Cooke). If you've seen Grillo in either of his most recent Netflix entities – Wheelman or at his most Bourdain in Fightworld – he's the real deal.
A lifelong martial artist committed to underpinning his strong performances with the assurance that he's not just acting tough, but that he's a true tough guy. Anthony Mackie, as Paul, showcases impeccable timing and charm. Trading the winged super heroics for scrubs, Mackie settles into the conflict between what's right and instinct.
Point Blank is a movie about birth and rebirth. The impending birth of Paul and Taryn's baby bundle, and potential resurgence in the form of a massive score for Abe and Mateo. The Mackie and Grillo chemistry fires in their mirroring pursuits, with their profanity-filled desperation to get the hell out of this mess. Oscar-winning badass Marcia Gay Harden, as Lieutenant Lewis, commands a tornado of bloodhound cops with questionable allegiances. Harden is firing shots and just controlling every damned scene. Her contribution is a reprieve for the genre's usual sausage fest; its tendency to cast women as things to be saved or screwed.
Lynch's visual flair is undeniable. He makes connective scenes pop with inspired aesthetic decisions, such as frantic and beautifully choreographed spins through hospital inventory closets. He appraises the action in the spirit of movies like Walter Hill's The Driver, 48hrs and Peter Yates' Bullitt. Death and grievous bodily harm are refreshingly rough in Point Blank.
Sign up for Flicks updates
There are gunshots so close you can taste the scorched bones. Bodies clipped by poorly aimed bullets or thumped by cars driving too quickly around corners that don't fully heal for the duration of the film. Point Blank adheres to human fragility in a way that the Fast and the Furious movies flatly deny. Writer Adam G. Simon adapted the script from the 2010 Fred Cavayé directed film of the same name. Simon and Lynch temper the jarring violence and vice grip of enveloping competing forces on both sides of the law, with top-shelf film geek humour.
During a visit to the stronghold of the hilarious Markice Moore's diminutive crime kingpin Big D, henchmen are forced to watch the movie Sorcerer. He's educating his team, saying: this da real shit, FRIEDKIN! Point Blank, I concur, is the real shit.