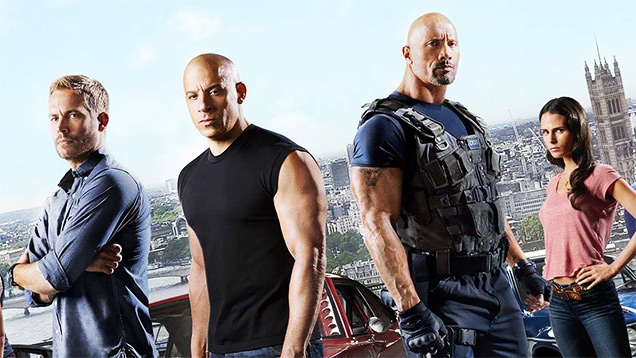 The Fast and the Furious is the best action franchise going around

---
Sorry James Bond aficionados. Sorry Mission: Impossible fans. The best action movie franchise in today's world is, pound for pound, movie for movie, and star for star, The Fast and the Furious. Travis Johnson explains why.

Look, Marvel movies are all very well and good, but they're pretty light on attitude. The James Bond series has become caught up in its own sense of importance, which was perhaps inevitable for a franchise predicated on the notion that Great Britain is still a superpower.
The Tom Cruise-starring Mission: Impossible movies are hopelessly crippled by the simple fact that they star Tom Cruise, although the possibility that we'll actually see him die onscreen performing one of his ridiculous stunts keeps us coming back.
And the John Wick flicks, for all their unarguable quality and deep love for action as a genre and a tradition, just don't have the longevity. Yet.
No, pound for pound, movie for movie, and star for star, the best action series currently running is The Fast and the Furious. For real, fam.
Sign up for Flicks updates
Started From the Bottom, Now We Here
Back in 2001, nobody could have predicted this. Directed by Rob Cohen, The Fast and the Furious is a brisk, muscular little action thriller that took the basic plot model of Point Break (and Ringo Lam's City on Fire, if you're feeling fancy) and dropped it into the then happening milieu of illegal street racing. The film stars Paul Walker as undercover cop Brian O'Conner, who is tasked with tracking down a hijacking ring led by Vin Diesel's Dominic Toretto. They have been swiping shipments of CD players, VCRS and other consumer electronics – an inauspicious beginning for a series whose most recent instalment saw its heroes racing a Russian nuclear submarine.
Indeed, the series itself seemed to not know its purpose, struggling through two fairly forgettable instalments: 2002's 2 Fast 2 Furious, which saw Walker's O'Conner team up with old buddy Roman Pierce (Tyrese Gibson) in the absence of Diesel's Toretto; and 2006's The Fast and the Furious: Tokyo Drift, a kind of Halloween III effort. It jettisoned all but the most tenuous links to the preceding films to tell the story of a new hero, Sean Boswell (Lucas Black), an American thrust into the world of Japanese street racing.
The film was not well received. But it did introduce to the franchise two key players: writer Chris Morgan and director Justin Lin, who together would turn the modest racing series into a global behemoth.
Low Culture, High Concept
The Fast and the Furious' appeal, the essential thing it does that sets it apart from other franchises, is marrying street-level style to summer blockbuster stakes. That's harder than it looks. Compare Vin Diesel's other franchise, xXx, the first film in particular, as an example of how not to do it. xXx comes off as smug and instantly dated; F&F, by contrast, is knowing and self-effacing in its affected coolness. And that counts for a lot.
The fourth film, 2009's Fast & Furious, is a transitional piece. For one thing, it returns Walker and Diesel to the fold, along with respective love interests Jordanna Brewster as Mia Toretto and Michelle Rodriguez as Letty Ortiz. For another, it's notably grimmer in tone, with the gang taking on John Ortiz's ruthless Cartel boss to avenge Letty's murder (she gets better – more on that in a sec). And finally, the focus has started shifting from car racing to straight-up action, a trend that continues. Although car culture remains an indivisible part of the series' DNA, it's not the dominant factor.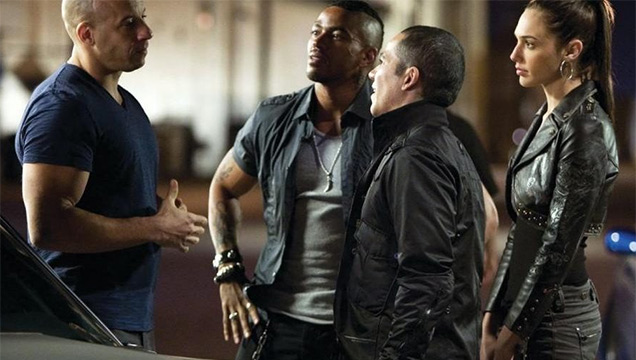 But it's 2011's Fast Five that really set the mold going forward: a high octane, recklessly paced heist flick that pulled together all the elements. The central cast is cemented, with Walker, Diesel and company joined by Gibson's Roman and Ludacris's Tej Parker from 2 Fast 2 Furious, Gal Gadot's former Mossad agent, Gisele, from Fast & Furious, and Sung Kang as Han Sue, a fan fave character killed off in Tokyo Drift but seemingly resurrected for Fast & Furious. As it turns out, Tokyo Drift is set in between Fast & Furious 6 and 7, for no other reason than to include Han.
The biggest signifier that the series had become something larger than life, however, was the addition of one Dwayne 'The Rock' Johnson as nemesis – and eventual ally – Lucas Hobbs. If anything says "OTT action spectacle" in the modern cinematic idiom, it's the bulging Samoan superstar, whose self-reflexive machismo is a NOS booster for the entire franchise. Ripping off shipments of VCRS are out – huge battles, physic-defying stunts and nigh-Shakespearean personal stakes are in.
Effortless diversity
It's worth noting that the Fast & the Furious series boasts the most racially diverse cast of any blockbuster franchise ever. Vin Diesel self-describes as being of "ambiguous ethnicity." Dwayne Johnson is Samoan/African American. Ludacris and Tyrese Gibson are African American. Sung Kang is Korean. Michelle Rodriquez is Hispanic. Gal Gadot is Israeli. Of course, original star Paul Walker is white, but as the series progressed he had become very much part of the ensemble and no longer the focal point, even before his untimely death during the filming of 2015's Furious 7.
The current state of play, with a majority POC cast, has developed organically as the series progressed, with 2 Fast 2 Furious director John Singleton bringing in more black actors and hip hop culture elements, while Justin Lin's debut on Tokyo Drift saw a focus on Asian "rice burner" car culture that still flavours the films today. We're probably a long way from any overt LGBTQI visibility in the series, but Michelle Rodriguez's comments on the male-gazey treatment of women in series seems to have resulted in a gynocentric spin-off featuring Letty and Charlize Theron's villainous Cipher. In The Fast and the Furious, everyone is invited to the party.
I Don't Have Friends, I Have Family
Which is key. The codas to the individual films often feature the extended Toretto clan kicking back at a barbecue drinking Corona, and those scenes are emblematic of a tone that runs through the series: The Fast and the Furious is a fun ride and everyone is welcome to hop on board. When The Rock joined the fold it seemed epochal, but also inevitable – of course the big guy should be in these movies.
The same when Jason Statham's Deckard Shaw was revealed as the villain of the seventh film in the closing moments of Fast & Furious 6 – what a perfect addition to the roster. Both adversaries were later adopted into the de facto family, their sins forgiven – even Shaw's murder of Han. Of course, that was done in revenge for the Toretto crew's actions against Shaw's brother, Owen (Luke Evans), and familial fidelity is the highest virtue in the F&F universe, so perhaps that's okay.
Indeed, family loyalty is the real narrative engine that drives these flicks, no matter what objectives or opposition may be supplied by the villain of the moment. Flipping the script on that has provided the drama twice – in Fast & Furious 6 when an amnesiac Letty is revealed to working for Owen Shaw, and in The Fate of the Furious (2017), when Cipher blackmail's Dom into working against his beloved bros. Sure, they're big, obvious emotional beats, but subtlety is not the point here – these engines run on feelings, not fuel.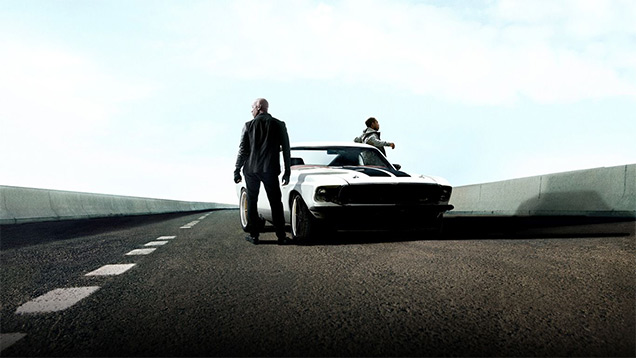 Physics is for Losers
Which is something to keep in mind when you're drinking in the truly audacious stunt set pieces that are the highlight of any decent Fast & Furious flick; realism is not the point. Like a German Expressionist film or a Hong Kong martial arts melodrama, the world and the action are extensions of the characters' emotions. The drama is writ large in crashing cars and exploding fuel tanks, collapsing buildings and bulging pecs.
The franchise's action sequences consistently demonstrate impressive imagination and staging. Certainly, each film goes out of its way to top the previous entry, leading us to moments of insanity like Furious 7's tower-jump chase and Fate of the Furious' submarine chase, but even earlier instalments impress – look at 2 Fast 2 Furious' hundred car chase, and Fast & Furious's fuel heist. Fast Five's towed-vault chase remains a series high point, as does 6's insanely well-choreographed airstrip climax, but really it's moments like Dom's final duel with Deckard…
…that really pack a punch: a perfect distillation of the franchise's particularly flavor machismo, theatricality, and drama.
Into the Future a Quarter Mile at a Time
The road is wide open for The Fast and the Furious. Releasing in Australian cinemas on August 1,  Fast & Furious: Hobbs & Shaw sees Johnson and Statham's supporting characters teaming up to take down Idris Elba's cyber-genetically-enhance terrorist (we are such a long way from stolen VCRs), and will show whether or not the brand is bigger than the core characters. If it does well (and it probably will), expect the Letty & Cipher roadshow to roll into town sooner rather than later. Plus we're getting the franchise's first foray into television later this year, with the animated Fast & Furious: Spy Racers hitting Netflix soon.
And, of course, Fast & Furious 9 is currently in production under the direction of Justin Lin, supposedly the second part of the trilogy kicked off with Fate of the Furious. In theory the subsequent 1oth film will be the last of the series, but here's the thing: families are more than their individual members. You can replace a lot of engine parts and still call it the same car. As always in the Fast & Furious world, it's ride or die. And this series is certainly not dying yet.