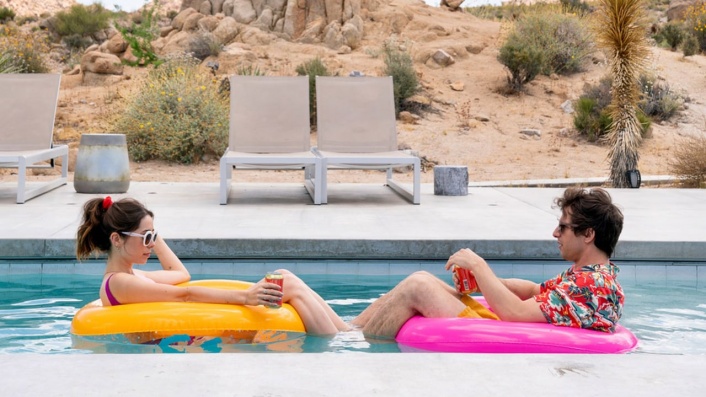 Finally, Palm Springs will be available to stream in Australia this month!

---
Okay I'm calling it. There have officially been too many movies that are "Groundhog Day but in X genre." Taking that evergreen Bill Murray plot of a poor soul being forced to relive the same day over and over again, and transplanting it into sci-fi-action (Edge Of Tomorrow) or slasher (Happy Death Day) or teen drama (Before I Fall).
Time-loop movies need to forevermore mend the fabric of space and time and call it quits. And I'm very happy for the final entry into that canon to be Palm Springs, 2020's most lovable romantic comedy.
After some uncertainty as to how Australian audiences could catch this much-hyped indie success, we finally know that Palm Springs will arrive in Australia on Prime Video on November 20.
The feature film debut of director Max Barbakow, Palm Springs follows a pair of total strangers who attend the same glam wedding in the titular desert oasis. After the obligatory meet-cute, however, Sarah (Cristina Milioti) is pulled into the same day-long time loop in which Nyles (Andy Samberg) has seemingly been trapped for an unspecified, agonising amount of time.
Check out the trailer below for some idea of what it'd look like if Andie Macdowell's character joined Bill Murray in his never-ending existential routine.
As you can expect from a movie produced by The Lonely Island, Palm Springs has raked in acclaim for its clever  comedy. SlashFilm celebrated it as a "sharp, laugh out loud crowd-pleaser," saying that "Palm Springs could end up being the funniest film of 2020." Vox's glowing review found that Palm Springs "achieves in its most insightful moments what comedy does best: let us laugh at the world a little, by way of learning something about ourselves."
If the idea of watching a millennial rehash of Groundhog Day actually bores you, don't let it; Indiewire claims that Palm Springs is the first descendant of Groundhog Day "that doesn't just apply that old formula to a new problem, but also fundamentally alters the basics of the equation."
And Variety, too, appreciated Palm Springs as a structural remix: "It's an irreverent take on a form where earlier iterations were obliged to take themselves seriously. And somehow that liberates what felt like a slick but ironic riff on a tired genre to do something sincere."
Despite screening on Hulu in the US, Palm Springs has finally struck an agreement with Prime Video, where Aussie subscribers can first check out the film on November 20. After that, you could get pretty Palm Springs-y if you want, and watch it every day for the rest of your life – honestly, there's many worse films to be trapped with forever.