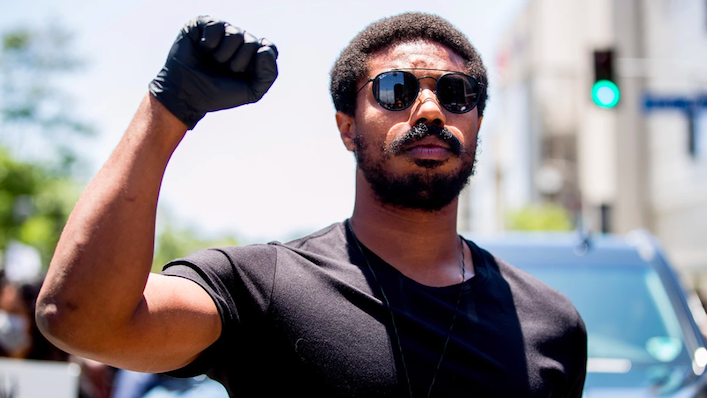 Michael B. Jordan and John Boyega call for Hollywood to do more for Black Lives Matter

---
Across every one of the 50 United States, and in many cities around the world, protests have continued this week over the incendiary death of George Floyd and the country's history of police brutality.
The immense spread of the movements extends from seeking justice for specific wrongful deaths in police custody, right up to more abstract questions of how African American people are represented in film and television. In Los Angeles especially, many of the screen industry's most recognisable power players have been among the protestors.
Sign up for Flicks updates
Creed and Black Panther star Michael B. Jordan joined a protest in central Los Angeles, standing outside some of Hollywood's top casting and management agencies. It was an apt location for Jordan's speech to the crowd, vocalising his disappointment with the lack of diversity in upper-level industry positions.
Jordan asked aloud: "Where is the challenge to commit to black hiring? Black content led by black executives, black consultants. Are you policing our storytelling as well? Let us bring our darkness to the light."
LISTEN TO MICHAEL B JORDAN AND GIVE HIM RESPECT pic.twitter.com/0WVPYtnb3l

— ays. (@stonexsnow) June 7, 2020
Footage from the protests shows Jordan recalling his role in Fruitvale Station, a film based on the life and death of black Oakland resident Oscar Grant, who was killed on the BART public transport system by a police officer. In the above video posted to Twitter, Jordan affirms that he "lived with [the role] for a very long time".
British actor John Boyega, best known for playing Finn in the recent Star Wars sequel trilogy, was also spotted attending multiple Black Lives Matter events, speaking tearfully to fellow protestors.
"Look, I don"t know if I"m going to have a career after this, but f**k that," Boyega announced into a megaphone, continuing to say: "Today is about innocent people who were halfway through their process. We don't know what George Floyd could have achieved, we don"t know what Sandra Bland could have achieved, but today we're going to make sure that won't be an alien thought to our young ones."
we love you @johnboyega
👊🏻👊🏼👊🏽👊🏾👊🏿 pic.twitter.com/z0tTihSXpY

— star wars archive (@starwrsarchive) June 5, 2020
Jordan and Boyega are just two of the notable celebrities who have attended the marches and protests in a show of solidarity. Other names include John Cusack, Ariana Grande, Ellen Page, Ben Affleck, Ana De Armas, Janelle Monáe and Jamie Foxx, who rallied from his native Texas hometown.