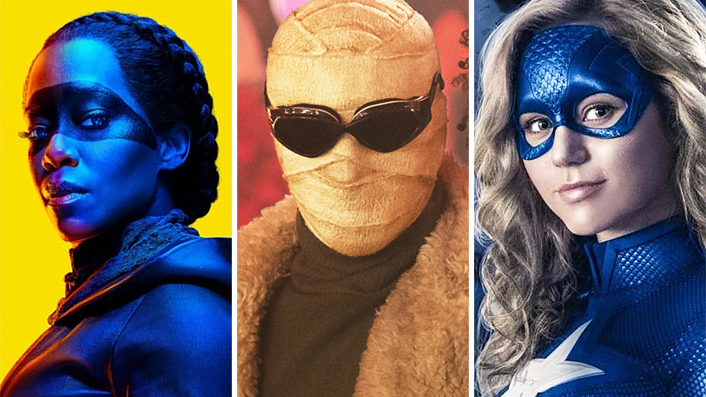 Why BINGE has become Destination DC – and you should be watching

---

BINGE has become Destination DC—home of superhero stories with a difference. Here's Travis Johnson's guide to this dizzying array of capes and cowls.

Freshly minted streaming service BINGE has staked a claim as the premiere place for superhero action, offering up eager fans a plethora of televisual treats drawn from the dynamic DC Comics universe.
In addition to big screen caped capers like The Dark Knight, Man of Steel, Superman Returns, Wonder Woman and Green Lantern, there's oddballs on the run dramedy Doom Patrol, the hopepunk legacy of DC's Stargirl, the unabashedly political and critically acclaimed Watchmen, the retro action of Pennyworth, and much more, all grouped under the Destination DC banner.
It's a dizzying array of capes and cowls, which can be a bit off-putting for the n00bish fan. Where to even begin? Who are these people? And where does Batman fit into all this?
Never fret, fanboys—here's your complete guide to all the DC series currently on BINGE. Starting with…
What's it about?
A decade after superhero team The Justice Society of America were wiped out by a supervillain, high school student Courtney Whitmore (Brec Bassinger) discovers the Cosmic Staff wielded by the late Starman and becomes, fittingly enough, Stargirl. Aided by her stepfather, former sidekick Pat Dugan (Luke Wilson), she founds a new generation of the Justice Society.
Where's it from?
The costumed identity of Stargirl (or Starman, depending on the gender involved) has been used by a number of different characters over the years, but this iteration was created by writer Geoff Johns and artist Lee Moder in 1999. Johns patterned her after his sister, Courtney, who died in a plane crash in 1996.
Why's it good?
Legacy is a recurring theme in the DC Universe, with younger characters taking on the mantle of older heroes on the reg, such as the Jay Garrick/Barry Allen/Wally West Flash dynasty. DC's Stargirl tackles this notion head on, with a young crew of heroes taking up the battle for a better world and confronting the various villains that killed off the previous generation of capes. It's all about hope for the future, and we could use a bit of that right now.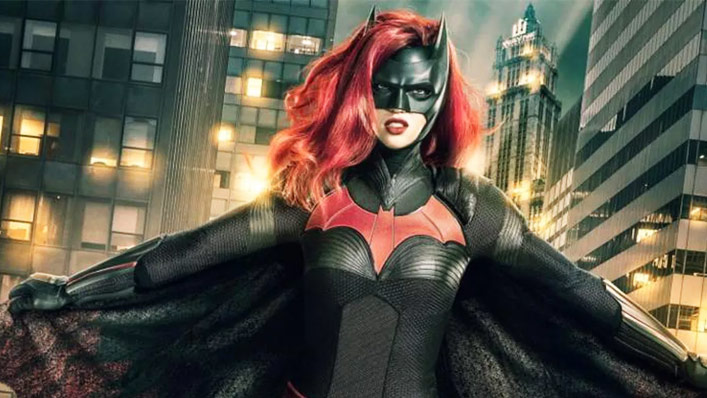 What's it about?
Years after the disappearance of both Bruce Wayne and the Batman (what a coincidence!), his cousin Kate Kane adopts the cowl of Batwoman and tries to bring justice to the dark streets of Gotham City.
Where's it from?
Another legacy character, this Batwoman first appeared in the massive crossover event 52 in 2006, created by heavyweight comics writers Geoff Johns, Grant Morrison, Greg Rucka, Mark Waid, Keith Giffen. She remains the highest profile gay character in comics.
Why's it good?
Because representation matters and having Australia's own Ruby Rose play a lesbian superhero in the rich sandbox that is the Bat-haunted corner of the DC Universe is certainly a bold swing. She fights supervillains, romances Alfred's daughter Julia (now a British intelligence agent) and looks good in black. Rose very publicly left the series after the first season, so we're getting a new Batwoman soon played by Javicia Leslie, making this a perfect time to get in on the ground floor.
What's it about?
After race car driver Cliff Steele (Brendan Fraser) is seemingly killed in a horrific crash, he awakens to find himself not only trapped inside a robot body, but a member of the freakish Doom Patrol. The group includes shapeshifting former actress Rita (April Bowlby), disfigured energy projector Larry (Matt Bomer), half-machine Cyborg (Joivan Wade) and the unpredictable Crazy Jane (Diane Guerrero), who has a different power for each of her many personalities.
Where's it from?
The Doom Patrol has been kicking around the DC Universe since 1963, but this version is heavily inspired by writer Grant Morrison and artist Richard Case's run on the title starting in 1989.
Why's it good?
Morrison and Case's work on Doom Patrol is hella influential, to the point that we wouldn't have The Umbrella Academy if Gerard Way hadn't been such a huge fan he decided to homage it. It's audaciously weird, not just throwing freakish characters, but also drawing inspiration from the Dadaists and other outré artistic and literary movements. And if that's too high-falutin' for you, you also get Timothy Dalton as the Patrol's founder, Niles Caulder, and Alan Tudyk as arch-villain Mr. Nobody, which is worth the price of admission alone.
What's it about?
In a world where costumed vigilantes have existed since the middle of the 20th century, a former cop, Sister Night (Regina King) uncovers a terrible racist conspiracy in modern day Tulsa. Is it somehow connected to the aborted alien invasion that leveled New York City 35 years ago? Well, of course it is…
Where's it from?
Produced by Damon Lindelof (Lost, The Leftovers), this is actually a direct sequel to the groundbreaking 1985 comic book limited series by writer Alan Moore and artist Dave Gibbons. So read that instead of watching Zack Snyder's dreadful film version.
Why's it good?
It's not just good, it's next level. Lindelof crafts a complex, provocative, and politically savvy follow up to the most acclaimed comic of all time, and somehow manages to weave in themes about race and police brutality that have since boiled over in the real world. Superhero fans like to say that comics (and their adaptations) aren't just for kids, but Watchmen is a genuinely mature and cerebral work for adults.
What's it about?
A mixed bag of would-be heroes, including The Atom (Brandon Routh), Captain Cold (Wentworth Miller), John Constantine (Matt Ryan), White Canary (Caity Lotz), Firestorm (Victor Garber and Franz Drameh), and basically any supporting characters from the Arrowverse who haven't been used in a while, battle to defend the timestream from a variety of threats.
Where's it from?
Not based on a comic! The Legends are a whole new superhero team cobbled together by Flash and Arrow producer Greg Berlanti and his crew.
Why's it good?
It's just so goddamn weird. No other show out there captures the wild, high-flying, anything goes tone of the best big superhero events, but Legends of Tomorrow makes it even wackier by populating its cast with well-meaning fools, snarky outsiders, semi-reformed villains, and other assorted losers. This isn't the Justice League—these are the guys who save the world when the big hitters have better things to do. Downright strange and deeply funny, it's an absolute blast.
What's it about?
Scientist Alec Holland (Andy Bean) is murdered by corporate criminals, only to be resurrected as the Swamp Thing (Derek Mears), the much-encrusted guardian of green places. Or is he? The true nature of Swamp Thing's identity is only one of the horrors that awaits…
Where's it from?
Swamp Thing was created by writer Len Wein and artist Bernie Wrightson in 1971, but the series draws a lot from comics savant Alan Moore's legendary early '80s run on the title with artists Steve Bissette, John Totleben and Rick Veitch, among others.
Why's it good?
Because it's horror! One of the few comic book adaptations to really embrace the darkest of genres, Swamp Thing drips with foreboding and is populated with a full cast of monsters both human and otherwise. It's a grim, haunting piece of Southern Gothic, rich with atmosphere but not afraid to go for gore when it counts.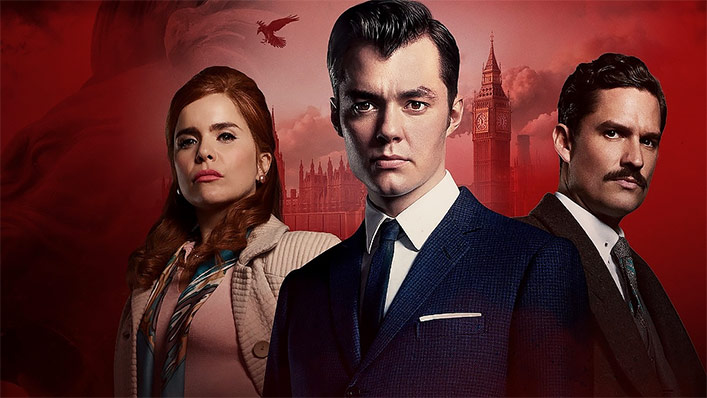 What's it about?
Before he was Batman's butler, Alfred Pennyworth (Jack Bannon) was an ex-SAS operative in an alternative 1960s London trying to set up his own security firm and tackling various villains with the help of CIA agents Thomas Wayne (Ben Eldridge) and Martha Kane (Emma Paetz).
Where's it from?
Alfred has been at the very least hinted at being a secret bad ass almost since his first appearance in Batman #16 back in 1943.
Why's it good?
If you're not down for Batman's butler as a sexed-up superspy in swinging '60s London, channeling both The Avengers (not that one) and Sapphire & Steele, you may be beyond help. This one comes to us courtesy of Gotham's Bruno Heller and Danny Cannon, who once gain take great pleasure in rewriting Batman canon to stylish effect.
What's it about?
Superman's cousin Kara Zor-El (Melissa Benoist) battles largely extraterrestrial threats as Supergirl.
Where's it from?
A mainstay of the DC Comics Universe, Supergirl has been kicking around in various forms since being introduced by writer Otto Binder and artist Al Plastino in 1959 (Action Comics #252).
Why's it good?
When it comes to the Superman family, casting is everything, and Melissa Benoist is perfect as Supergirl: iconic, poised, determined, honest, and open. It's really a star-making turn. Add to that the narrative boldness to encompass a huge swathe of the more OTT sci-fi elements of the DCU, including the 31st Century Legion of Superheroes, the Martian Manhunter (David Harewood), and the universe-spanning Crisis on Infinite Earths, and you've got a series that really captures the cosmic grandeur of its source material.