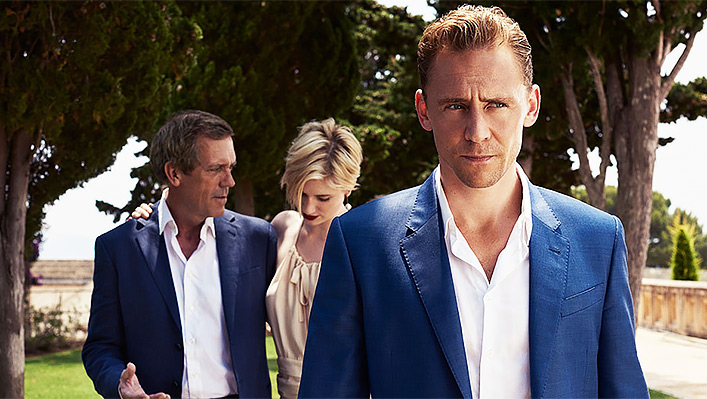 The top 5 espionage series to stream on Netflix, Stan and Amazon Prime

---
The spy is the ultimate symbol of deception: someone whose quest to reveal the truth is built on subterfuge. It's why the espionage series, whether cavalier or paranoid, has become a staple of modern television.
Every spy story reveals a unique set of circumstances, balanced between revelation and destruction. Here are five of the best currently available to stream on Australian platforms.
Sign up for Flicks updates
The Bureau (SBS on Demand, 4 seasons)
Forget the CIA, MI6, and ASIO. France's intelligence service the DGSE is the fulcrum of this intense and interior drama, which stars Mathieu Kassovitz as Guillaume Debailly, a deeply engrained operative who has just returned to Paris – at least physically – after six years undercover in pre-civil war Syria.
Even as he prepares a young agent, Marina Loiseau (Sara Giraudeau), for a similar operation in Iran, Guillaume is caught up in the machinations of his agency, with Eric Rochant's show focused on tradecraft, surreptitious surveillance, and relentless counterintelligence over gunfights and martinis. It's a world that forces you to live multiple identities. The muddying of those lives spills over in fascinating and unexpected ways, even as the plotting makes use of former DGSE agents as technical advisors.
Watch on SBS on Demand
Condor (Stan, 1 season)
At first glance remaking the classic 1975 Sydney Pollack thriller The Three Days of the Condor appeared to be a bankrupt creative play, just cashing in on existing IP and a ready-made title. But this contemporary take proved to be far more than that when it debuted in 2018.
A CIA analyst whose everyday work report leaves him running for his life after his colleagues are massacred by unknown assailants, Joe Turn (Max Irons, son of Jeremy) is at the centre of a story that draws in terrifying assassins and extremist plots from both sides of the war on terror. It sounds extreme, but it's anchored by supporting performances from William Hurt and an unexpected Brendan Fraser that reveal deeply human motivations, and the show's subtleties are thankfully influential. A second season is currently in production.
Fauda (Netflix, 2 seasons)
Told through the strained bonds of intimately connected people – husband and wife, quarry and obsessive pursuer – this Israeli series about a military anti-terrorism covertly operating in the West Bank mostly eschews ideology. That's because the two sides are so intractably divided, with assassination bids and suicide bombings fuelling an endless cycle of violence so complete that the undeclared conflict matters more than any historic cause.
Israeli officer Doron Kavillio returns to active duty from retirement when he learns that a foe he believed dead, Taufiq Hammed (Husham Suliman), is still at large. Concise half hour episodes reveal the minutiae of operations and the way betrayal becomes a staple for all involved.
As a book The Night Manager was the first novel John le Carre published after the end of the Cold War at the start of the 1990s. That uncertain landscape has been updated by this gripping 2016 limited series to take in arms dealers, money's lure, and government hypocrisy. Tom Hiddleston plays Jonathan Pine, a former British soldier whose employment at an Egyptian hotel brings him into contact with a charming arms dealer, Richard Roper (Hugh Laurie), and the pregnant British state investigator, Angela Burr (Olivia Colman), trying to charge him.
The cast is exceptional, with Elizabeth Debicki as Roper's young and compromised American wife and Tom Hollander at a menacing offsider. Much of their interaction unfolds in convivial, sunny circumstances that only adds to the layers of deception.
Watch The Night Manager on Amazon Prime
East Germany's historic attempts to infiltrate West Germany in the wake of their partitioning inform every step of this nuanced and sometimes shocking thriller about a young East German operative sent to the other side of the Berlin Wall. A loyal officer assigned to a "Romeo" operation, Lars Weber (Tom Schilling) is dropped into the capitalist realm circa 1974 to seduce and make a source out of Lauren Faber (Sofia Helin), a civilian analyst at top secret NSA listening station.
Directed by Oliver Hirschbiegel (The Downfall), these six episodes are smartly self-contained, revealing new angles to the protagonists and the people around them that keeps you looking anew at two societies defined by their opposites.