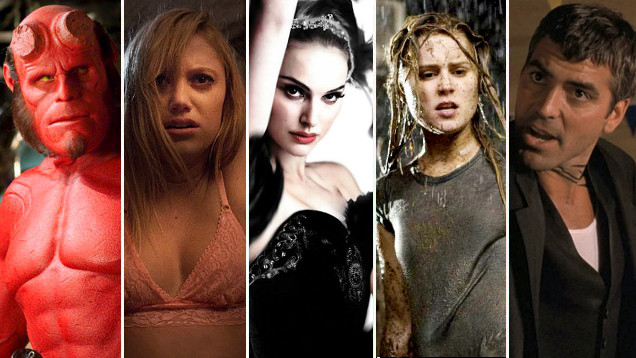 Top 20 supernatural films on Netflix and Stan

---
When the movies began as brief flickering images made for public exhibition, some people felt that they'd had an otherworldly experience.
Ever since the cinema and the supernatural – anything inexplicable to science's laws of nature – have been connected. And while the horror genre has become the oversized face of the supernatural, the films that exemplify it today are altogether more varied and elusive.
Here are the top 20 supernatural films on Netflix and Stan.
NETFLIX
Australian filmmaker Zak Hilditch delivers a slow burn adaptation of a Steven King novella about guilt's enveloping force, drawing a sustained performance from Thomas Jane as the Nebraska farmer who destroys his own family in the name of preserving their way of life. The dread is conducive, the imagery exacting.
With The Raid franchise Gareth Evans was the bone-crunching saviour of action films, but this menacing, madness-tinged journey into a Victorian-era religious cult on a Welsh island is a departure. Dan Stevens is the former missionary searching for his sister, with Evans placing the surging terror amidst patriarchal control and pagan power.
Darren Aronofsky eclectic career is tied together by his ambition: he furthers his movies to engorged excess. Here he turns the career hopes of a an ambitious but fragile New York ballerina (Natalie Portman) into a master class in pulp psychology, stoking the fractures in her psyche with tormenting technique, a libidinous doppelganger, and lurid engagement.
Cam (2018)
The multiple identities of the online world are tailor-made for horror's enquiry into who we might truly be, and it gets a sharp summons in Daniel Goldhaber's story of camgirl Alice (a terrific Madeline Brewer) whose ascent turns to disintegration when she's locked out of her account as a lookalike carries on without her.
In Jeremy Saulnier's previous features, Blue Ruin and Green Room, violence was a shocking and sudden extension of everyday life. But in this Alaska-set drama about a wolf expert (Jeffrey Wright), a rural mother with a missing child (Riley Keough), and her soldier husband (Alexander Skarsgard) there's a mystical underpinning that makes the bloodletting creepy and seemingly ordained.
A sexually transmitted disease, passed from one person to the next like an unerring ancient curse, makes this dreamily destructive horror film about a Detroit teen (Maika Monroe) pursued by a relentless, unknown entity into both a contemporary thriller and a timeless nightmare. The long shots of approaching (possible) threats are exquisitely terrifying.
Critically reappraised in recent years, this subversive black horror-comedy from a female team – writer Diablo Cody, director Karyn Kusama, and stars Megan Fox and Amanda Seyfried – is ambitious and sometimes wilful, but in the story of a possessed high school student (Fox) using sex to lure her male victims to their death it undercuts the raunchy veneer with commentaries on the male gaze, the power of desire, and sexual assault.
A psychological horror film for the 21st century, Olivier Assayas' compelling film positions Kristen Stewart's American in Paris as a tremulous link between different worlds, whether it's serving as a conduit between fashion houses and her movie star employer or a medium contacted by the dead. The ghostly texting scene on the train to London is one for the ages.
Superpowers usually are bestowed on the classically brave or charismatically cocky, but in Yeon Sang-ho's wild South Korean action-comedy it's a dodgy security guard, trying to help his estranged daughter fight off gangsters working for property developers, who gains the power of telekinesis. With rowdy humour and anti-corporate impetus, it's a certified crowd-pleaser.
Michelle Pfeiffer's intricate technique is at the heart of this Hitchcockian thriller from Robert Zemeckis, where the peaceful prosperity of a veteran marriage – between Pfeiffer and Harrison Ford's characters – is unsettled by both suspicions and spirits, so that the investigation and the macabre combine for a heady, lurid atmosphere.
STAN
Simultaneously a celebration and deconstruction of horror's mainstream principles, Joss Whedon and Drew Goddard's dark comedy turns a group of college students' trip to an isolated cabin into a ritual slaughter mundanely managed by a pair of white-collar company men (Bradley Whitford and Richard Jenkins). The genre's lust for blood is cruelly satisfied.
Sam Raimi had made three Spider-man blockbusters in a row by the time he got to this tale of demonic pursuit, and the director who made Evil Dead a benchmark for teenage viewing threw himself into the desperate efforts by a bank employee (Alison Lohman) to escape a curse. Jump scares and grotesque visitations pepper the plot, with Raimi's pleasure proving infectious.
Quentin Tarantino resuscitated an old script about a pair of murderous criminals on the lam and put it in the hands of pal Robert Rodriguez, who amped up the grindhouse violence and Tex-Mex monsters to make a drive-in double bill squeezed into one bloody B-movie. Tarantino and George Clooney are the sibling desperadoes, with Harvey Keitel as a troubled priest.
Before comic books were pop culture canon, Guillermo del Toro made this joyous, expressive adaptation of the Dark Horse title about an infant demon birthed by Nazi ritual during World War II who is subsequently raised to protect the world. Ron Perlman is a hoot as the oversized red teen, in the only coming of age tale to feature a pyrokinetic love interest and mechanical assassins.
Ben Wheatley's low-budget second feature remains his best work, matching occult machinations to domestic undercurrents in the story of a troubled British soldier turned hitman (Neil Maskell) who accepts a contract for three killings only to find himself immersed in a conspiracy focused on his involvement. Workplace banter and gruesome executions combine to make an eerie summoning.
The bonds of childhood friendship are given a rare, revealing reappraisal in Tomas Alfredson's masterful depiction of a bullied boy (Kare Hedebrant) who finds a nocturnal confidante in the form of his unnerving new adolescent neighbour (Lina Leandersson). Vampire lore and the bloody realities combine to make a heartfelt study of need and companionship.
The hard-boiled tropes of neo-noir filmmaking were ruptured in David Lynch's jagged, circular psychological mapping of identities in flux, with Bill Pullman and Balthazar Getty playing versions of the same while a femme fatale blonde Patricia Arquette plays multiple roles. The meaning is in the striking images, which play like a film in thrall to an unknown power.
Gloomy rural mansions with locked doors and too few residents are a horror staple, but the Spanish filmmaker Alejandro Amenabar gave them disquieting new purpose and a heartbreaking twist in this ghost story headlined by Nicole Kidman as a mother troubled by spectral intruders.
A cornerstone of horror cinema – as well as the recipient of a diffident recent remake – Dario Argento's giallo classic about a young American dancer (Jessica Harper) who comes to suspect the staff at her German dance school of unnatural motives is a lustrous mix of vibrant filmmaking and quivering scares.
At turns droll and terrifying, this Norwegian found footage mockumentary follows a group of hopeful young documentarians whose efforts to get the goods on a purported bear poacher instead reveal a dedicated secret keeper of the country's troll population. Full of on the fly sightings and updated mythology, it's an unlikely concept where disbelief gives way to snuffling proximity.