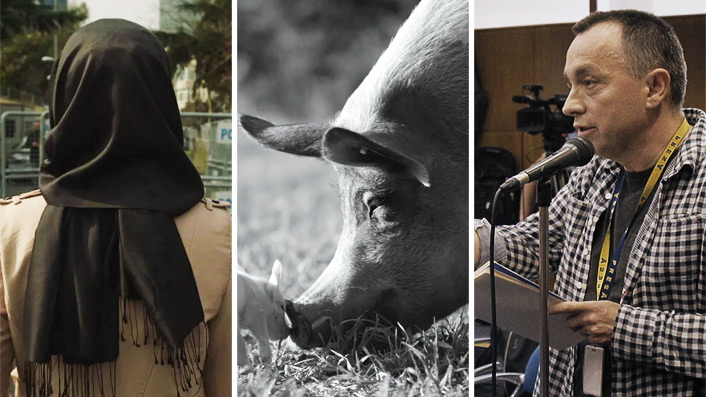 Three of this year's best documentaries are in cinemas right now

---
Corruption in Romania, murder in Istanbul and life on a farm are the subjects of three terrific documentaries now playing in Australian cinemas.

In one of the most astonishing documentaries of 2021, a team of Romanian journalists bring their government to account for the country's corrupt health system. In another must-see doco, a sow, her piglets, a one-legged chicken and two cows command the camera's attention. And in a third, a horrifying political assassination is thoroughly scrutinised.
All three (now screening in Australian cinemas) are must-see films. Scroll down to find out why.
Find session times
Only the second film ever nominated for both Best International Film and Best Documentary Feature at the Academy Awards, Collective is an ode to hard, difficult, thorough and utterly essential journalistic work. The Alexander Nanau-directed film wouldn't exist if the team at The Sports Gazette didn't take their duty to speak truth to power as seriously as possible.
Led by Cătălin Tolontan, the newspaper's reporters started looking into the aftermath of a tragedy. When Bucharest club Colectiv went up in flames in 2015, 27 people died, 143 were injured and 37 more lost their lives in the months afterwards. The paper's staff started asking why, in an investigation that saw them uncover shocking abuses of power, atrocious acts of negligence, and a fatal disregard for hygiene protocols and for human life throughout Romania's health system. Protests ensued, the Prime Minister resigned and Tolontan and his team kept asking questions.
As journalists chase leads, discuss details, hear from aghast whistleblowers and convey their own dismay—and as a new Health Minister tries to handle the fallout—Nanau watches on. It's easy to foresee how Hollywood might dramatise this tale, but Collective will always be the filmic version of record.
This is a devastatingly and painstakingly thorough documentary. Nanau adopts an observational approach, knowing that the facts here say more than any editorialising and commentary could. Even when detailed discussions monopolise his frames, which happens frequently, almost everything the film captures is gut-wrenching.
Find session times
Truth isn't stranger than fiction in Gunda—but reality is far more spectacular, moving and engaging than even the most vivid of imaginations could conjure. Eschewing narration, voice-over and intertitles, and also deciding that humans should neither be seen nor heard, this black-and-white documentary spends its time with farm animals. It's that straightforward: the film's sow, piglets, one-legged chicken and pair of cattle mostly eat, sleep and play, then repeat that cycle. It's also nothing less than gripping.
These creatures aren't anthropomorphised. Other than its eponymous porcine matriarch, they aren't even given names. But they convey more emotion (and inspire it from viewers) than most movies about cute critters even dream of. Managing to reach beyond even David Attenborough's finest observational nature documentaries, which have long set the genre's standard, Gunda sees its subjects simply as fellow living beings on this planet. Their lives are as full of feeling, connection and meaning as any human's.
Directed by Victor Kossakovsky—who is also co-writer, co-editor and co-cinematographer—the results are joyously beautiful. The film is also inescapably haunting, though, because beneath every gorgeous sight, and every quiet moment, resides a literally unspoken truth. These aren't cats, dogs, goldfish and budgies. They're not domesticated pets; that'll never be their fate. Kossakovsky was inspired to make Gunda after befriending a pig as a boy, then learning his pal's destiny. That sensation is felt through every frame.
Find session times
On October 2, 2018, Saudi journalist Jamal Khashoggi walked into his homeland's embassy in Istanbul to formalise the paperwork he needed to get married. His Turkish fiancée Hatice Cengiz waited outside, but would never see him again. When Khashoggi didn't return, the Saudi government said that he had left the consulate. There was zero evidence to back up their claims. Within days, the truth that the whole world already suspected became apparent. In exile from Saudi Arabia since 2017, Khashoggi was known for his critical stance on King Salman and Crown Prince Mohammed bin Salman, with agents of their government killing and dismembering him inside the embassy.
If a screenwriter included the above scenario in a script about a dissident targeted by their country's rulers, it would seem too blunt and obvious. But that's exactly how Khashoggi's life came to an end, as Oscar-winning Icarus filmmaker Bryan Fogel explores in this powerful documentary. For those with even the briefest awareness of the situation from news reports and headlines, little in the film will come as a surprise. However that doesn't make even a second of The Dissident any less horrifying.
Indeed, viewers won't be shocked by the blanket Saudi denial, or the subsequent admission that Khashoggi was murdered and that it was premeditated. Or the accompanying insistence that neither Salman nor MBS had any prior knowledge. No-one watching will be astonished when few repercussions come Saudi Arabia's way in the very public aftermath, either. Fogel deftly and comprehensively stitches together the details, taking his cues from his subject too—because, when it comes to laying bare the extent that Saudi powers will go to quash any criticism, The Dissident is blistering.