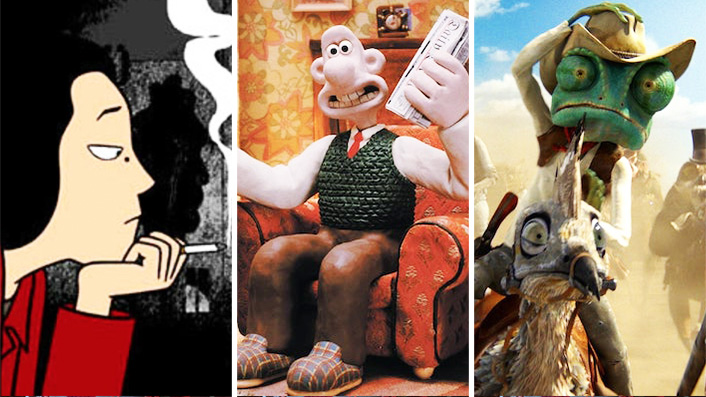 The 25 best animated movies on Stan

---
Here's our curated list of the best animated movies in Stan's vast library: from Aardman and Dreamworks adventures that'll keep the family entertained, to more mature titles from all around the world.
See also
* All new movies & series on Stan
* All new streaming movies & series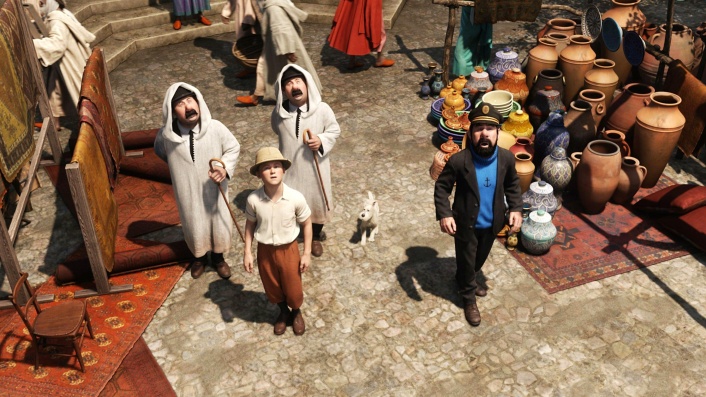 Watch on Stan
Steven Spielberg and Peter Jackson make a fine pair of collaborators—kinda like their film's camaraderie between explorer Tintin and hapless Captain Haddock. Hergé's globe-trotting comics are brought to life via sophisticated motion-capture tech, and whether it works as a convincing facsimile of reality or not is pretty irrelevant (it mostly does). What's important here are the giddy chase sequences and fight choreography, the sense of wonder that brings to mind an Indiana Jones animated adventure.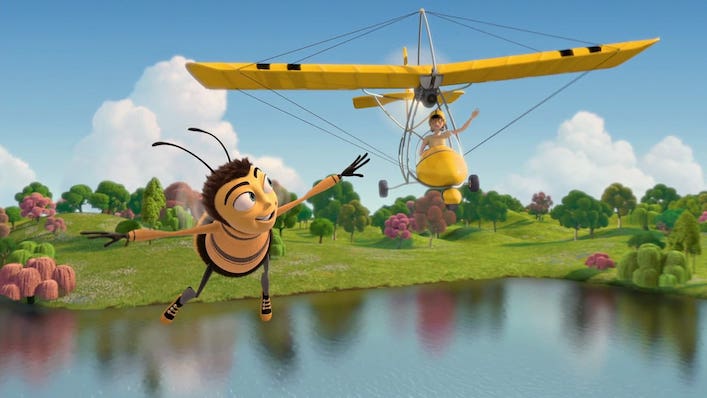 Watch on Stan
Starring Jerry Seinfeld as a bee named Barry B. Benson, Bee Movie marked the cynical apex of Pixar-style family movies purporting to show us 'the exciting secret life' of…toys, monsters, ants, boss babies, etc. It's a feverish and often funny peep into a miniature world, unafraid to devolve into human-bee interspecies romance and court case drama that has absolutely no chance of appealing to younger audiences. Older audiences who get a buzz out of Seinfeld or the importance of bee ecology may be down, however.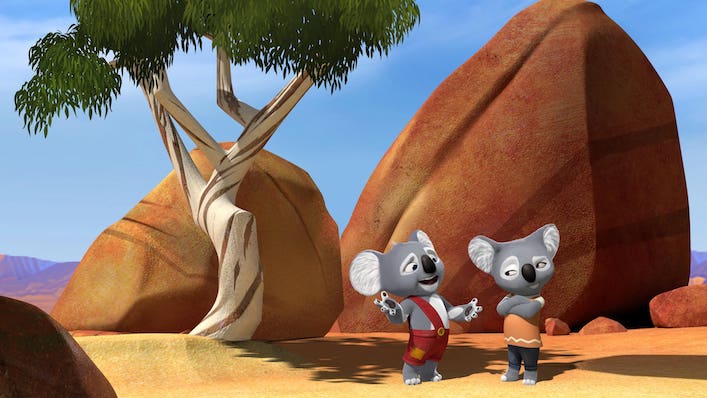 Watch on Stan
Yoram Gross introduced a generation of young Aussies to their unique national fauna with stories like Dot and the Kangaroo and Blinky Bill. Maybe the now-defunct animation studio did too good a job, though: fans who grew up with Blinky Bill didn't really know what to make of this slick, parochial screen adaptation. Little tackers will fall for all the cuddly, sprightly bush critters and gentle message of conservation—and adults will enjoy the near performatively-Aussie voice cast of local legends.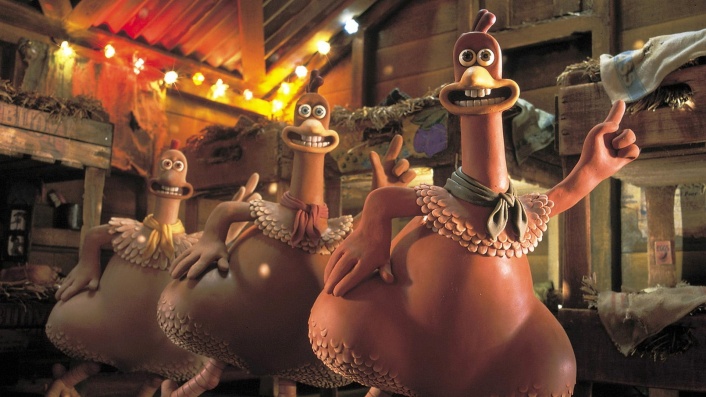 Watch on Stan
Is Chicken Run a subversive Holocaust allegory? Is it, as Robert Pattinson claims, a chick flick? We simply claim that it's The Great Escape with fat, adorable claymation chickens, and it's a triumph. Facing certain death when their sadistic farmer Mrs Tweedy decides to make the move from eggs to chicken pies, courageous Ginger and her bird-brained fellow prisoners must escape—and a brash American rooster might be their only salvation.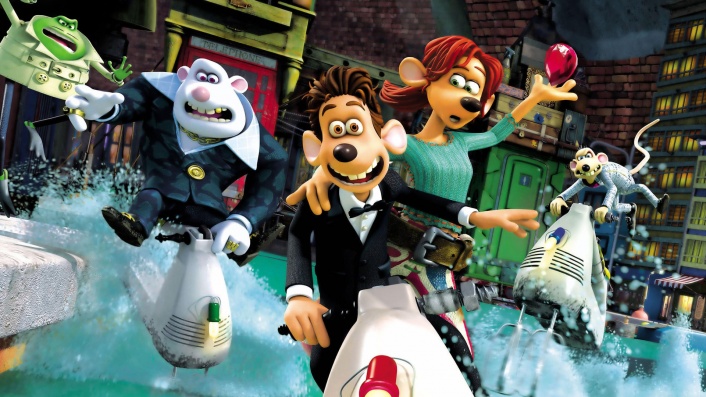 Watch on Stan
Hugh Jackman voices Roddy, a spoiled pet rat who gets flushed down the toilet to the shanty city of Ratropolis, in one of Aardman's less loved feature films. It's frankly pretty gross, with singing choirs of CGI slugs and Ian McKellen as an evil toad overlord. But that's probably why kids (and overgrown kids) will enjoy it so much; it's like Toy Story but with more poop jokes!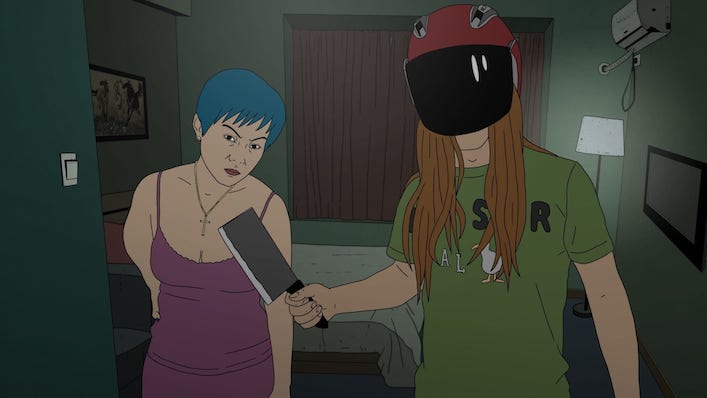 Watch on Stan
Made on a slim budget, this Chinese animated feature renders a gangster story in skinny, anxious lines and flat planes of colour. It's an idiosyncratic odyssey, despite pulling from familiar pulpy crime tropes and twists, all kicking off when a mob underling steals his boss's money to pay for his girlfriend's plastic surgery. Arguably it could all easily be live action, but in the animated medium, you feel each moment more strongly, in contemplative real-time.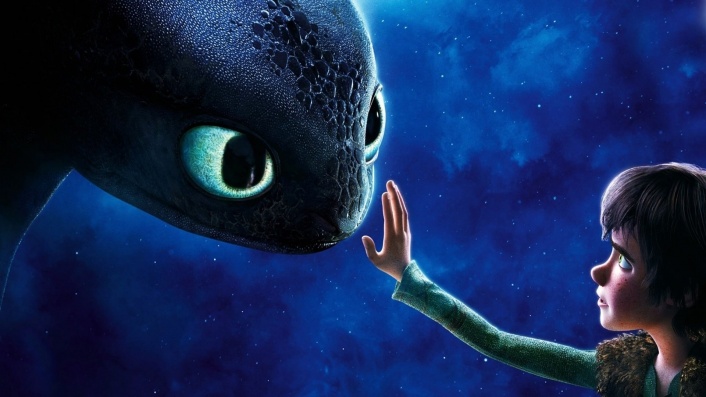 Watch on Stan
Nerdy viking Hiccup (Jay Baruchel) must kill a dragon to prove that he's a real warrior—but what's he meant to do, when he can't bring himself to take down the rare and cuddly one he captures? This fantasy-adventure flick has spawned a bunch of sequels and spin-off TV series, and it's not hard to see why: the injured dragon Toothless is a sleek triumph of character design, and young dreamers will quickly get caught up in How To Train Your Dragon's sprawling world-building. Plus that orchestral score slaps.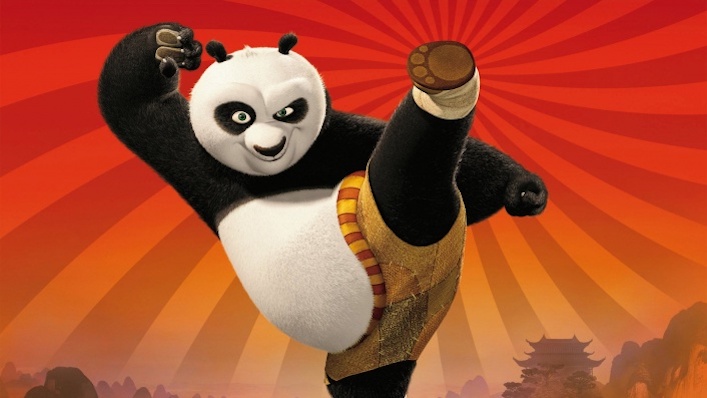 Watch on Stan
Starring Jack Black as its does-what-it-says-on-the-tin title character, this Dreamworks family film could've been a lazy animated endeavour. Instead, it's got exciting martial arts sequences, ambitious visual style, and emotional storytelling to get Pixar quivering with envy. The all-star voice cast includes Dustin Hoffman, Angelina Jolie, Jackie Chan, Lucy Liu, Seth Rogen, Ian McShane and James Hong as the protagonist's duck dad (it's explained in one of the sequels, idk).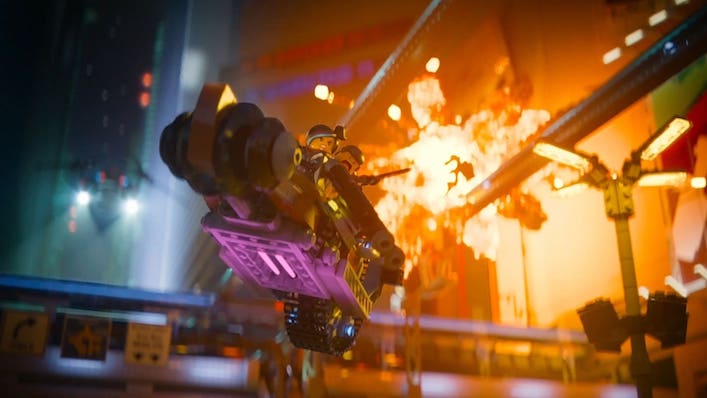 Watch on Stan
The connection between wholesome kids' entertainment and inevitable merch opportunities isn't anything new, but 2014's The Lego Movie makes brand synergy endlessly funny and energetic. In one corner, the conformity of control-freak Lord Business (Will Ferrell); in the other, the individuality and creative freedom offered by Lego (trademark). Bet you never thought plastic bricks could make you question the place of free market capitalism in your kid's toybox.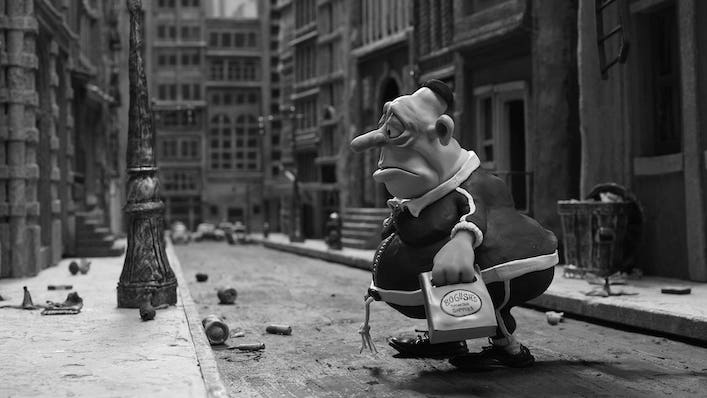 Watch on Stan
Australian claymation auteur Adam Elliot isn't afraid to get dark in this story of international, inter-generational friendship. Mary and Max is visually foreboding beyond its narrative of lonely, lumpy humanism, told in black-and-white and sepia tableaus of miserable modern life. Toni Collette voices Mary, a Melbourne schoolgirl, and Philip Seymour Hoffman is downright heartbreaking as Max, an ailing New Yorker with Aspergers.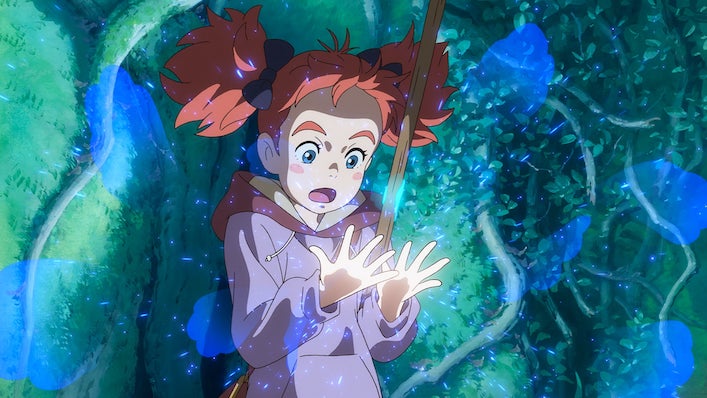 Watch on Stan
Studio Ponoc is still a baby off-shoot of Studio Ghibli, spreading into its own space with this fantastical coming-of-age story and only one other title so far—a short film project to celebrate the Tokyo Olympics. Kate Winslet and Jim Broadbent are the adult presences in an otherwise jubilantly youthful tale, of 11-year-old Mary who discovers a mystical flower and broomstick that gift her with witchy abilities.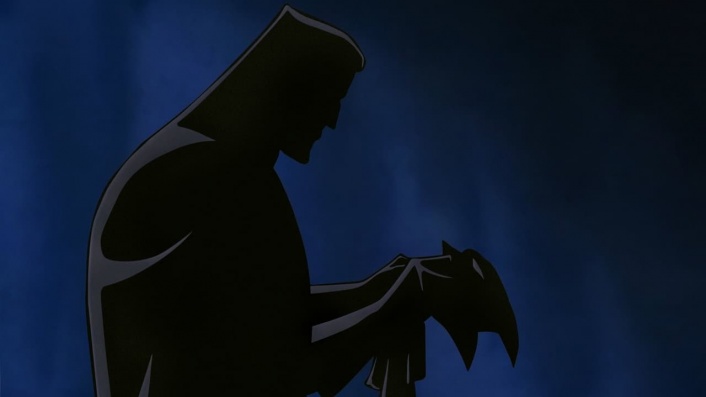 Watch on Stan
Forget Christopher Nolan's cinematic trilogy—this 77-minute-long tale might somehow be the most adult and effective Batman story in memory. It's got actual conflict between Batman's grave responsibilities and his personal life as Bruce Wayne, slick noir-esque animation, and a reprise of Mark Hamill's all-timer vocal performance as The Joker. Read more about the super-heroic impact of these DC animated stories in our feature from Travis Johnson, on why Mask of the Phantasm and others can "hold their own against any of the recent big screen glut."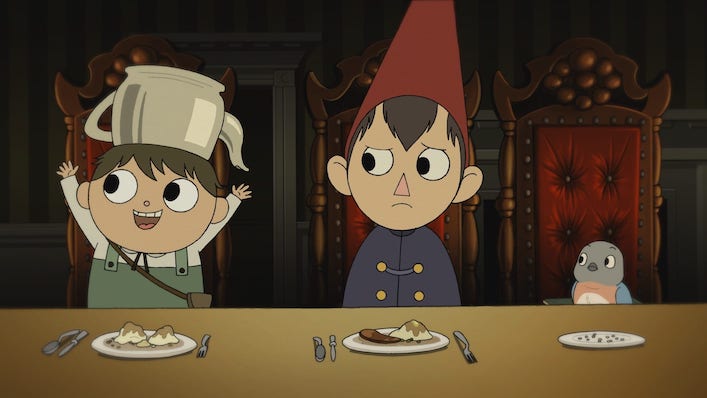 Watch on Stan
We know this isn't really a movie, but come on—it's 10 sets of 10-minute episodes, with a melancholy and cinematic arc you can and should blaze through in one setting. Over The Garden Wall follows a pair of brothers lost in the woods of the Unknown, an autumnal landscape populated by beings from dreams and nightmares alike. Melanie Lynskey, Christopher Lloyd, Elijah Wood, and Tim Curry populate the voice cast, relishing the wordy dialogue and foreboding fairytale melodies.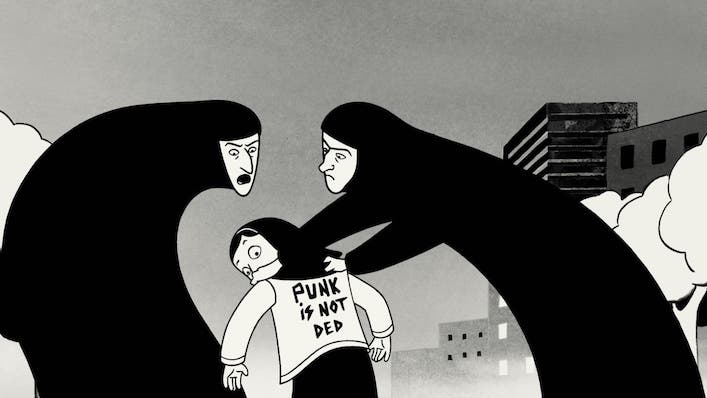 Watch on Stan
Marjane Satrapi seamlessly adapts her own autobiographical graphic novel for the screen, keeping the text's intimate black-and-white aesthetic. Persepolis balances both the national story of revolution in Satrapi's home of Iran, and a more personal, 1970s coming-of-age narrative, with both arcs confronting themes of liberation, selfhood and having faith in where you come from.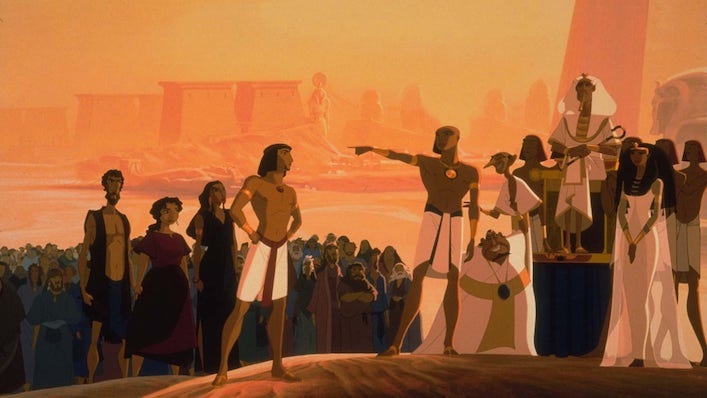 Watch on Stan
If you've ever been forced to watch this movie in Sunday school, or just consider yourself generally uninterested in bible stories, try taking another look: The Prince of Egypt is a grand, animated take on the biblical epic genre. Stephen Schwartz contributes sweeping Broadway-style showtunes, a star cast led by Val Kilmer takes us to church, and the elaborate sequences of seas parting and plagues are visually impactful, no matter your religious inclination.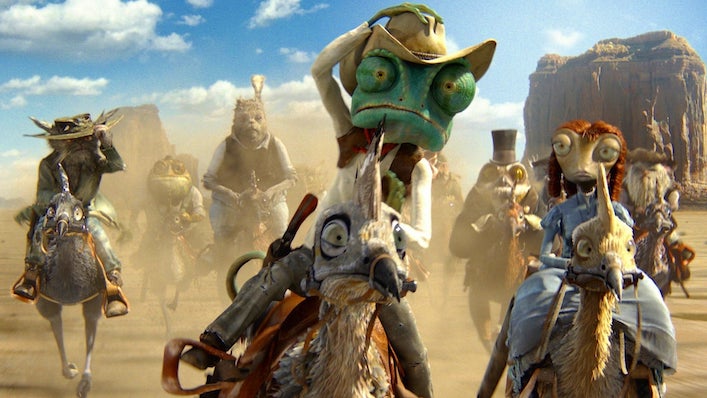 Watch on Stan
A little bleak and idiosyncratic, Rango uses a similar fish-out-of-water format as kids movie fare like Shark Tale, Flushed Away (above), so on and so forth. But with a sun-bleached western setting, Gore Verbinski's computer-animated oddity distinguishes itself. Actors like Johnny Depp, Isla Fisher, and a terrifying Bill Nighy appeared on a rudimentary set to act out their gangly character's lines in person before that footage inspired animators, and it comes across in the film's rangy physical comedy.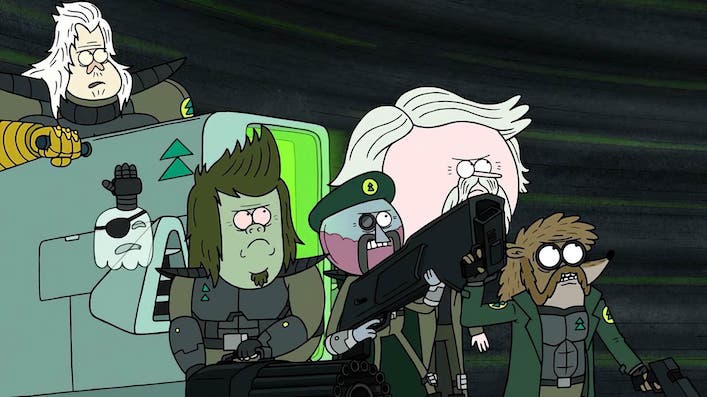 Watch on Stan
The sugar-rush hang-out vibes of Cartoon Network series Regular Show are only sliiightly heightened for this feature-length adventure, sending Rigby and Mortdecai pinging around through time and space. It's mostly appropriate for all ages, but definitely with an eye on the hearts of geeky video-game obsessed slackers who will see themselves in the two main characters, and their 'Time-nado'-warped struggle to reconcile future and past versions of themselves.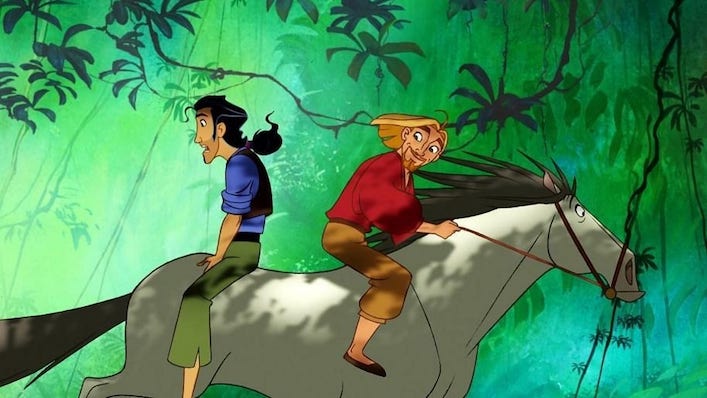 Watch on Stan
Kenneth Branagh and Kevin Kline are totally charming in this hand-drawn mythical yarn, voicing con artists Miguel and Tulio. Used to lying and cheating their way through 1519 Spain, the lads land in the lap of luxury when they're mistaken for a native tribe's most powerful gods. Songs from Elton John and Tim Rice will carry you along through swashbuckling adventure scenes, even if the sunny story of colonial conquest is questionable.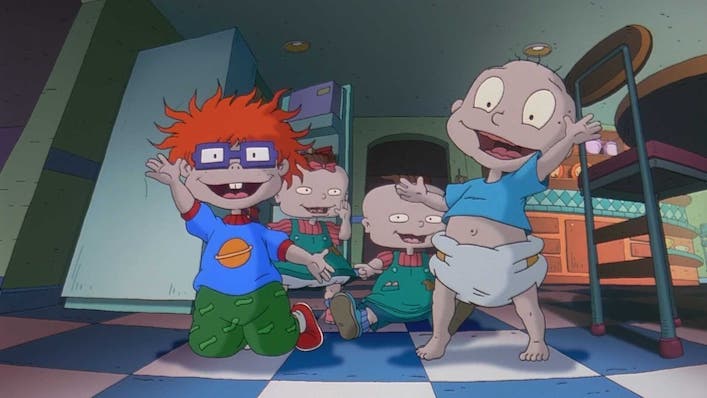 Watch on Stan
I miss a time when audiences didn't expect all animation to look so polished and hyper-realistic, and Nickelodeon series like Aaah!! Real Monsters and Rugrats dared to look especially quirky. The sweet, gummy character design of the TV series continues in this feature-length creation. And there's some truly nutty scenes, too, like a hospital room full of babies voiced by punk and new wave stars, and Tommy almost sacrificing his younger brother to evil monkeys(??).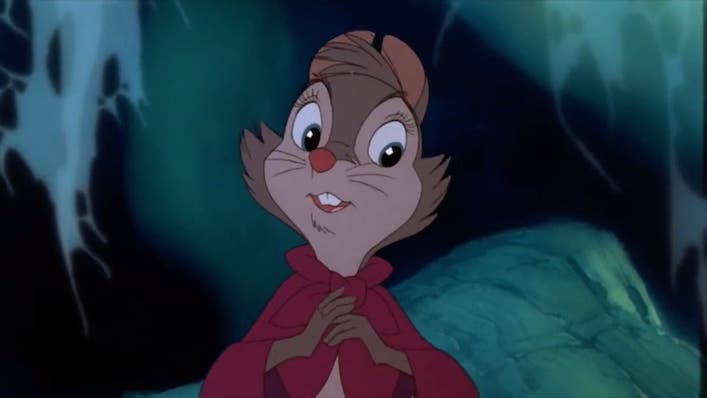 Watch on Stan
Don Bluth's first animated feature probably gave the House of Mouse a scare on arrival, with fluid, fantastical designs and a story of intelligent mice and rats living in a "small world after all." Families will find the adventure quite dark and complex in how Mrs Brisby and good rat Justin ultimately collide with our human world, but there's enough imagination, magic and moments of play to keep audiences of all ages involved.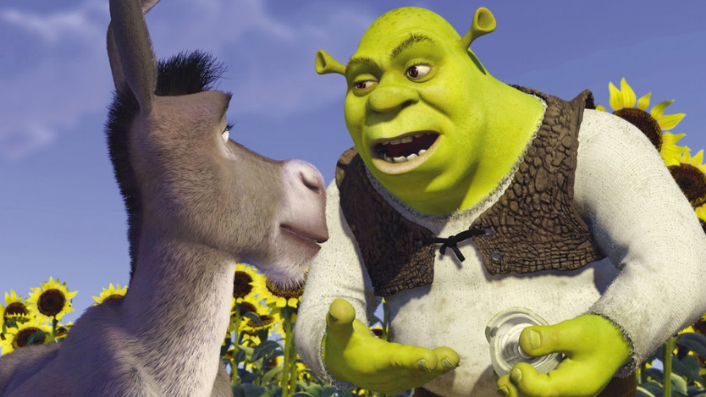 Watch on Stan
Twenty years down the line, it's hard to determine where a great, subversive kids film ended and where an evergreen meme began. Sure, Shrek kickstarted a now-tiring trend of family cinema that pandered to the paying parents in the audience, with witty pop culture and adult references that would only increase in the (also hilarious) second film. But it still has surprising heart, telling its story of self-acceptance over beauty with humour and integrity. Shrek is love, Shrek is life.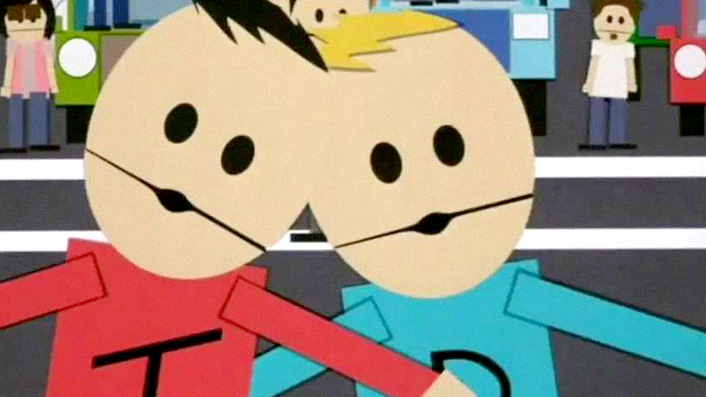 Watch on Stan
Trey Parker and Matt Stone have been trolling everybody with construction-paper crassness for a staggering 23 seasons by now, arguably peaking in 1999 with this feature-length animated musical. Hilariously nominated for a Best Original Song Oscar for Blame Canada, there's a genuine love of the musical theatre genre under all those farts and jokes about Satan being Saddam Hussein's clingy boyfriend.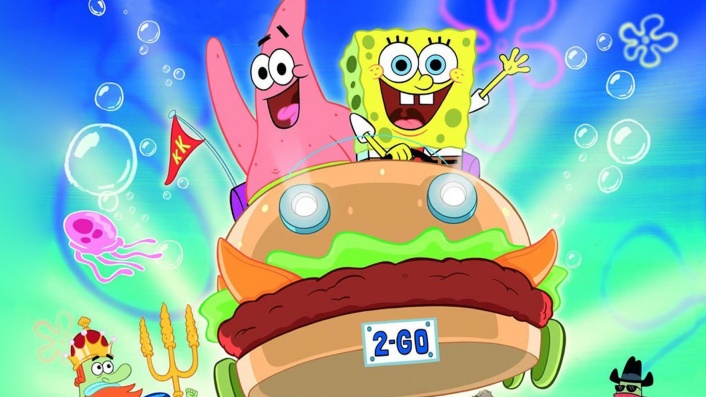 Watch on Stan
If nautical nonsense be something you wish, The SpongeBob Squarepants Movie combines the best of the Nickelodeon show's aquatic absurdity with cinematic-sized comic setpieces. SpongeBob and Patrick have to journey beyond Bikini Bottom to retrieve King Neptune's crown in this feature-length adventure from original creator Stephen Hillenburg. The visual gags and storytelling beats only get better as it goes on, culminating in a victorious scene of deus ex David Hasselhoff.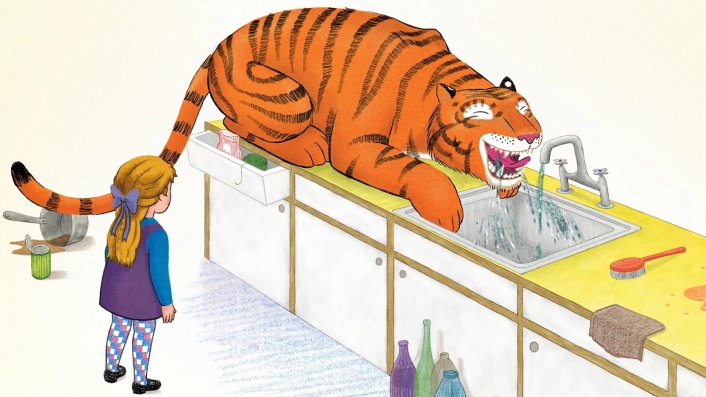 Watch on Stan
A very proper British picture book prowls onto the screen with this made-for-TV film, featuring David Oyelowo's dulcet tones as an insatiable but not particularly threatening tiger. Generations of children have grown up enjoying Judith Kerr's original text, and it's nicely adapted in hand-drawn, retro animation here, not feeling padded out or overly elaborate. Benedict Cumberbatch and Tamsin Grieg lend their voices to the parents of Sophie, an imaginative young girl who has to deal with the fuzzy orange intruder.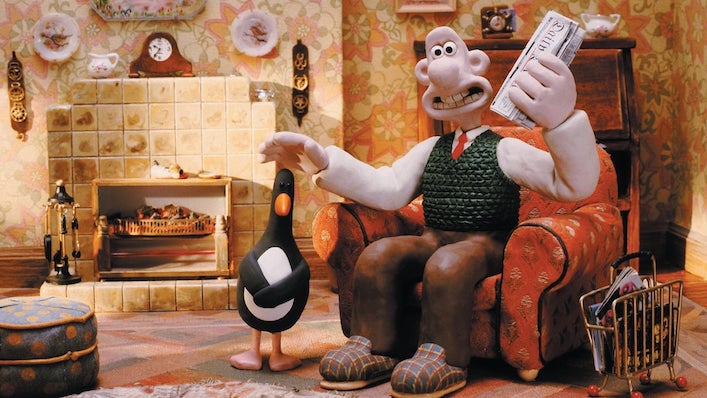 Watch on Stan
Stan is home to all the Wallace and Gromit adventures you could ever hope to find, from their first appearance in lunar voage A Grand Day Out to the theatrically-released feature Curse of the Were-Rabbit. But if you have time for just one, make it The Wrong Trousers, featuring one of the animated medium's greatest villains. His name is Feathers McGraw, he's a silent penguin disguising himself as a chicken via red rubber glove, and he is the epitome of evil—Anton Chigurh, step aside.