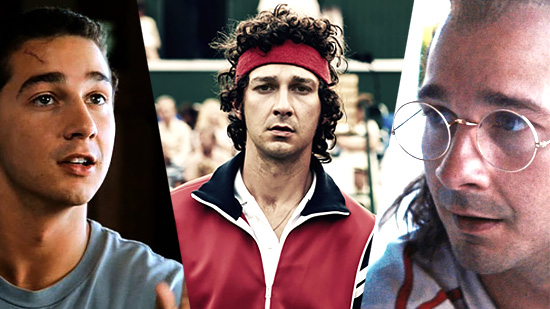 Shia LaBeouf's top 10 performances, from Holes to Honey Boy

---
Shia LaBeouf is a reliably unpredictable actor whose body of work contains many gems. To mark the release of his new film Honey Boy, critic Sarah Ward picks LaBeouf's top 10 performances – and no, the Transformers franchise did not make this list.

Back in 2015, Shia LaBeouf hosted a movie marathon of his own films. He invited the public to watch, while he sat there with them and viewed his back catalogue in reverse chronological order. As he did so, he live-streamed his reactions for everyone to see.
You could call the event, named #ALLMYMOVIES, indulgent. Worse accusations have certainly been levelled LaBeouf's way. Or you could see it for what it was: a man taking stock of a life spent in front of the camera from a young age, revisiting his experiences and memories in the same way that most folks look back at old photos.
That's what Honey Boy does too, although this time, LaBeouf has turned a chapter of his childhood into a film. While the specifics have been fictionalised, the film draws upon his years on the Disney TV series Even Stevens, as well as rebellious teen phase – and the role that his father played in both. Naturally, LaBeouf wrote the script himself. Further demonstrating his eagerness to interrogate his past, he also plays his own father.
Turning in a bravura performance, Honey Boy ranks among the best work of LaBeouf's career. Although, when to comes to on-screen highlights, it has company. And no, the Transformers franchise isn't among them.
Sign up for Flicks updates
LaBeouf was already an acting veteran with five years' work under his belt – and 17 on-screen credits to his name – when he made his big-screen breakout in Holes. Here, he stars in that rare beast of a family film genre: a smart, engaging movie for all ages that takes to its task with the utmost of care.
Based on the 1998 young adult novel of the same name, the Andrew Davis (Collateral Damage)-directed feature follows teenager Stanley Yelnats IV, whose family believe they're unlucky. A stint at a juvenile detention camp seems to confirm that idea, although this imaginative adventure has more in store. LaBeouf is in great company, working alongside Sigourney Weaver, Patricia Arquette, Tim Blake Nelson and Henry Winkler.
In A Guide to Recognising Your Saints, Dito Montiel adapts his own memoir about his childhood into a raw and powerful coming-of-age tale set in New York in the 80s. And, casting LaBeouf as his younger self – plus Robert Downey Jr as the adult version – he gets blistering and potent performances to match.
Indeed, the entire cast won Sundance Film Festival's Special Jury Prize for their efforts. It's a well-deserved award. This is a purposefully scrappy slice-of-life piece that wrings everything it can out of its actors. They ensure that the movie's narrative about mean streets, tough upbringings and Italian-American neighbourhoods is never as familiar as it sounds on paper.
A surveillance thriller partially inspired by Alfred Hitchcock's Rear Window, Disturbia doesn't always completely come together as director DJ Caruso (Eagle Eye) might've hoped. The premise: a troubled teen is sentenced to house arrest, then starts peering out his window out of boredom – and begins to suspect that one of his neighbours is a serial killer.
The film is largely let down by its ending. But, even with that being the case, it's also compellingly anchored by LaBeouf as the aforementioned high school senior turned sleuth. In fact, it's thanks to him that the movie works as well as it does.
Greed isn't quite so good in this 23-years-later sequel to Wall Street, with Oliver Stone back in the director's chair and Michael Douglas reprising his role as now-reformed ex-trader Gordon Gecko. In the same vein, Wall Street: Money Never Sleeps is nowhere near as good as its predecessor either; however casting ranks among its few highlights.
This was always going to be Douglas' show. Playing the next stockmarket hotshot, LaBeouf was always going to stand in his co-star's shadow. But, in a part equivalent to Charlie Sheen's in the original, he more than holds his own.
Trust Lars von Trier and LaBeouf – right when both were at their most provocative – to join forces. Trust the former to direct a nearly six-hour long erotic art film, too. And trust the latter to secure his role by reportedly sending sex tapes of himself to the Danish filmmaker.
Basically, it's the collaboration that had to happen, especially with LaBeouf obviously keen to venture far, far away from the Transformers franchise's shape-shifting alien robots. And while Nymphomaniac displays von Trier's foremost trait, indulgence, as it follows the sexual experiences of a woman named Joe (played by Stacy Martin and Charlotte Gainsbourg), LaBeouf also displays one of his foremost traits as one of the main men in her life: determination.
Following American tanks and the soldiers manning them during the final days of World War II, the Nazi Germany-set Fury is a clear ensemble piece. And it has the cast to prove it – from Brad Pitt, Logan Lerman and Michael Pena to Jason Isaacs, Jon Bernthal and LaBeouf.
Playing the tank's gunner, LaBeouf both holds his own and offers an array of standout moments. This isn't an easy feat when surrounded by such talent, or while starring in an intense cinematic exploration of the horrors of war. It's one that LaBeouf perfects, though, displaying uncharacteristic solemnity in the process.
In American Honey, LaBeouf finds love in a hopeless place – and dances in a department store to that very Rihanna track. He's dynamic, textured and authentic in a movie that also earns that description. And, he wears one hell of a rat tail.
Andrea Arnold's third feature tells Star's (Sasha Lane) story but, once she meets with magazine sales crew middle-manager Jake (LaBeouf), their paths remain intertwined. LaBeouf is easy, breezy and relaxed, and his chemistry with then first-timer Lane is one of the film's many highlights. A lyrical, insightful and expressive road movie, American Honey is filled with standout elements – LaBeouf ranking high among them.
After gaining a reputation for being volatile off-screen throughout the early 2010s – and becoming more famous for that, and other incidents in his personal life, for a phase – LaBeouf must've been number one on Borg vs McEnroe's casting list. No prizes for guessing which of the two tennis greats he plays.
In a film determined to build a psychological portrait of its titular rivals as they face each other in the 1980 Wimbledon championship, he helps lay bare the American champion's tempestuousness. Here, McEnroe's brattishness and pain are two sides of the same coin. Opposite Sverrir Gudnason as Bjorn Borg, he also helps convey the movie's underlying point: that, despite their visible differences, these two opposites shared much in common.
As Tyler in The Peanut Butter Falcon, LaBeouf turns in his most empathetic performance yet. Given his character's situation – a fisherman struggling to overcome the loss of his older brother, in trouble with local crabbers and on the run down to Florida – he probably shouldn't be so soulful; but that's the genuine type of guy LaBeouf builds through his finessed performance.
This isn't his film, though. Tyler becomes a surrogate big brother to a wannabe wrestler with Down Syndrome, played by Zack Gottsagen. The first-time actor thoroughly steals the show. That said, neither performer would shine quite as brightly if their rapport didn't feel so real.
James Lort is no-one's perfect father, but the fast-talking Vietnam veteran and rodeo clown is the only one that child actor Otis has. Watching Honey Boy, it seems that LaBeouf has settled on the same perspective – with the film based on his own tumultuous experiences, and with the actor himself playing his own father.
Opposite Noah Jupe as the younger version of himself (with Lucas Hedges playing Otis at an older age), LaBeouf's energetic performance feels highly personal and intimate at every moment. Given the circumstances, that should hardly come as a surprise. The film always feels like an act of both remembering and reckoning too, a sensation that wouldn't and couldn't prove true with anyone else playing LaBeouf's father.