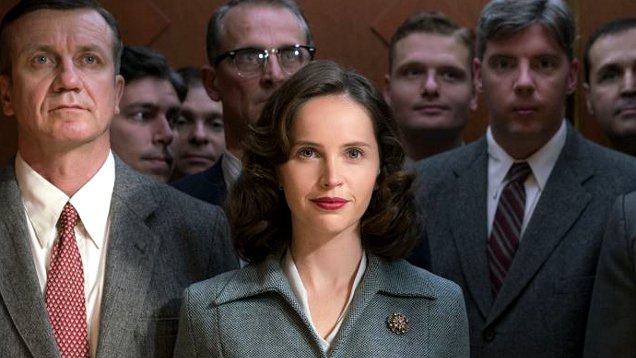 On the Basis of Sex and other popular films about fighting the patriarchy

---

On the Basis of Sex chronicles the life of the trailblazing US Supreme Court Justice, Ruth Bader Ginsburg. Critic Sarah Ward reflects on the most memorable recent films about fighting the patriarchy. 
During her first moments as a law student, an infuriating question comes Ruth Bader Ginsburg's (Felicity Jones) way. Alongside the eight other women in the faculty's 1956 intake – in comparison to approximately 500 men – she's asked by the dean: "why are you at Harvard Law School, taking the place of a man?".
As On the Basis of Sex chronicles, it's easy to view Ginsburg's career as a rebuttal to this loaded query. Working her way from academia, to advocating for gender equality through the courts, to her current position on the US Supreme Court, the real-life justice has fought to explain why doubting the abilities of women, assuming their inferiority and even legislating their unjust treatment is unacceptable.
Sign up for Flicks updates
The second film about the legal icon in the past year following Oscar-nominated documentary RBG, On the Basis of Sex takes up Ginsburg's fight from start to finish. It makes its argument by detailing her achievements, overcoming every obstacle in her path to reach the highest ranks of the American judiciary. Rousing in a quiet, determined manner, as befitting its subject, the feature shows rather than shouts, knowing that its story makes the strongest statement. And, behind the camera, Mimi Leder's film leads by example too – releasing in the US in 2018, it was one of only four female-helmed movies among the top 100 box office hits.
From a directorial perspective, working towards gender equality is proving a slow process. On-screen, however, On the Basis of Sex joins a growing group of recent titles that are battling the patriarchy within their frames. There's a plethora of ways to depict women demanding recognition and refusing to acquiesce to the male-dominated status quo, as cinema keeps expressing. And there'll continue to be, whether exploring stirring stories from modern times, focusing on real-life figures or jumping into the genre realm.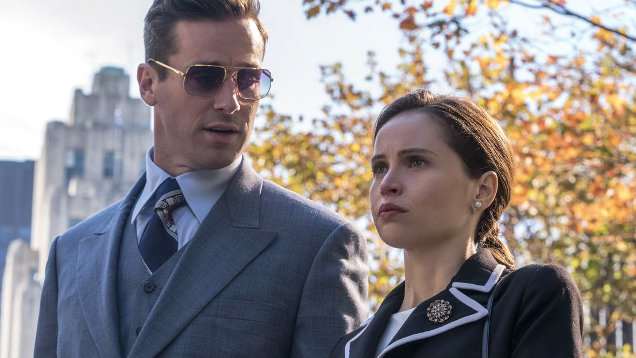 Of late, the industry's gaze has fallen on stories from the past century that celebrate women striving to redress gender-based discrimination. Like On the Basis of Sex, they're films about pioneers, championing those chipping away at the ongoing battle. Oscar nominee Hidden Figures shone a spotlight on three female mathematicians (Taraji P. Henson, Octavia Spencer and Janelle Monae) who played a crucial part in NASA's preparations for its space missions, but faced obstacles due to both their sex and their race. In Battle of the Sexes, the famous tennis match between Billie Jean King (Emma Stone) and Bobby Riggs (Steve Carell) finds its way to the big screen – a literal contest to show that women are as capable as men.
The list continues, with Suffragette examining the quest to secure female voting rights in early 20th-century Britain – and Colette depicting a female author first saddled with ghostwriting to help her husband's career, then flouting societal conventions to earn recognition in her own right. These true tales never end with complete solutions, and often highlight both the troubles of their period and the struggles that remain today. They're progress films, revealing that the path to gender equality is paved with many fights and with just as many women willing to crusade for the cause.
Stepping back further in time has proven the domain of features such as Mary, Queen of Scots and Mary Shelley, two recent titles that speak to a blatant yet still maddening truth: that the need for women to fight the patriarchy is long-entrenched in human history. Both movies explore the plights of women who couldn't simply succeed due to their skills and smarts – they had to demonstrate their worth as people and as examples of their sex.
It mightn't seem immediately apparent, but if On the Basis of Sex has a recent thematic sibling, it comes from the eleventh installment in a 40-year-old horror franchise. There's much about the dismissive treatment of women in the Ginsburg biopic that, if it was directed towards men, would be considered a horror concept. One of the biggest cases of the young lawyer's career, and of the movie about her, involves a man subject to discrimination because he isn't a stereotypical (read: female) caregiver.
Like its predecessors in the John Carpenter-created franchise, last year's Halloween dwells in a world where women are victims of male oppression. Indeed, Laurie Strode (Jamie Lee Curtis) and Michael Myers' other female targets have always been forced to weather vicious attacks at the hands of a man. This time, Laurie, her daughter (Judy Greer) and her granddaughter (Andi Matichak) physically fight back, no longer tolerating being put in their place.
Halloween overtly emphasises the shifting of power between the former teenage babysitter and her long-term pursuer. Or, in other words, it's another case of illuminating that women can enjoy the same position as men, as movies such as Ocean's 8 and Widows have also illustrated. On the Basis of Sex doesn't ever show Ginsburg stating this fact in blunt terms, but the idea underscores everything that she stands for.
Elsewhere in genre territory, formidable women are now a screen staple. Netflix populates its categories with the words "strong female lead" so often that the term has almost become a joke. Of course, films such as Atomic Blonde and Mad Max: Fury Road deserve such a description, with star Charlize Theron blazing the way when it comes to playing commanding women navigating traditionally male territory. Alas, when women lead the charge in action, superhero and science-fiction features, they're frequently doing more than challenging the patriarchy on-screen. As responses to the female-led version of Ghostbusters showed, they're often flying in the face of audiences who are unaccustomed to popular culture putting ladies first.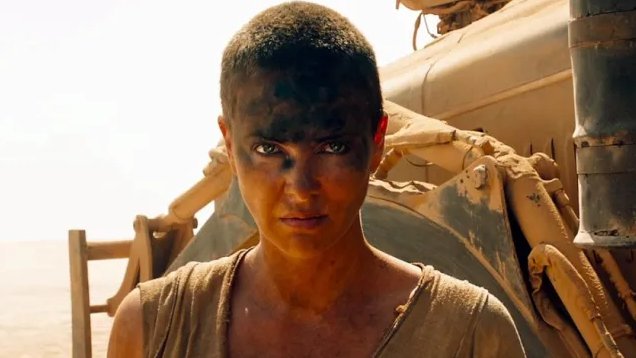 In spaces and stories typically lacking in gender balance, focusing on female leads – and female role models – is a crucial part of the quest for inclusivity and equality. It's the reason that comic book movies such as Wonder Woman and the forthcoming Captain Marvel are so essential, with mere representation the first step in the ongoing battle.
But not all female superheroes wear capes or fight such obvious villains, as films like On the Basis of Sex remind us. Powerful, pioneering women smash the patriarchy in thoughtful biopics, historical dramas and fiery genre fare alike with increasing frequency, with this account of Ruth Bader Ginsburg's life happily joining such vibrantly varied company.