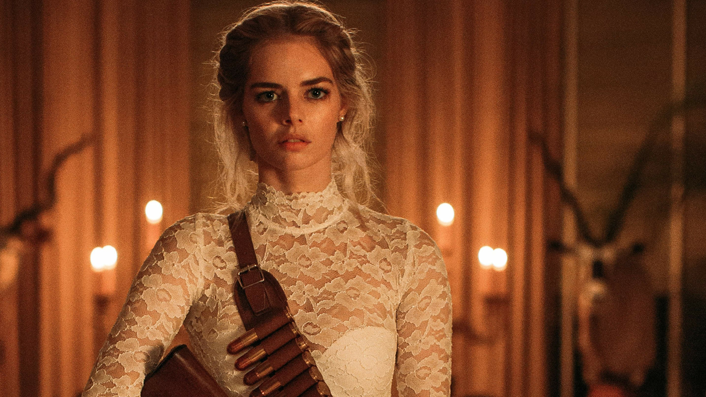 From Summer Bay to indie thrillers, Samara Weaving is Australia's own scream queen

---
Samara Weaving has graduated from starring in Home and Away to starring in big international productions. Now, with the horror comedy Ready or Not, she is nothing less than Australia's own scream queen, writes Travis Johnson.

The brisk and brutally funny horror comedy Ready or Not (now in cinemas) sees a young bride, Grace (Samara Weaving) horrified to discover that her new in-laws are satanists bent on sacrificing her to their patron demon, on the night of her wedding to young scion Alex (Mark O'Brien). The whole thing is an absolute blast for horror fans currently grazing on a steady diet of low budget, high concept Blumhouse fare, but a couple of things elevate it above the rank and file.
One is the strident but fun class consciousness that pervades the whole concept. Evil rich people getting their just deserts courtesy of plucky working class heroes is always fun, whether it be the more benign, kid-friendly hijinks of The Goonies, or the rather more terminal table-turning that happens here. But the more important factor is the sheer star power of one Samara Weaving, Australian actor and – as of this film at least – genuine scream queen in the Jamie Lee Curtis mold.
Sign up for Flicks updates
From Summer Bay to indie thrillers
The niece of revered Australian actor Hugo Weaving, Samara Weaving served her soap opera apprenticeship like so many other young Australian talents. First in the short-lived 2008 series Out of the Blue before landing a regular role on Seven's long-running Home & Away from 2009 to 2013. However, away from television she quickly canted, whether by accident or design, into genre fare, appearing in Ivan Sen's Indigenous Australian noir Mystery Road in 2013 and then cropping up in the low budget psychosexual thriller, Bad Girl, in 2016.
Mystery Road is the more accomplished film – that goes without saying. But Weaving's turn in Bad Girl is the more interesting in terms of her genre bona fides. In Fin Edquist's Perth-shot thriller she plays country girl Chloe, best friend to newly arrived city girl Amy (Sara West), a rebellious tearaway who appears to be the titular "bad girl" until the plot twists and revelations begin to pile up. It turns out that Chloe might be harbouring dangerous secrets of her own.
Bad Girl is a delightfully decadent B-grader that deserved a better airing than it received – and that's largely down to the two lead performances, Weaving's in particular. Chloe's character is mercurial, changing from girl-next-door sweetness to budding temptress to full-on screeching mania over the course of the film. Weaving pitches her performance perfectly, mixing in just the right note of histrionic camp in what should be, if there's any justice, a future Ozploitation classic.
Ash Vs Evil Dead Vs Samara
Around the same time, Weaving scored a small but crucial role in the first season of Ash vs Evil Dead, the Starz/Stan continuation of Sam Raimi's cult classic comedy horror franchise. Of course, big-chinned Bruce Campbell is the star of the show as chainsaw-handed idiot hero Ash Williams, but Weaving acquits herself very well as Heather, an unwitting hiker who finds herself best by supernatural forces when she and her friends trespass in the abandoned cabin that has been at the crux of the series since the original 1982 Evil Dead.
Naturally, things go rather poorly for her, and Weaving's character winds up dismembered, decapitated, and possessed – which is pretty par for the course when it comes to Evil Dead. Weaving throws herself into the role with gusto, embracing the schlocky tone and impressing as both terrified victim and severed Deadite-head.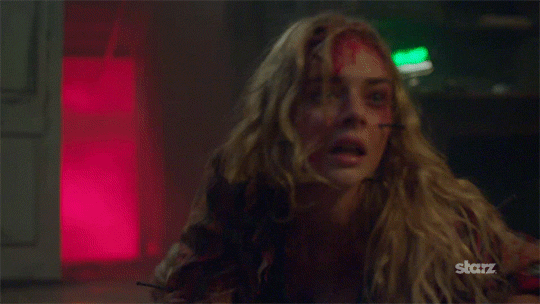 Don't Tell Mom the Babysitter's Rad
Weaving's biggest horror role to date didn't even get a theatrical release. Directed by McG (Charlie's Angels, Terminator: Salvation) from a red hot script that had drawn a lot of attention on the fabled Black List, The Babysitter sees Weaving as Bee, the titular kid-wrangler and object of desire to her young charge, Cole (Judah Lewis). Unbeknownst to the besotted 12-year-old, Bee has designs on him too, but they're malicious rather than sexual. She and her mates (Bella Thorne, Robbie Amell, Hana Mae Lee, and Andrew Bachelor) are planning on sacrificing him to the devil.
The result is a kind of satanic Home Alone, with Cole fending off bee and her cult in a variety of gloriously gory ways. It's a real star-making turn for Weaving, who balances seductive sexiness with real malevolence as the gamine but gleefully evil Bee.
Gothic picnic
It's not all gory shockers and straight-to-streaming shlockers, though – horror has its classy side, too. Although purists might insist that Picnic at Hanging Rock is far too elevated an affair to sit alongside Ash vs Evil Dead and The Babysitter, it's still a ghost story of sorts, with an inexplicable mystery at the heart of its ethereal tale of suppressed emotions and nascent desire.
Of course, Weaving didn't feature in Peter Weir's 1975 original, given that she wasn't born until 1992. But she does slip into an iconic white dress opposite Game of Thrones' Natalie Dormer for the 2018 Foxtel TV miniseries adaptation of Joan Lindsay's 1967 novel to play Irma, one of three girls who vanish without trace during the eponymous Valentine's Day outing. Although this new iteration could never match Weir's original for sheer artistry, it makes a smart choice in tacking towards an often near-delirious "outback gothic" tone, like a Faulkner novel transposed to the back blocks of the Australian bush. Weaving matches the heated, heightened tenor of the thing pace for pace.
Here comes the bride
And now, of course, we have Ready or Not, which sees Weaving ascend to full-on gutsy "final girl" horror icon status as she fends off her murderous in-laws. Whereas before she's been both a victim and a villain, here she's a horror heroine, tapping into heretofore unknown reserves of strength in order to survive and thrive in a hostile environment.
She joins an elite sorority in doing so – think Jamie Lee Curtis in Halloween, Heather Langenkamp in A Nightmare on Elm Street, Sigourney Weaver in Alien, Neve Campbell in Scream, and – most appropriately – fellow Aussie Sharni Vinson in You're Next. Weaving's transformation from blushing bride to blood-soaked survivor is triumphant. If for no other reason than, once you get to know her new hubby's odious family, you know she's better off bruised, battered and free of their clutches than trapped in satanic luxury with that pack of genetic dead-ends.
Weaving a bright future
Now, yes, to be fair, Weaving has had her fair share of non-genre roles in everything from Stan comedy series SMILF to awards darling Three Billboards Outside Ebbing, Missouri, and while we wish her ever career success, we also hope she at least keeps one foot in the hallowed halls of horror. Her next three films – action comedy Guns Akimbo, fantasy comedy Bill and Ted Face the Music, and G.I. Joe spin-off/reboot Snake Eyes – are all genre efforts of one stripe or another, but with any luck it won't be too long before she's waist deep in gore and guts once more. We're calling it: Samara Weaving is Australia's scream queen. Long may she reign.