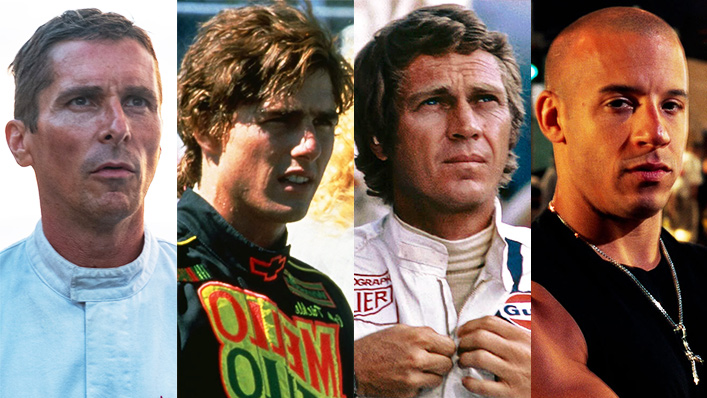 And they're off! The best car racing movies of all time

---
Has Ford V Ferrari got you in the mood for a good old fashioned car racing flick? Here are the best of the best, picked by critic Travis Johnson.

Ford v Ferrari is tearing through cinemas, with Matt Damon and Christian Bale starring in the tale of the Ford motor company's damn-the-torpedoes effort to beat the indomitable Ferrari racing team at the 1966 Le Mans race.
It's only the latest high octane flick to set its scene in the world of motor-racing. So, if F v F has piqued your interest in on-screen automotive mayhem, put the pedal to the metal with these street legal cinematic classics.
Sign up for Flicks updates
Craggy James Garner takes on all comers in a fictionalized take on the same 1966 season that Ford v Ferrari centres on. Director John Frankenheimer's epic racing tale sprawls at an ungainly 179 minutes and perhaps includes a few too many subplots, but the use of actual racing footage and some truly stunning 66mm photography makes this a landmark film simply from a technical point of view.
Grand Prix changed the way racing was shot and cut forever. Plus you get Japan's greatest actor, Toshiro Mifune (Seven Samurai, Yojimbo, 1941) as team owner Izo Yamura. And also cameos from a horde of racing legends, including New Zeland's Bruce McLaren.
Steve McQueen, himself a car racing enthusiast when he wasn't being an absolute legend on screen, battles his own demons and the world's best drivers in this stirring account of the world famous 24 hour car race. McQueen is driving ace Michael Delaney, haunted by a crash that killed his rival, who fights for redemption and glory against German rival Erich Stahler (Siegfried Rauch) in the titular event.
This event was captured by uncredited director John Sturges (The Magnificent Seven, The Great Escape) with kinetic, white-knuckle élan. Character and plot are sacrificed in favour of momentum, but McQueen's passion for the project – he produced under his own banner – is palpable in every frame.
Maverick auteur Monte Hellman (Ride the Whirlwind, Cockfighter) is the man behind this allegorical, existential gem. Folk singer James Taylor is The Driver, Beach Boy Dennis Wilson is The Girl, and one of history's greatest character actors, Warren Oates, is GTO (because he drives a GTO). The GTO is the stranger they wind up racing across a barren, backwoods USA for…well, because it's there, maaaan.
A crucial example of the counterculture cinema boiling out of America in the late '60s and early '70s, Two-Lane Blacktop's fixation on obtuse symbolism and instinctive rejection of the usual codes of cinema may irk some. But it's a fantastic example of raw, low-budget experimentalism at its most ambitious.
David Carradine is the hard and scarred champion racer Frankenstein in Roger Corman's immortal B movie classic. Death Race 2000 is a satirical sci-fi grindhouse gem, set in a dystopian future where the most popular sport is a cross-county spree where drivers get points for mowing down pedestrians and the survivor takes all.
Cheap, brutal and bloody brilliant, Death Race 2000 may not have the technical flair of later, similar genre entries. However its influence is huge, most notably informing George Miller's Mad Max series. Remade, ripped off, and sequelized (2017's Death Race 2050 is worth a drive by) but never surpassed. Keep an eye out for an early appearance by a pre-Rocky Sylvester Stallone as Machine Gun Joe.
Ballsy Burt Reynolds and demonic Dom DeLuise are behind the wheel in this comedic caper, which sees an all-star cast (Roger Moore, Farrah Fawcett, Jackie Chan, Dean Martin, Sammy Davis Jr., et al) compete in a pan-American race for riches.
Riffing on Stanley Kramer's 1963 comedy It's a Mad, Mad, Mad, Mad World and directed by Reynold's stuntman (and model for Brad Pitt's Cliff Booth in Quentin Tarantino's Once Upon a Time in Hollywood) Hal Needham, The Cannonball Run has dated a bit. But Reynold's charisma and the sheer, manic energy of the whole thing carry the day.
When Tom met Nicole, but with cars. Much mocked on release, Days of Thunder holds up better in retrospect than you might expect. After all, who better than action auteur Tony Scott (Top Gun, True Romance) and super-producers Don Simpson and Jerry Bruckheimer (every bloody blockbuster in the '80s and '90s, more or less) to capture the sheer, grunty, testosterone-laden appeal of NASCAR racing?
Forget the plot. Focus instead on Scott's magisterial command of the moving image and its ability capture men and machines in motion and conflict. And perhaps chuckle at the presence of future Talladega Nights star John C. Reilly in a supporting role.
It's hard to believe after so many globetrotting, earth-shattering, physics-defying entries in the world's best action franchise, but The Fast and the Furious used to be about illegal street racing.
Riffing on a then-hot magazine article on LA's underground racing scene and clearly modeled on Kathryn Bigelow's Point Break (1991), director Rob Cohen's blistering B movie sees Paul Walker's undercover cop infiltrate Vin Diesel's bro-tribe of petrol-head hijackers. Only to find that their loyalty-first, family-always code holds more appeal for him than the mundane world.
Narratively there's nothing new here, but an overabundance of attitude and a cast blissfully ignorant of concept of irony make this one a perfect beer 'n' pizza Friday night staple.
The second – and best – instalment of Will Ferrell and Adam McKay's "inadequate American male" trilogy, Talladega Nights sees Ferrell's oafish, ridiculous NASCAR champ recover from injury and ignominy at the hands of dastardly French rival, Sacha Baron Cohen. That's rally just an excuse to string together a veritable landslide of gags aimed at NASCAR racing, flyover state culture and American masculinity in general.
The highlights include hulking Michael Clarke Duncan reading a comatose Ricky Bobby Are You There, God? It's Me, Margaret, Ricky Bobby's love of the movie Highlander, and absolutely everything MVP John C. Reilly does over the course of the film. Take a run at Steven Soderbergh's Lucky Logan for a more strait-laced but still hilarious take on the world of NASCAR.
When the Wachowskis released their first film following the Matrix trilogy, audiences were stumped by their decision to adapt the cult fave anime Speed Racer. Those that turned up were turned off by the film's hyperkinetic, nigh-surrealistic visual style and broad strokes, bombastic narrative. What a difference a decade makes, hey?
Now the film, which sees Emile Hirsch as the titular nascent racing wunderkind, looks prescient. Its use of CGI and a shooting style unfettered by such concerns as real world physics seems a clear precursor to the big action tentpoles of today (including the later Fast and Furious films, which are really live action cartoons that take themselves seriously). If you blew it off the first time around, give it another spin. If you've never seen it, you're in for a treat.
Not to be confused with the cracking 1991 thriller of the same name, the best of Ron Howard's recent offerings traces the friendly rivalry between real world Formula 1 legends James Hunt (a never better Chris Hemsworth) and Austrian Niki Lauda (Daniel Brühl) in the hard-driving, hard drinking racing world of the 1970s. The on-track action is suitably fast and frenetic, but it's the character work that really elevates the story. Hemsworth's libertine tabloid darling and Brühl's driven (heh!) professional play off each other perfectly.