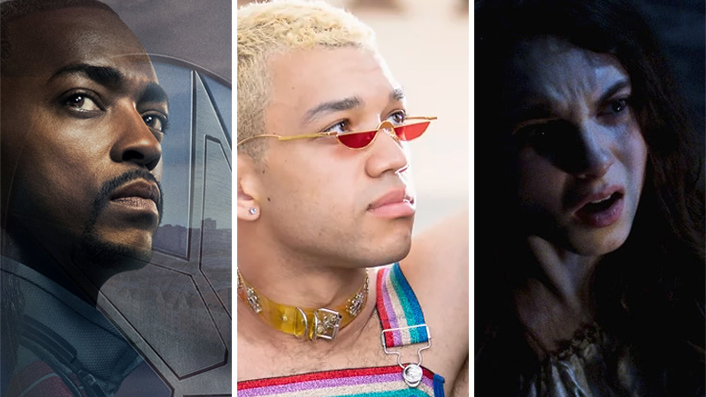 8 new TV shows arriving in March that we're excited about

---
Plenty of crime drama, a bit of horror, and a major new superhero title is going to keep us occupied this March.
Coming to Stan
Reminiscent of iconic teen horror titles of the '80s, this Swedish series is about a small town terrorised by a supernatural force that feeds on chaos and misery. Suspecting the adults are hiding something, a group of high school students must come together to fight and survive. If you're a fan of Stranger Things, this will be up your ally—but be warned, it's even scarier.
Coming to BINGE
Produced by Lena Dunham, and created by 19-year-old Zelda Barnz and her dad, writer/director David Barnz, this dramedy follows a group of teens as they explore their sexuality within a conservative community in Orange County. Think Skins meets The OC for a new generation, very much tapping into the Euphoria hype.
Coming to Netflix
From Misfits creator Howard Overman, this limited series is based on a John Marrs novel of the same name. It's set in the near future, where a DNA test can find the one person in the world you're apparently genetically guaranteed to fall in love with. It's an intriguing premise in itself—and then a dead body is added into the mix. Who doesn't love a good British murder mystery with bonus sci-fi elements?
Coming to Stan
Black Hands is based on the horrific true story of the Bain family murders, in which a married couple and three of their four children were shot in their Dunedin, New Zealand home in 1994. Taking inspiration from a popular podcast about the murders, show creators Robin Scholes, David Stubbs and Philippa Rennie emphasise that nevertheless the series is very much a work of fiction, focusing on the lives of the victims and not just their deaths. Don't look to this show for answers to who did it, but rather a compellingly told character exploration.
Coming to Netflix
If you're a fan of Spanish hit Money Heist (and if you haven't watched it yet: get on it!), you'll want to check out this new show from co-creators Alex Pina and Esther Martinez Lobato. It's an action/crime drama about three sex workers who go on a run together in order to escape their pimp. The series looks stylish, slick and a lot of fun; it's sure to have people talking online.
Coming to Disney+
Wandavision has proven that the Marvel Cinematic Universe's foray into Disney+ content can create incredible television. The Falcon and the Winter Soldier is their next offering, allowing Steve Rogers' former sidekicks, Sam Wilson (Anthony Mackie) and Bucky Barnes (Sebastian Stan), to take centre stage. The friendly(ish) rivals team up to fight a supervillain group called the Flag-Smashers. The trailer looks action-packed and funny, and the series is sure to be packed with Easter eggs and connections to the wider MCU.
Coming to Netflix
This Korean drama is about a 70-year-old retired mailman who, against the wishes of his family, decides to pursue his lifelong dream of learning ballet. When he befriends a 23-year-old dancer at an academy who is struggling financially but determined to follow in his dead mother's footsteps, both their lives change. Expect plenty of tears.
Coming to Netflix
Another British crime drama, this time with supernatural elements, The Irregulars was created by My Mad Fat Diary and Watership Down writer Tom Bidwell and inspired by Sir Arthur Conan Doyle's Sherlock Holmes stories—specifically the Baker Street Irregulars characters. The Irregulars are a group of teens in Victorian London who work for Dr Watson to solve crimes—which Sherlock Holmes takes credit for. Sherlock, of course, is well-trodden territory, but this offers a new take on the character and his wider world.