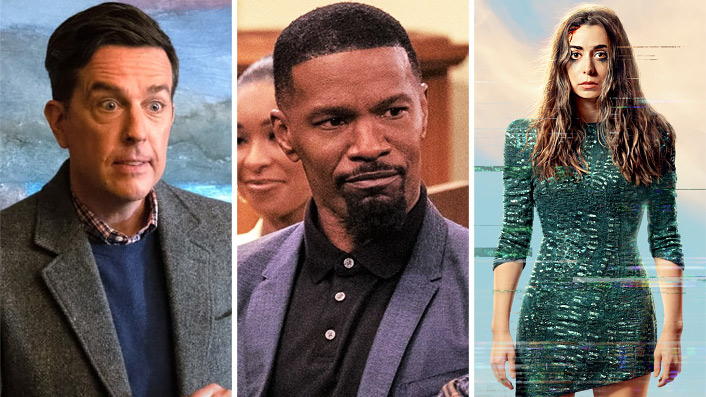 8 new TV shows arriving in April that we're excited about

---
April is jam-packed with new releases on streaming—here's our pick of the lot.
Now on Stan
Cristin Milioti takes the lead in this black comedy set in the not-too-distant future, about a woman whose tech bro husband (Billy Magnussen) secretly installs a chip in her head allowing him to monitor her every experience and feeling. It's a chilling concept, speaking to not only gender dynamics and abuse in relationships, but the broader way in which tech companies track our every move. Dark subject matter is buoyed with sharp humour and wonderful performances—Milioti owns the show, but Ray Romano is also great as her father.
Now on Stan
Home Economics explores a concept that is probably all-too-relatable for many: a close set of siblings who clash over money issues. Sarah (Caitlin McGee) is struggling to make ends meet; Connor (Jimmy Tatro) is super rich; and Tom (Topher Grace) is a writer who falls in between—and decides to secretly write a book about his family. It's a very American mix of heartwarming (okay: cheesy) messages and light laughs, which is sometimes just what you need.
Coming to Netflix
Jamie Foxx returns to his roots in this modern take on the classic sitcom format created by Bentley Kyle Evans, the showrunner of The Jamie Foxx Show. Co-produced by Foxx's daughter Corinne, the show is actually inspired by the pair's relationship. Foxx plays Brian, a cosmetic company owner and the single father of a teen named Sasha (Kyla-Drew). Foxx also plays several other comedic side characters, so if you enjoy his comedic turns then you will love this.
Coming to Disney+
Another '90s sitcom star returning to what made him famous, John Stamos is the lead in this new Disney sitcom from producer David E Kelly. Stamos plays a disgraced basketball coach who takes a job at a private girls' high school and must gain their trust to help them win. Disney is no stranger to triumphant sports stories, but it's rare to see the spotlight aimed on young female athletes, so it's worth watching for that factor alone. That—and Yvette Nicole Brown stars as the dean of the school.
Coming to BINGE
Crime drama obsessives, here's your new dose. This limited HBO series stars Kate Winslet as Mare, a detective in small town America who is trying to solve a murder while her life falls apart around her. Australia's own Angourie Rice and Guy Pearce also star—as Mare's daughter and a local writing professor respectively—while fan favourite Evan Peters plays another detective. With just seven episodes, it's a bite-size binge, and one that will no doubt be very compelling.
Zero (April 21)
Coming to Netflix
Even if you're suffering superhero fatigue, this new Italian series is one to watch. It's about a shy teen (Giuseppe Dave Seke) who has the power of invisibility and must set his artistic dreams aside to save the day. Created by African-Italian writer Antonia Dikele Distefano, and based on his own novel, he has described the show as "the first ever scripted series to platform the black Italian experience". The trailer promises a flashy and emotional take on the superhero genre.
Coming to Stan
Created by Ed Helms, Micahel Schur and Sierra Teller Ornelas, and starring Helms, this sitcom explores a conflict between a small American town and the nearby Native American reservation over the proposed removal of a historic statue. Indigenous stories are still too rare on screen, and even then are often co-opted by white creators. Thankfully this show has a Native American showrunner in Ornelas, and half of the writers room is also Indigenous. It offers the promising hope that the comedy won't punch down or play into tired stereotypes.
Coming to Netflix
This highly anticipated adaptation of the Grishaverse is set in a Russian-inspired fantasy world featuring a country isolated by the "fold"—a dark, shadowy wasteland. Young orphan Alina (Jessica Mei Li) discovers she's a sun summoner and a powerful Grisha (a magical warrior) whose ability may just set her people free. But all is not what it seems, especially where mysterious leader The Darkling (Ben Barnes) is concerned. Every fantasy series since Game of Thrones ended has been held up as the one that will fill its hole—and while Shadow and Bone is very different, it might just satisfy that hunger.