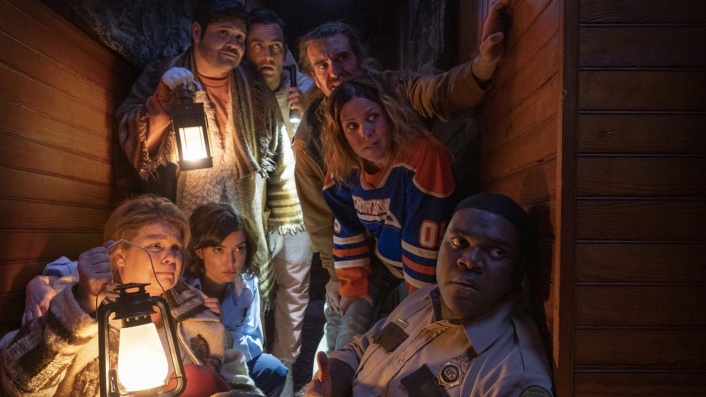 The fast-paced horror/comedy Werewolves Within is an absolute blast

---
A tight and energetic horror piss-take stacked with jokes and one-liners, like an old school screwball comedy, Werewolves Within is one helluva good time, writes critic Travis Johnson. 
Maybe they should have called it Claws Out. Certainly, director Josh Ruben's new horror/comedy is actually based on the 2016 virtual reality game Werewolves Within, but it's very much a whodunnit in the mode of Knives Out or even Murder on the Orient Express, with a remote, snowbound Vermont town subbing in for a palatial manor or luxury train. And, as you may have guessed, the killer is a werewolf. Maybe that makes it a who-ate-em rather than a whodunnit?
See also:
* Movies now playing in cinemas
* All new streaming movies & series
Our hero—or possibly our monster—is nice-as-pie, super-polite park ranger Finn (Sam Richardson), recently single and relocated to the little backwoods burg of Beaverfield. It's a quirky hamlet populated by a range of eccentrics, like perky mail carrier (and romantic interest) Cecily (Milana Vayntrub), drunken redneck couple Gwen (Sarah Burns) and Marcus (George Basil), gay tree-changers Joaquim (Harvey Guillén) and Devon (Cheyenne Jackson), reclusive and abrasive fur trapper Emerson Flint (Glenn Fleshler), and more.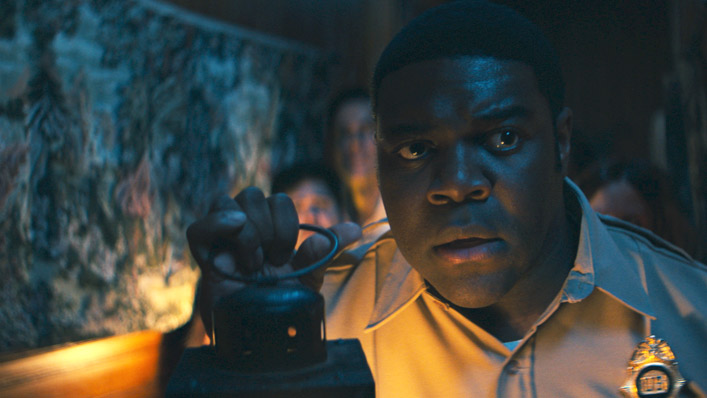 So far, so very Northern Exposure (the character name "Cecily" must be a nod, yeah?). The town is already facing a crisis in the form of an oil pipeline being lobbied for by businessman Sam Parker (Wayne Duvall), which could bring both economic success and environmental devastation. That suddenly seems a lot less pressing when a badly mauled body shows up, and before you can say "Stick to the moors" everyone is paranoid as hell and trigger-happy to boot, convinced that one of their number is a ravening beast set to feast on their fellow townsfolk.
That's not a bad recipe for a straight horror (the 1974 Amicus film The Beast Must Die played the werewolf murder mystery straight), but Ruben and screenwriter Mishna Wolff keep things light and, dare I say it, almost family friendly? That can be a red flag for a certain stripe of (dumb, self-limiting) horror fan, but put it this way: any kid who made it through, say, Gremlins, Poltergeist, or the more recent Annabelle Comes Home without needing therapy is going to be okay here. There are scares but minimal gore.
What we do get, however, is a very funny, glib and pacy film that respects its genre roots (with references to Jaws and The Thing) but never gets bogged down. The cast are crackerjack and the dialogue crackles, piling joke upon joke and one-liner upon one-liner like an old school screwball comedy.
Richardson makes for an amiable and, in this context, unusual leading man. Instead of a gruff, no-nonsense alpha male ala The Thing's MacReady or Evil Dead's Ash, we have an unfailingly courteous, put-upon public servant who really just wants to help people and do the right thing—only in this instance that involves risking bloody dismemberment to uncover a supernatural serial killer. He's well matched by Vaytrub, who quickly subverts the Manic Pixie Dream Girl archetype her character could have so easily been sketched as to provide a sparky foil for our lead.
Werewolves Within is, simply, a blast. It's tight, energetic, goofy good fun that deserves a big audience beyond the horror ghetto.