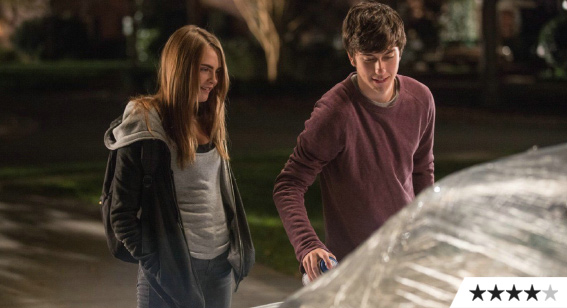 ---
From font choices to poster image, Paper Towns is clearly trying to riff on the success of last year's The Fault in Our Stars, based on another novel by John Green which he wrote four years after this. The good news for fans of that film is this is a worthy follow up. The better news, for fans of films, is this is much broader, and more enjoyable.
Paper Towns is a modern, tight and fresh high school tale. Part coming-of-age, part road movie, this is a film that owes as much to John Hughes as it does John Green.
Quentin or 'Q' (Nat Wolff) is a boy in the last year of high school with top grades but who has never really come out of his shell. He is infatuated with Margo (Cara Delevingne) the girl next door (well, across the street) his best friend at age 12 who left him behind as she became the coolest kid in school. This is Q's tale as he first goes on a night of pranks with Margo, then on a road trip with his two similarly sheltered friends.
Perhaps most remarkably, despite consisting of such familiar tropes, Paper Towns feels incredibly new and distinct. With a talented ensemble cast that one suspects contains several Next Big Things, as well as a sharp energy and just the right amount of brains, Paper Towns is a film that does absolutely nothing new in a refreshingly fun way.