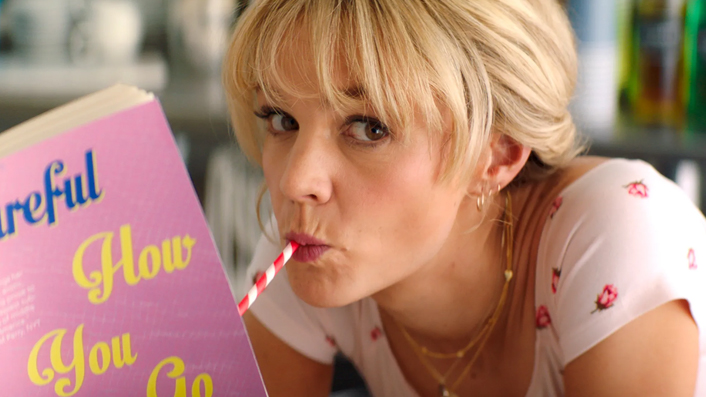 Promising Young Woman is a blackly comic thriller starring an unflinching Carey Mulligan

---
Carey Mulligan leads Promising Young Woman, a pitch-black tale of a vigilante seeking redress that will upend your expectations, writes critic Craig Mathieson.
"Don't worry." "It's okay, you're safe." "I feel such a connection to you."
It starts with reassuring words that only lead to terrible places. In the coruscating and blackly comic thriller Promising Young Woman, a film that scythes through the normalised standards of rape culture, Carey Mulligan plays Cassandra 'Cassie' Thomas, a former medical student turned barista who lives at home but regularly goes out to bars and nightclubs, where she pretends to be fall down drunk and waits to see who tries to take advantage of her.
When gallantly getting her home safely turns into one more drink, when the lie of seduction verges on sexual assault, Cassie snaps to. "What are you doing?" she coolly asks, and the power of this film is that Cassie is questioning both her companion and the world that created them.
See also
* All new movies in cinemas
* All new streaming movies & series
The film is the feature debut of writer-director Emerald Fennell, a polymath English talent who ran the second season of Killing Eve and plays Camilla Parker-Bowles in The Crown. Her control of tone is exacting, matching Cassie's tense confrontations with the suddenly petrified men and with a stylised world that treats popular culture as an accessory to these crimes.
The plot is in part an indictment of the romantic comedy: just when Cassie's parents (Clancy Brown and Jennifer Coolidge) despair over her failing to get over an initially undisclosed trauma, the 30-year-old dropout meets Ryan Cooper (Bo Burnham), a medical school acquaintance turned goofy paediatrician who speaks impeccable Richard Curtis. "Would you want to be in a friendship where I secretly pine for you?" he asks Cassie.
Their beyond cute montages are a contrast with Cassie's nocturnal missions. The movie, and Mulligan's performance, suggest that Cassie's pain is so great that she can't comprehend what might actually give her satisfaction. Promising Young Woman sits in the complex lineage of the rape-revenge film, but it doesn't follows the exploitation film needs of Abel Ferrara's Ms. 45 or Coralie Fargeat's Revenge.
Fennell's cast acts with genial screen personas—Adam Brody or Christopher Mintz-Plasse—as Cassie's targets, and her vengeance is to force them to confront what they were about to do because they believed Cassie wouldn't remember. "I'm a nice guy," one laments, and here language is always barbed. When Cassie stalks a university dean (Connie Britton) who believed in giving young men "the benefit of the doubt" during Cassie's medical studies, her only weapon is to expose the hypocrisy of the official's attitude.
Part of the film's shock tactics is a mordant sense of humour, along with an interest in showing how lies and self-justification are allowed to prosper. For all the risks she takes, Cassie has an implausible sense of safety, although like so much in this movie that's also rope being given to the unsuspecting audience. As the story unfolds through Fennell's Instagram-baiting eye, Cassie becomes more specific in who she seeks out, and the struggle between pursuing reconciliation and retribution becomes an existential divide. Promising Young Woman can't quite answer every question it introduces, but as a distillation of rage it's both memorable and illuminating. You can worry and it won't be safe, but you will feel the connection.