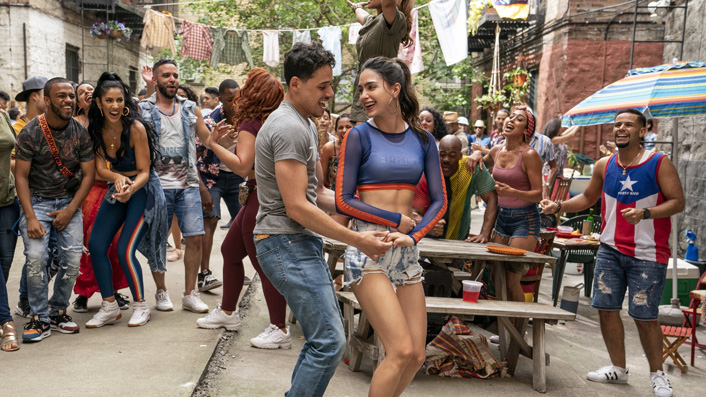 In The Heights is a sentimental North Side Story with infectious Latin rhythm

---
It's a little long and a little sweet—but this catchy and big-hearted melodrama from the creator of Hamilton is certain to warm you up, writes Eliza Janssen.

Back in 1961, West Side Story gave us warring Puerto-Rican teens, who danced on fire escapes and griped about their adoptive home in song. Lots of new housing with more space/Lots of doors slamming in our face/I'll get a terrace apartment/Better get rid of your accent. Sixty years later, we're awaiting a shiny new Spielberg remake of the classic musical, which begs the question: for today's immigrant Americans living in "the greatest city in the world," has anything changed?
See also:
* Movies now playing in cinemas
* All new streaming movies & series
Even once that remake arrives, In The Heights might be the only answer we need, with its vibrant and high-energy story of second-generation dreamers. You'll hear the word "dream" about every ten seconds in the show's percussive lyrics, set to hip-hop, salsa and R&B that still manages to bring the Broadway sound—and earnestness. It's less clever than creator Lin-Manuel Miranda's phenomenon Hamilton, available to watch now on Disney+, but In The Heights could just as easily borrow that show's proud subheading: An American Musical.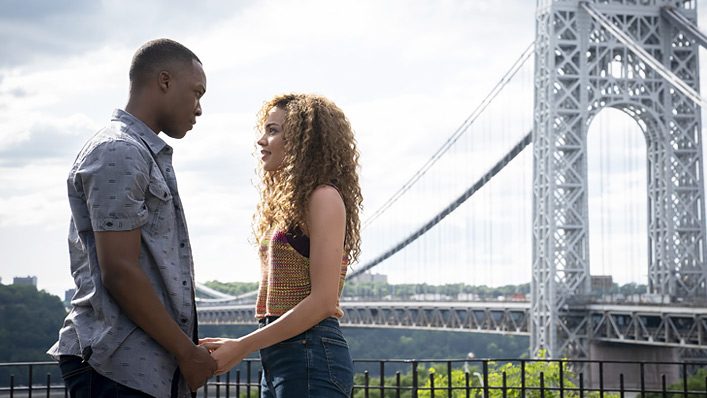 Miranda originated the lead role in his show's off-Broadway run, but now Anthony Ramos plays the heroic bodega-owner Usnavi. The archetypal opening number of Usnavi's groovy daily groove, of selling lottery tickets and salivating over ambitious fashion designer Vanessa (Melissa Barrera), immediately drags us into fast tempo. Director Jon M. Chu already knows what's up from working on Justin Bieber documentaries and the Step Up series, not to mention the equally playful diaspora rom-com Crazy Rich Asians: here, he uses Miranda's catchy score to turn all of Washington Heights into its own street orchestra. It's only when the music dies down that In The Heights can feel too long and too sweet.
Treacly dialogue informs us that all of our youthful main characters long for a better life, far away from the apparently fading community they call home. But why? That sense of conflict and change doesn't come across in what we see or hear, a sanitised singalong burb that can feel too much like some puppet-free corner of Sesame Street, rather than a real and complex environment. Everyone is so sweet and supportive and prosperous, the sole grumpy character an undocumented migrant dad introduced via the camera crawling across his arm tattoos (scary!!!).
Don't get me wrong, the problems that Usnavi and co. do face are legit: the pressure of representing one's community, micro-aggressions, Trump's threats to DACA green card recipients. But over the course of a few oversimplified hours, it becomes clear that everyone's American dreams will come conveniently true. Yes, even for Jimmy Smits' devoted patriarch, who is given the ol' "it's not my dream, Dad, it's YOURS" by his stressed-out daughter (Leslie Grace).
So there are a few too many songs of characters announcing their goals, even in the film's padded-out final act. But so what? The big crowd numbers make up for it, beautifully marrying together the energy of a talented live ensemble with the boundless imagination of cinema. In The Heights is primarily a show about community, and after more than a year of loneliness and repression, it really is something to hear voices in harmony and to see Latin-American dance styles performed flawlessly en masse. One of the reasons Miranda's show took so long to get adapted was Universal's bullshit requirement to cast a "bankable Latino star"—something that would've totally distracted from the uplifting sight of a diverse New York street corner bursting into song.
Hopefully Ramos can be that household name next time, because his charismatic performance carries In The Heights through its more sentimental and obvious stretches. Hell, he even makes product placement look seamless and charming, enjoying countless ice cold bottles of Coca-Cola and turning a Tide pen into a believable meet-cute prop.
It's easy to criticise this big-hearted movie for being unrealistic, as I've done above. But maybe, here in a frigid Southern Hemisphere's winter, In The Heights is just as much realism as we can handle; it's the aspirational melodrama to warm us up, set as it is in the midst of a sweltering summer blackout. In the words of another good movie musical, I want to be in (the In The Heights version of) America.