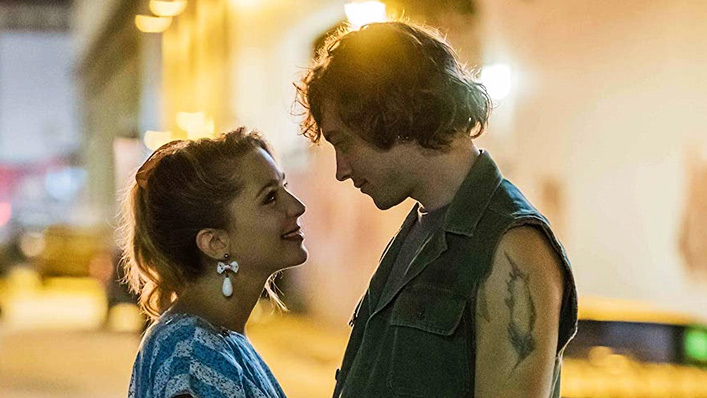 Valley Girl is a bubbly and glamorous musical remake of an 80s teen classic

---
Now streaming on Stan, Valley Girl is a musical remake of an 80s teen classic starring Nic Cage. It looks at neon-drenched whimsy with a knowing eye, says critic Eliza Janssen. 
No Nicolas Cage cameo? Are you kidding?
I understand that this musical remake of the 1980s teen classic of the same name is trying to carve out its own identity, untethered to the superficial charms of that older movie. But come on; we all know Nicolas Cage will accept any movie role that falls into his lap. You guys couldn't get him to show up for a few hours and play, I don't know, a high school teacher, or mall security guard or something?
Looking past this offensive omission, the 2020 Valley Girl mostly hits high notes, gleefully mimicking the glossy vibe of period musicals like Grease and Hairspray for an 80s-loving audience of Gen Z kids. With the enduring success of nostalgic media like Stranger Things, kids today can't get enough of a time period they missed by a good 20 years. Valley Girl makes sure to capitalise on that, even casting Youtube bad boy Logan Paul as one of the film's preppy villains (honestly? He's not that bad).
Sign up for Flicks updates
Jessica Rothe is highly charismatic as Julie, a bubbly Encino teen and wannabe fashion designer who finds herself falling for Randy, a punk singer from the wrong side of the Hollywood freeway. Josh Whitehouse brings absolutely no danger or singing ability to the role that made Nicolas Cage something of a sex symbol, but he's cute and you want Randy and Julie to end up together.
Except in the film's present-day framing device, an adult Julie (Alicia Silverstone) is recounting her love affair with Randy to her own teen daughter; does their Reagan-era romance last into 2020? Would you like to find out through song? As with most musicals in recent memory (i.e. La La Land and any Disney live-action musical), the film has gone for the approach of casting screen actors and then digitally retouching their fairly plain vocals, rather than hiring talented triple threats like in the mid-century heyday of screen musicals.
The film's fizzy, pastel production design is also a little let down by unexciting choreography and blocking, sometimes feeling more like a fun musical episode of an existing sitcom than a splashy, professional show in its own right. But although Valley Girl lacks a certain sense of technical precision, it infects the senses with a boundless, feather-light vibe of fun, glamour, and Gold 104.3's most replayed power ballads.
The rights to this soundtrack of 80s hits must've cost the filmmakers dearly, because there's not much filler here. Scenes include an opening mall number set to Safety Dance booming over a rollerskating contest, and most enjoyably, an aerobics mashup of Madonna, Soft Cell, and Depeche Mode.
But that won't matter to the target demographic, who I'm sure will eagerly practice the film's dance routines as Gen Y did with High School Musical. It can be kind of hilarious to compare the Disney-fied version of 1980s Los Angeles to the original 1983 teen drama, which featured switchblade fights and Nicolas Cage leering at sex workers. This, by comparison, is a film where street punks gladly burst into a preppy rendition of Take On Me.
It's not as though Valley Girl totally transforms its source material, or forms a definitive new portrait of a bygone era. But the movie manages to satisfy for today's teens and their parents, who would be around Alicia Silverstone's age today. That narratorial framing device actually brings a decent amount of extra charm to the film, looking at the neon-drenched whimsy with a knowing eye, and maybe excusing the movie's daffy revisionist idealism. It's fun. It's cute. But how hard would it have been to give Nic Cage's agent a call and throwing a mullet wig on him for a few takes? Seriously!