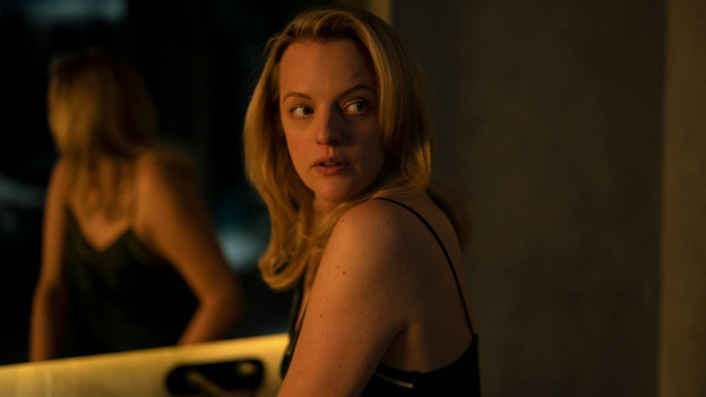 The Invisible Man star Elisabeth Moss is keen to do a rom-com: somebody please make it happen

---
Elisabeth Moss is one of the most exciting actors of our time. Since her breakout role as Mad Men's quietly proto-feminist Peggy, she's been the best part of stories such as Her Smell and The Handmaid's Tale, plumbing the depths of female rage and sorrow.
In Jordan Peele's Us, she played not one but two fractured characters. And she's making waves right now for starring in Leigh Whannell's buzzworthy The Invisible Man remake, as the resilient victim of some supernatural domestic abuse.
What do all those roles have in common? That's right: they're bloody depressing. And Elisabeth Moss herself is aware of the trend.
Sign up for Flicks updates
Speaking to The Telegraph, Moss laughed about the fact that it seems audiences "only want [her] to do this, like, sick, challenging s**t. And I get it – I do love that – but I would love to do a really smart comedic show."
But you have done comedy, Elisabeth! Remember your great role in The Square? Wait, never mind, that was about the hollow corporatisation of art.
I guess Moss did appear as Jonah Hill's girlfriend in Get Him To The Greek, but it's not like their sweet romance was the central plot of the film. At this point, maybe it would be really fresh and 'challenging' for Moss to appear in a feather-light, Nora Ephron-esque romantic comedy film or series.
"Obviously we're all obsessed with Fleabag and I also like [the HBO series] Barry," Moss continued, highlighting the (somewhat) more gentle kinds of series she could be interested in. "Or I would love to do a romantic comedy for like, nine months. Nobody wants me to do it!"
Yes we do. Can HBO or Amazon Prime put together a light-hearted ten-episode story about a quirky florist girl who accidentally falls in love with the owner of a huge flower delivery conglomerate that just opened up across the street (Jake Gyllenhaal!?) and has to choose between her ideals and a chance at love? It's simple. Unlike the Invisible Man, it's right in front of your faces, Hollywood.