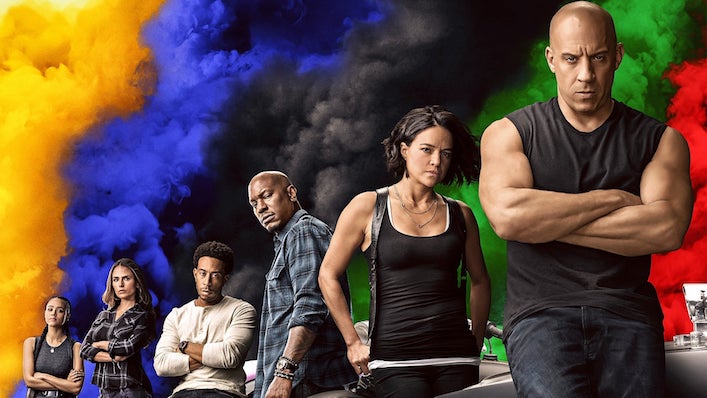 The first full trailer for Fast 9 promises a turbo-charged family reunion

---
As the first trailers for Fast and Furious 9 begin airing in anticipation of the Superbowl, it's crazy to think back on the franchise's (comparatively) humble beginnings. Way back around the start of the millennium, The Fast and the Furious was a simple car-centric spin on Point Break, the tale of a sexy undercover cop infiltrating a sexy ring of illegal street racers.
Sign up for Flicks updates
Now? The series has introduced two WWE wrestlers into its main cast and the last entry saw Charlize Theron remotely piloting cars to leap out of 10 storey car park buildings. Over the past eight movies in its narrative, the Fast Saga has only gotten bigger, badder and more ridiculous.
The above trailer for Fast and Furious 9 promises more of the same, with Vin Diesel and Gina Rodriguez's Dom and Letty leaving their earned life of quiet domesticity to flip motorcycles and meet up with Dom's long lost brother (!!!???) John Cena. The gang's all here – from OGs like Tyrese Gibson and Ludacris, to recurring villain Charlize Theron, who now sports a Dumb And Dumber-esque bowl cut instead of the last film's white-girl-dreads.
The trailer gives away a good deal of one exciting action scene which involves Dom determinedly driving off a cliff, but the last few seconds are perhaps the most tantalising. We see Han, the wise mentor character from the franchise's underrated offshoot Fast and Furious: Tokyo Drift, wander into the group's inner sanctum eating some chips. Thrilling stuff!
Tyrese's character intones at one point, "Maybe this is the end, but we gon' go out together", a heartfelt statement that we know to be false since the next film comes out in April next year. Until Fast 9 comes out, we won't know the full capacity of the action-movie heights the final Fast film will achieve. But considering this film will feature a Pontiac Fiyero strapped to a rocket engine, we're literally beyond having the sky as any kind of arbitrary limit.