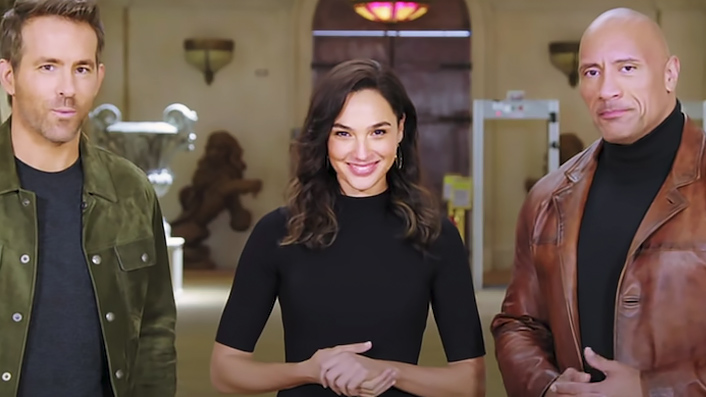 Netflix promises a huge slate of original films for 2021

---
There's been a lot to love about Netflix in 2020.
For one thing, the US streaming platform is one of the most popular in the world, racking up especially huge numbers for the movies and TV shows it released during a pandemic that kept most of us indoors last year.
And now, as Gal Gadot, Dwayne 'The Rock' Johnson, and Ryan Reynolds have announced in the below preview, there'll be even more to love about Netflix in 2021. The service has promised to deliver at least 71 new Netflix Original films in the coming year, with some stellar talent making it all happen in front of and behind the camera.
Now that Netflix movies are routinely appearing on 'Best Of' lists and even racking up Oscar nominations, the streamer is not being shy about its obvious plans for world domination, roping in A-list talent to celebrate Netflix Originals in the short sizzle reel.
Amy Adams, Chris Hemsworth, Octavia Spencer and Jason Momoa all make appearances, getting subscribers excited for what's to come in 2021.
The stacked production slate includes features directed by those normally found in front of the camera, like both Halle Berry and Lin Manuel-Miranda ("I love that I'm finally directing my first movie," they announce in tandem).
Then there's also the bittersweet conclusion to a few of Netflix's most hype-generating teen franchises, like rom-coms To All The Boys: Always and Forever and The Kissing Booth; both are YA romance stories that will stream their final chapters in 2021.
Netflix's bold promise that they're apparently "just getting started" feels lofty after the platform already dominated 2020, with breakout successes such as Tiger King, The Queen's Gambit and Extraction. Perhaps the above sizzle-reel is what it takes, though, to stay buzzworthy amidst a throng of younger competitors like Disney+ and Apple TV.
In any case, our reviewers will be here to wade through all the noteworthy movies Netflix plans on releasing this year, even if there's more than one a week to digest. Get your eyes ready for full square-ification in 2021.