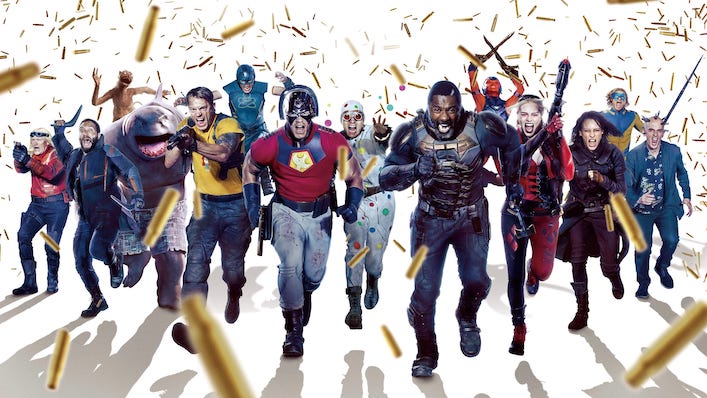 The Suicide Squad bring mayhem to your living room, fast-tracked onto digital release straight from cinemas

---
Did those pesky lockdowns make you miss your appointment with The Suicide Squad? The revamped superhero action-comedy had a pretty wonky release into Aussie cinemas, busting its way onto big screens right when most of us were informed to stay at home.
But you can't keep a good (or bad) team down. Fast-tracked straight from its cinema release into your very living room, The Suicide Squad will be available on demand from September 2. On that date, you can buy or rent this second round of B-team mayhem via the following outlets: Apple TV, Fetch, Foxtel Store, Google Play, Microsoft, Prime Video, Telstra TV Box Office and YouTube.
Our critics were impressed by director James Gunn's reworking of the same cast and characters of the 2016 super-flop Suicide Squad, calling this reboot a "hilarious" display of "big-budget violent splatter and spectacle." Steve Newall even got the chance to sit down with the Squad and hear all about their bonkers interpretations of each character—but if you'd rather keep the movie's intricacies a surprise, you can always revisit the trailer below instead.
The renovated crew features returning DC characters like Aussies Margot Robbie and Jai Courtney as Harley Quinn and Captain Boomerang respectively, Viola Davis as the Squad's fed handler Amanda Waller, and Joel Kinnaman as a character I barely remember named Rick Flagg.
Your reason to give this franchise another chance, however, is the new cast members, including John Cena as lunkheaded patriot Peacemaker, Idris Elba as mercenary Bloodsport, and Sylvester Stallone as the voice of King Shark—a big land-dwelling shark who eats people.
Harley's cut-off exclamation of "what the f—?" in the trailer above spells it all out for you: this is a superhero movie that takes joy in freaking its audience out, going for broke with nutty supporting characters played by Peter Capaldi, Nathan Fillion, Michael Rooker, Pete Davidson, Taika Waititi and the director's own brother Sean Gunn as revolting new beast Weasel. Time to find out, from the comfort of your own home, who makes it out alive.