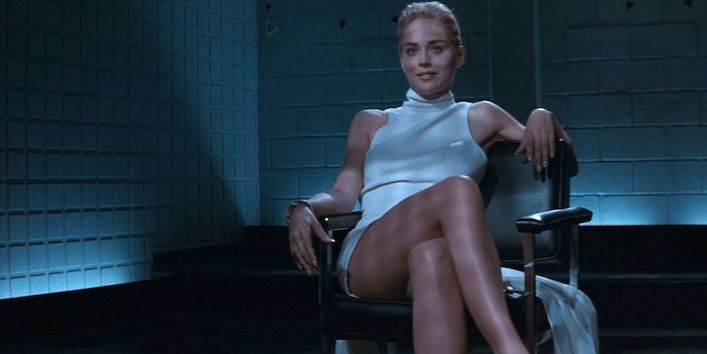 A razor-sharp restoration of Basic Instinct is coming soon to Australian cinemas

---
An icy femme fatale. A cop wrestling with his reputation as a killer. Look-alikes, red herrings, and an all-timer interrogation scene.
Basic Instinct is still one of the most vicious and subversive takes on the noir genre, thrilling and upsetting audiences in equal measure when it premiered way back in 1992. Almost 30 years later, Paul Verhoeven's neo-noir is getting the sharp 4K restoration it deserves, and it's coming to a big screen near you on June 17.
If it's been a while since you perved out to this definitive erotic thriller, the plot involves Michael Douglas' detective character sleuthing and sleeping his way through a murder case in which nothing is as it seems. The dead rock star at its centre seems to have been killed off by his hypersexual writer girlfriend Catherine Trammell (a star-making turn from Sharon Stone), but why would Catherine commit a crime that so obviously mirrors a scene from one of her lurid novels?
That's just one of the questions at the heart of Basic Instinct's vulgar, twisting narrative, which returns to Aussie screens by courtesy of Studiocanal's crisp 4K restoration of the original 35mm negative. Supervised by Verhoeven himself and with "invaluable input" to the bonus material by Douglas and Stone, this is definitely one to revisit, whether you find the film titillating or tasteless.
Studiocanal's project manager Sophie Boyer explained some of the unique difficulties in securing a clean negative of Basic Instinct, namely that most of the original cut's most erotic scenes had been permanently censored in the United States edit.
"We went looking for these cuts: their negatives had disappeared, but we found them in the internegative," she said. "Thanks to this, we were able to restore the full-length version of the film, the only version that Paul Verhoeven wanted to have restored."
From June 17, Basic Instinct will receive a limited re-release in cinemas around Australia; the first opportunity for many viewers to experience it in high-definition as intended by the director. If you didn't find the film so boundary-pushing before, try seeing it on a big screen.