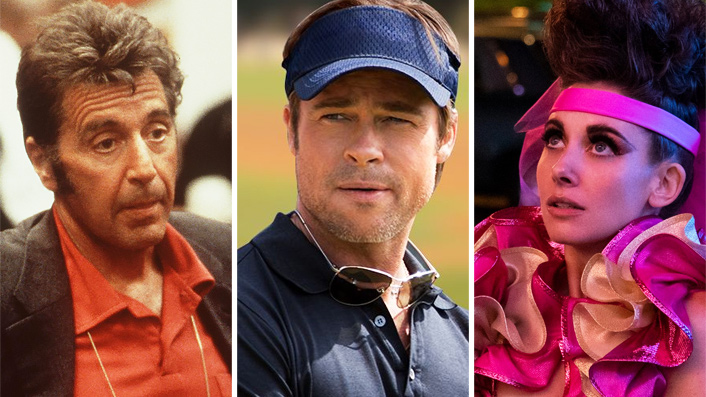 You've seen The Last Dance, now watch these other Netflix sports stories

---
The Chicago Bulls documentary The Last Dance isn't the only riveting sports production on Netflix. Critic Craig Mathieson picks a handful of others you should watch.
Currently unfurling on Netflix in Australia at a rate of two juicy episodes a week, The Last Dance is a riveting documentary series about the final 1998 season of Michael Jordan and the Chicago Bulls. The storylines are easy to grasp— there's a philosophical coach and a combative general manager—but the fraught dynamics on offer (hello Dennis Rodman!) transcends the sport.
See also
* Best new movies & TV series on Netflix
* All new streaming movies & series on Netflix
Not surprisingly, the sporting world has long been a backdrop favoured by storytellers, whether scripted or non-fiction. On Netflix you can find a winning selection of movies and series which prove that in the United States professional sports are rarely a game. Here are six films and TV shows that are very much worth your time.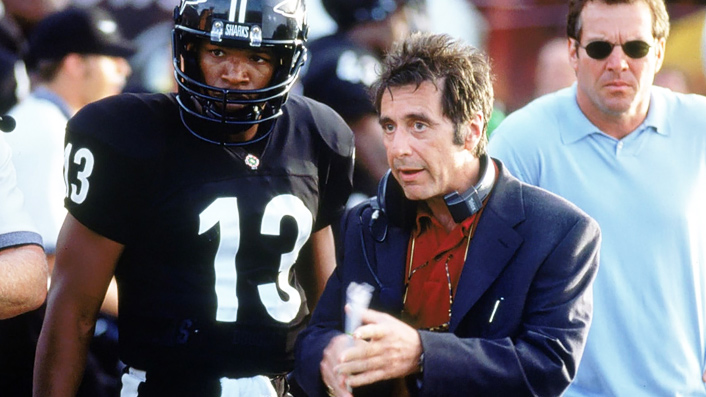 Where to watch
Oliver Stone's kaleidoscopic expose of American football is famous for the inspirational speech—delivered at half-time of a season defining game going badly—by Al Pacino, who plays Tony D'Amato, the ageing coach of the fictional Miami Sharks. It's a masterpiece of self-revelation and manipulation, and the fact that it's still widely referenced by professional athletes says something about the text's authenticity and their worldview.
The rest of the film, which has Cameron Diaz as the team's owner, Dennis Quaid and Jamie Foxx as the quarterbacks, and James Wood as the team's doctor (enjoy that bedside manner) bristles with energy and outrage. It shows us the human flaws of sports as a billion dollar business that we already knew, but the execution is that of a high-end soap opera.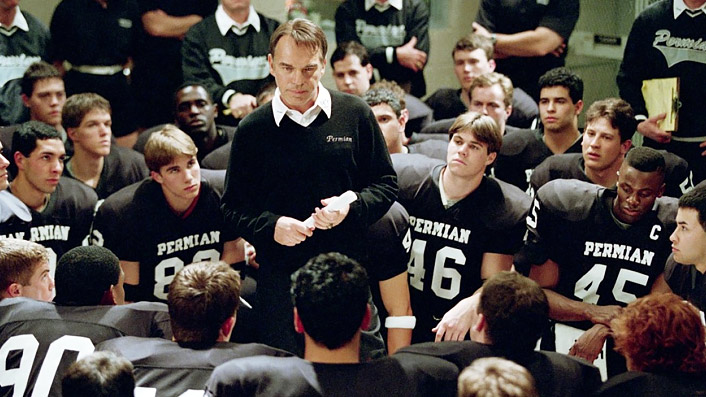 Where to watch
The film that inspired the beloved television series—and gave us ultimately misplaced hopes for Peter Berg's directing career—reveals anthropological detail as it explores a season of high school football in a west Texan town where 20,000 locals attend the games and the team's fortunes are barometers for every section of the otherwise divided community.
The expectations that are loaded onto the shoulders of these 17-year-olds are immense, and there are terrific performances from the likes of Garret Hedlund, Derek Luke, Jay Hernandez, and Lucas Black as teenagers with adult burdens. A meticulously focused Billy Bob Thornton plays their coach, with Connie Britton as his wife, a role she would carry into the television adaptation. Berg's restless technique finds a fierce durability in their stories.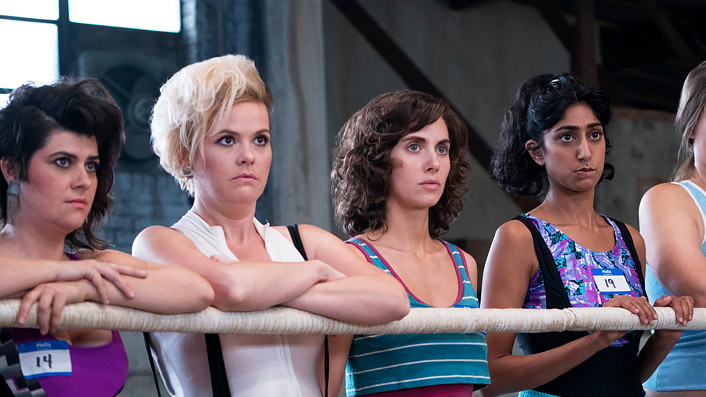 Glow (three seasons)
Where to watch
The Gorgeous Ladies of Wrestling, which is the foundation of this bittersweet and honest drama, may be more of a business than a sport, but the opportunities it offers to the "unconventional women" it eventually hires are genuine and life-changing. Liz Flahive and Carly Mensch's show is about gender in the workplace, the difficulties and rewards of female friendship, and the struggles to get a mere look at equality.
With Alison Brie and Betty Gilpin as former best friends turned adversaries forced to work together, the seasons are increasingly offbeat and affecting, with a memorably pithy supporting turn from Marc Maron as the company's embittered trainer.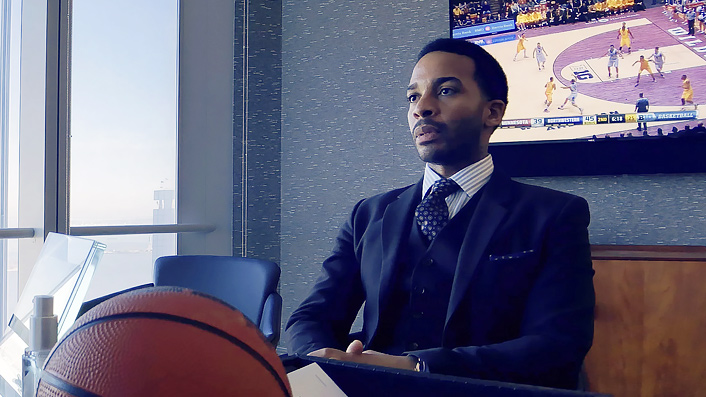 Where to watch
Leave it to Steven Soderbergh, that most inventive (and sometimes obstinate) of filmmakers, to make a movie about professional basketball where you never see a game actually taking place in a glitzy, jam-packed NBA arena. Shot by Soderbergh on an iPhone and penned by Moonlight co-writer Tarell Alvin McCraney, the plot unfolds during an NBA strike that pitches the predominantly black players against the wealthy white team owners.
In between them is agent Ray Burke (Andre Holland) and his assistant Sam (Atlanta's Zazie Beetz), who take to the commerce of professional sports with a rueful, philosophical bent that address the cultural implications of players uniting and the historical significance of being successful and black in America.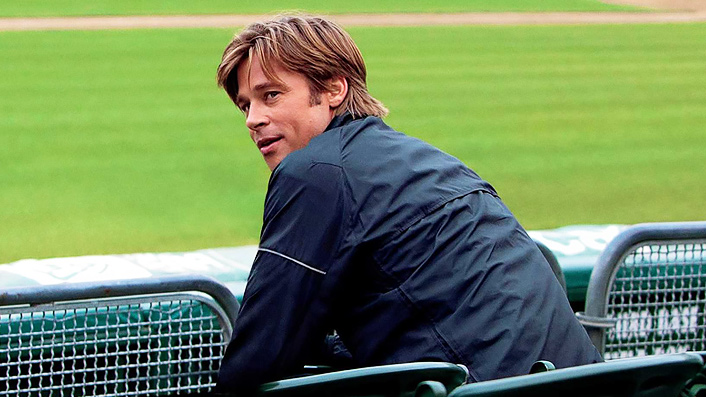 Where to watch
As a 2003 non-fiction best seller by Michael Leis, Moneyball was about the Oakland A's baseball team and their general manager, Billy Beane, who struggled to match wealthy rivals on limited resources. The book covered a lot of ground, both in the history of statistical analysis and the psychology of baseball.
While that remains in the screen version directed by Bennett Miller (Capote) from an adaptation by Steven Zaillian (Schindler's List) and Aaron Sorkin (The Social Network), the core of the movie is the simple question of how to understand what you're worth. The issue of value nags at Beane, played with previously unseen intensity by Brad Pitt, whether he's at the stadium or dealing with his young daughter. His frustration emerges in strange, silent interludes that carry acute psychological strength, as well as terse interactions with a young analyst played by Jonah Hill.
Where to watch
While somewhat flawed, this series set against the demanding backdrop of competitive figure skating boasts a committed lead performance from Kaya Scodelario (The Maze Runner) as Kat Baker, a promising young competitor fearful of returning to the ice due to serious injury and mental health issues.
With Mad Men's January Jones as the sports mother from hell, who derides Kat and then focuses on her promising younger sister, the comeback narrative is a mix of unending conflict and romantic possibility, as Kat finds herself paired up with the requisite bad boy, Justin (Evan Roderick). There are contemporary nods to the vulnerability of young female athletes alongside timeless melodrama, keeping Spinning Out in constant forward motion.