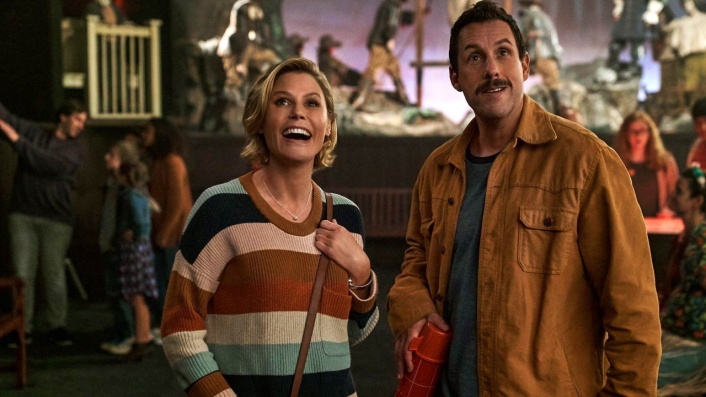 With Hubie Halloween, has Adam Sandler intentionally made the worst film of his career?

---
Last year Adam Sandler threatened to intentionally make a terrible movie if he didn't get an Oscar nomination for Uncut Gems. Could Netflix's upcoming Hubie Halloween be that movie?

The duality of man can be best summarised in the work of American comedy star Adam Sandler. He is at once a graduated SNL clown and a truly talented dramatic actor; a khaki pants-wearing purveyor of puerile PG-13 comedies and transformative performer who rightfully earned Oscar buzz for his performance in the Safdie brothers' turbulent Uncut Gems.
In fact, Sandler was so applauded for his role as Howard Ratner that his perceived lack of mainstream recognition come awards season was something of a controversy. Along with Lupita Nyong'o's first lead role (how – ??) in Us and Jennifer Lopez's swaggering bad girl turn in Hustlers, Sandler was held out as an example of the kinds of roles the Academy consistently fails to celebrate: performances in 'fun movies', in genres like comedy and horror; performances from actors considered lowbrow. And to be fair, Sandler is one of lowbrow's elder statesmen at this point.
See also
* Best new movies and TV series on Netflix Australia
* All new streaming movies & series
Regardless, his work in Uncut Gems deserved better. It at least deserved a nomination. And hell hath no fury like a Sandman scorned.
The morning after losing Best Actor to Adam Driver at the Gotham Awards, Sandler appeared on The Howard Stern Show and made a sinister promise that, if he failed to net Uncut Gems an Oscar nomination for Best Actor, he would next set out to make the worst film of his career.
The precise words used were: "If I don't get it, I'm going to f**king come back and do one again that is so bad on purpose, just to make you all pay."
Now, almost exactly nine months after going un-nominated and un-victorious at the 2020 Academy Awards, Sandler has birthed something unto us: the first trailer for Hubie Halloween, which lands on Netflix on October 7. Watching the trailer, one can't help but wonder: is this the intentionally awful film Sandler threatened us all with?
Some of the telltale signs are there. The film is the latest collaboration between Sandler's company Happy Madison and Netflix, a $275 million deal that has allegedly resulted in international viewers enjoying two billion hours worth of Happy Madison content. The Rotten Tomatoes scores for the films produced by this collaboration are uniformly green and gooey, with Western parody The Ridiculous 6 stooping to claim a coveted 0% rating.
Then there's Hubie himself, one of Sandler's near-mythical man-child characters. He's got a silly voice, a petty pet obsession like The Waterboy's Bobby Boucher, and his name is even pretty similar (Hubie Dubois, a half-hearted mangling of fellow spooky-lite detective Scooby Doo?). Its cast speckled with slumming ex-SNL stars, and Hubie's endlessly patient and sensible love interest is played by Julie Bowen, the same actress as Sandler's endlessly patient and sensible love interest in Happy Gilmore.
Adam no pic.twitter.com/aswnrAOy9a

— Jacob Oller (@JacobOller) September 8, 2020
Something about the familiarity and back-to-formula feel of Hubie Halloween does feel like a direct reaction to Uncut Gems. Oh, you think I'm too silly to win an Oscar for my transformative role as a ratbag hustler anti-hero? Sandler asks us, sneering. You think I'm a funny guy? Funny how? Funny like a clown?
But Hubie Halloween could never be an act of spite. Look at that supporting cast: I don't believe Sandler would be mischievous enough to strand veterans like Ray Liotta, Steve Buscemi and Kazaam himself Shaquille O'Neal in a wilfully terrible film. At most, the movie seems to be sweetly regressive and primarily family-friendly, reminding Sandler's adult fans of his willingness to pander to their pre-pubescent selves. Versions of ourselves who thought Sandler trying to beat up a man-sized penguin was the funniest shit we'd ever seen.
Sign up for Flicks updates
Despite Sandler's threat to purposefully inflict us with a film to rival Jack and Jill levels of toxicity, it seems highly unlikely that Hubie Halloween could be that film. It's too busy being other things; a family-friendly Halloween option, a way for Sandler to hang out with Kevin James, Kenan Thompson and Maya Rudolph. A low-effort way to make good on that deal with Netflix, even.
So we wait. We bolt the door, tell the children there's nothing out there to be worried about. Maybe we even tune in on October 7 to watch Hubie Halloween, now that we've decided it's mostly harmless. But we sleep with one eye open. For we know that Adam Sandler's worst movie ever, whatever infernal form it takes, is still out there, sitting in his head. Waiting to be begat.