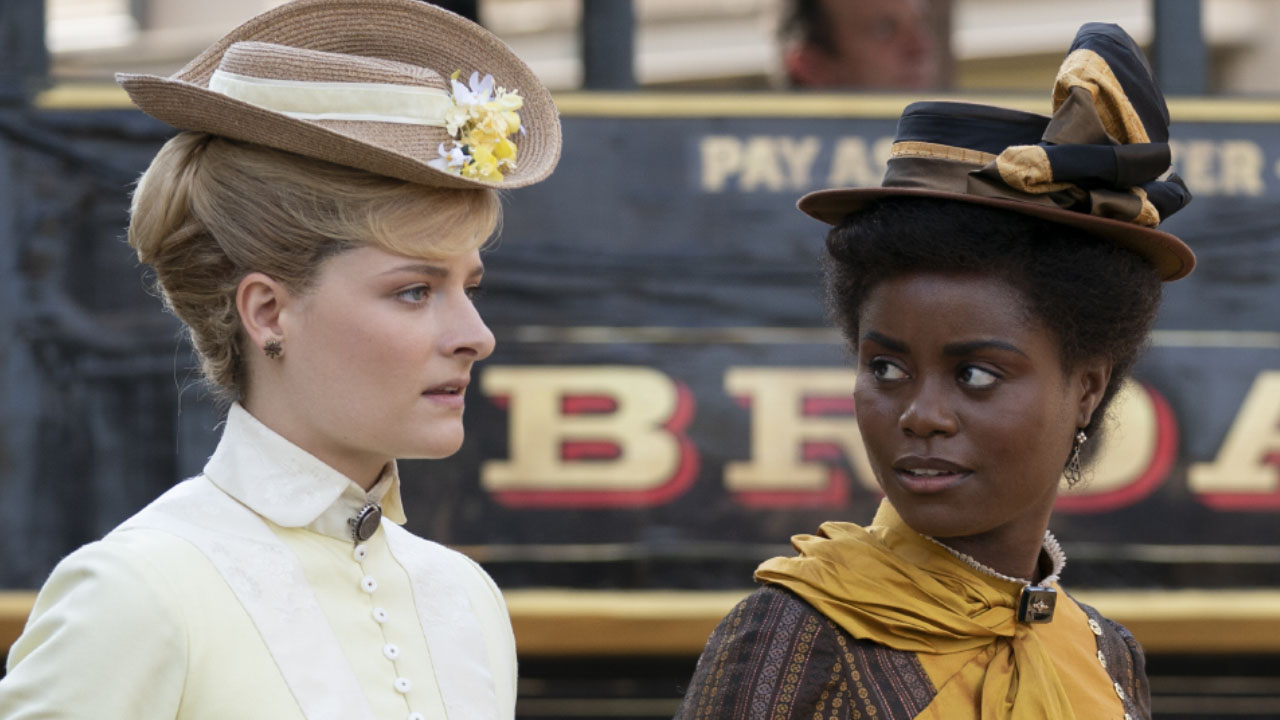 Wealth porn, dazzling sets and clashing characters make The Gilded Age great TV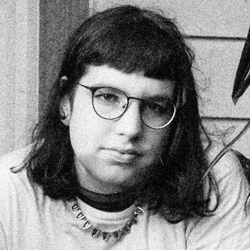 ---
The conflict between new money and old money in late 1800s New York is the beating heart of Julian Fellowes's The Gilded Age. The costumes are opulent, the sets dazzling, and the character dramas more than worth it, writes Amelia Berry.
Downton Abbey creator Julian Fellowes's glossy new HBO drama The Gilded Age is about two things, and two things only: money and drama. And after all, why shouldn't it be? With its rapid urbanisation, fiery battles over labour rights and suffrage, and massive wealth disparity, few periods in US history have been as rife with scandal, corruption, and socio-political upheaval as the late 1800s, the titular Gilded Age. And it makes for great TV.
As you might expect from Fellowes' previous work, the series looks absolutely gorgeous. The costumes are bursting with ruffles and ribbons, puffed out with waggling bustles and trains. The sheer opulence and glamour of the gowns manages to cut through any period stuffiness, effortlessly communicating who's chic, who's tacky, and who isn't even worth considering. We even get a pair of 19th-century sunnies worthy of Francis Ford Coppola's Bram Stoker's Dracula.
The sets are equally as dazzling, with much of the series filmed on location at mansions in Rhode Island and New York. The lush interiors show off a devoted attention to detail, and a keen-eyed viewer will be able to discern a lot about the denizens of The Gilded Age simply from whether their home is dripping with faux-French Napoleonic extravagance, stuffed with gaudy Victoriana, or adorned with lovely Arts and Crafts florals.
Fans of pretty much any arts or culture from the late 1800s are sure to feel rewarded, whether you're interested in a Louisa May Alcott namecheck, or you just want to see somebody really showing off their latest Degas masterpiece. Indeed, it's an appearance from the 1880s' paradigmatic socialite Ward McAllister (played with great glee by Nathan Lane) which delivers the show's thesis statement; "Oh but I don't want the facts, only the gossip."
The show's plot (and its gossip) follows Marian Brook (Louisa Jacobson in her screen debut) who is left penniless after the death of her father, and must move in with her wealthy aunts in New York, Agnes van Rhijn and Ada Brook (Christine Baranski and Cynthia Nixon in a perfect double act). The real juicy stuff is across the road though, with railroad magnate George Russell (Morgan Spector) and his wife Bertha (Carrie Coon) determined to navigate their way into old money high-society, no matter the cost.
This conflict between new money and old money is really the beating heart of The Gilded Age. Fellowes pits the genteel conventions of old nobility against the raw power of unbridled wealth, relishing in setting his characters against the byzantine laws of upper-class etiquette. By focusing on the thin edge between an old and a new conception of upper-class decorum, the show finds increasingly subtle ways to make its characters bristle.
Sign up for Flicks updates
Of course, we still get a touch of Downton Abbey's good old upstairs/downstairs conflict, along with more universal issues of race and sexuality, suicide and sexual assault. But from the perspective of the show, it all comes off as small potatoes next to the real blood-sport that is the upper class struggling to maintain their role at the top of the social order. After all, why care about manners when you've already got power?
And that's where the drama comes in. Saying that The Gilded Age is about Marian Brook, or even about her family, really undersells the actual scope of its story. With a fantastic ensemble cast, the show plays each character off each other in a kaleidoscopic exploration of its old money/new money central dynamism. While it takes its time to lovingly set up each character in the first two episodes, when they do finally get to clash, the sparks are more than worth it.
To give you just a taste of The Gilded Age's world: Peggy Scott (Denée Benton in one of the show's best performances) is an aspiring novelist, struggling against both society's expectations of what it means to be a black woman, and her well-to-do parents' fears for her future. Sylvia Chamberlain (Jeanne Tripplehorn) is a charming, elegant, and wealthy widow who is ostracized from high society because of rumours of a sordid past. The Russells' daughter Gladys (Taissa Farmiga) is a precocious young woman, kept miserably cloistered in her parents' palatial home until her mother can find a match 'worthy' of their wealth.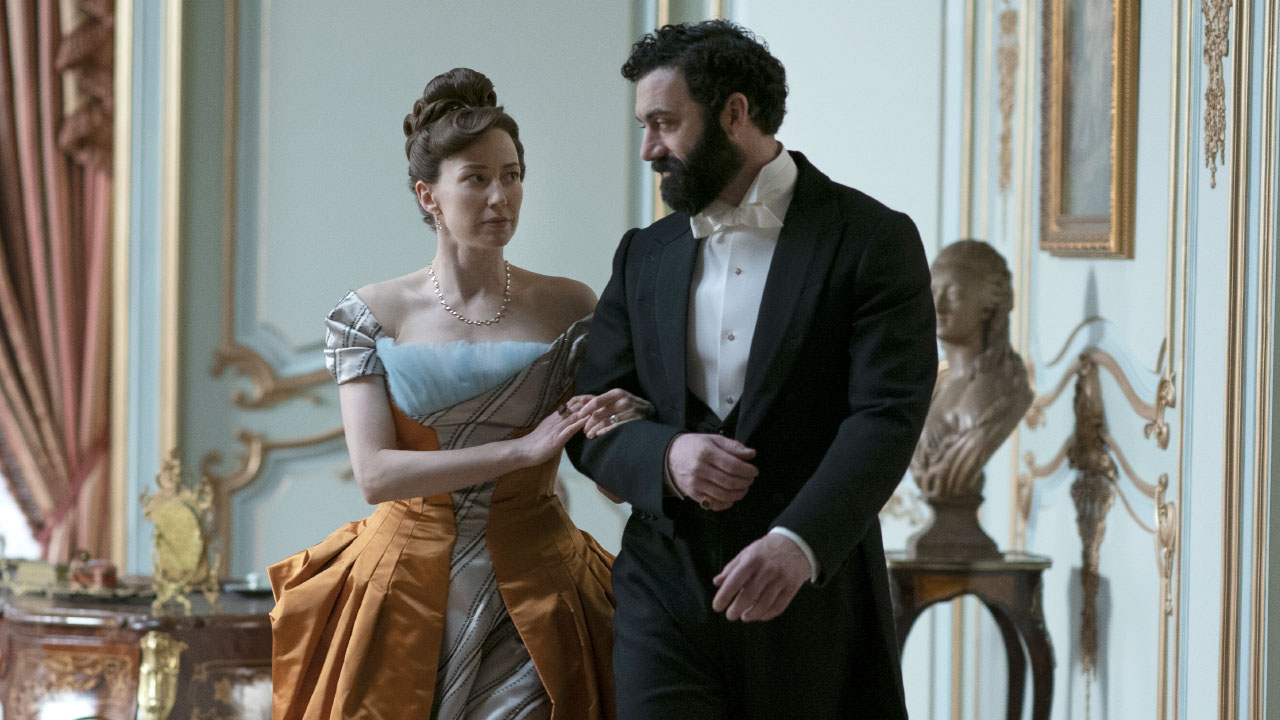 The show manages to strike a fine balance with its characters, each working as part of the intricate clockwork of salacious social intrigue, while never feeling like mere puppets of the plot. Because you care about them, you care about their slights, their hopes, their fiendish machinations. Fellowes has described The Gilded Age as "the fulfillment of a personal dream" and the show really does come across as a labour of love. At all but its darkest moments, The Gilded Age is overjoyed just to linger in the glamour and spectacle of its era, the characters savouring the opulent atmosphere, even the most difficult life finding itself elevated by atmospheric charm.
Of course, when Mark Twain and Charles Dudley Warner coined the term 'The Gilded Age', they weren't speaking quite so effusively, seeing the era as a pile of festering social problems, plastered over in a veneer of gold. But while there may not be much in terms of incisive political commentary within The Gilded Age, that seems rather far from the point. With brilliant and engaging characters, the juiciest drama you'll find this side of Love Island, and a pitch-perfect evocation of the 19th Century's mannered glamour, it's a perfect slice of period-drama juiciness. After all, who needs the facts, when you've got the gossip?