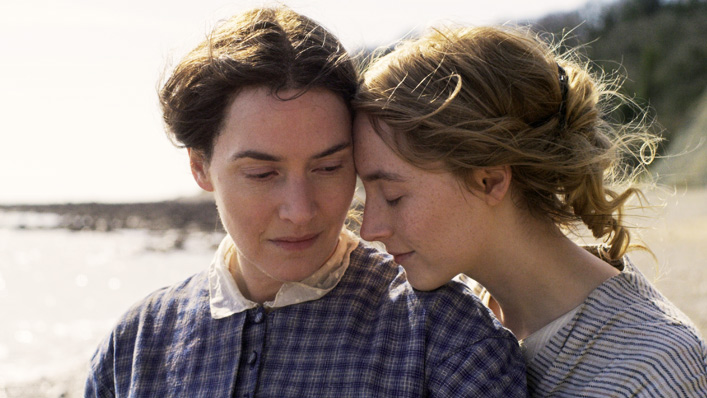 Ammonite is a solemn period romance that lacks energy and feeling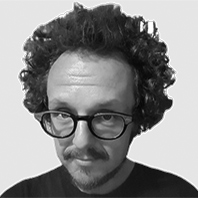 ---
Starring Saoirse Ronan and Kate Winslet, Ammonite (now in cinemas) is a restrained romantic film that feels self-conscious and joyless, writes critic Luke Buckmaster.

Saoirse Ronan is struck down by a severe case of melancholia in Ammonite—and the only hope she has of replenishing her spirits is to spend time with a paleontologist played by Kate Winslet. But Winslet's hardheaded character Mary—the examiner of fossils in question—is about as warm and welcoming as a slab of concrete in Antarctica. Sometimes equally as talkative. However the raison d'etre of writer/director Francis Lee's austere and slow-moving period drama is to show the two characters coming together, emotionally, literally and lustfully—which is hinted at in the key art and made explicit in the film's lip-locking violin-accompanied trailer.
See also
* All new movies in cinemas
* All new streaming movies & series
Ronan and Winslet are fine actors who deliver typically fine performances; the kind that have critics reaching for accolades such as "measured" and "restrained." These qualities also apply to the film itself: a story of lesbian love circa 1840s England, featuring coastal settings and a highly talented principal character (Mary) whose expertise is overlooked due to the patriarchy. This firmly positions Ammonite in the shadow of the recent and superb Portrait of a Lady on Fire, which is set on an island in Brittany in the late 18th century and unpacks the steamy relationship between an artist and her female subject.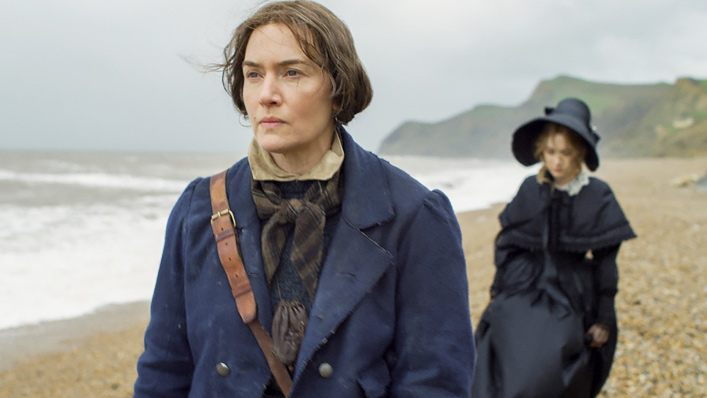 But Céline Sciamma's French masterpiece has an electrical current, an energy, a pulse and verve and vibe that zaps the subtext to life and powers all sorts of interesting achievements, including the difficult task of conveying the creative process of painting in unobvious ways. Not so for Ammonite, which comes across not just serious but self-conscious and joyless; even the sex scenes are mechanical. And while paleontology isn't as sexy as portraiture, Lee doesn't draw us into the profession or illustrate it in compelling ways—even when an obstinate Winslet is clutching desperately at the side of a cliff face, determined to get her fossil-finding game on, the wind a-howling and the waves of the sea rising and falling.
The morose mood of Ronan's character, Charlotte Murchison, seems to set the tone for everything—from the black funereal dress we first see her in to the faded textures of other costumes, the film's drab washed-out colour scheme, terse dialogue and matter-of-fact renderings of setting. When we observe Mary at work on a beach, scrubbing away at various different rocks and things, the coastline is far from picturesque—or if it is we have no way of knowing. The director resists long shots that might have established this location as a place of natural beauty, maintaining a boxed in feel to Stéphane Fontaine's cinematography despite an abundance of air and oxygen in the frame.
Charlotte's husband Roderick (James McArdle) wants, as he puts it, "my bright, funny, clever wife back," asking Mary whether Charlotte can tag along on an expedition to keep her stimulated. "I'm in no position to spend my time caring for an invalid" is the fossil collector's characteristically icy response, but we know things will warm up. And they bloody well better, I found myself thinking, because the mood is so dour; this solemness-suffused film feels stiff and sad. Even the waves on the beach seem joyless and duty-bound. There is a throughline here to one of the script's key emotions—loneliness—but it rarely feels illuminating.
At one point Winslet glumly says "I always look tired," and she might as well be talking about the film itself—which is interested in emotions primarily as forms of decay: things that will rot away if not preserved, like Mary's fossils. The story has a slightly rejuvenative aspect, which I won't go into in order to preserve what little surprises it has, but the entire picture is like Charlotte: quiet, solemn, repressed. Even eventual pockets of joy seem calibrated only so we understand what can be lost; what the world and the characters feel like when the joy is taken away.
For a long time the characters clearly don't enjoy talking to each other, which rubs off on the audience; we don't like listening. There is a finessed and handsome quality to Ammonite's overall aesthetic, complimented by the integration of other elements such as a Mary Volker Bertelmann and Dustin O'Halloran's carefully deployed and occasionally rousing score, "restraint" again being a key word. It is the sort of film that commands a certain kind of respect, related to its formalism and production values, but lacks emotional oomph—the feeling of watching that proverbial fossil come alive.