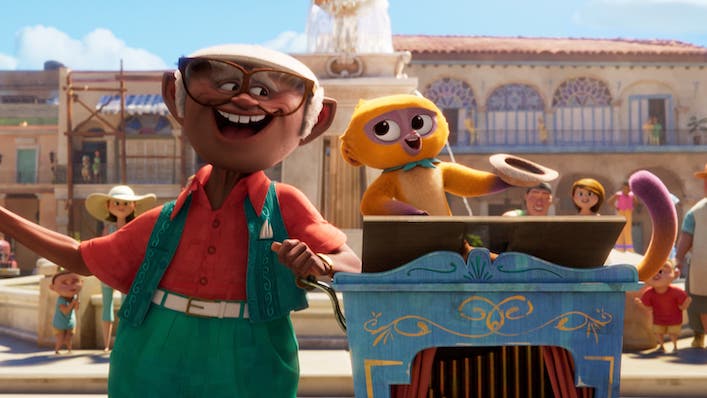 Vivo is a colourful Cuban love song, celebrating family and music itself in a major key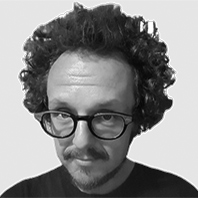 ---
With a mammal protagonist cute enough to move a mountain of merch, Vivo (on Netflix August 6) stands out with its messages about friendship, resilience and the power of music. Here's Luke Buckmaster's review.

The idea of playing 'one last song' pops up several times in director Kirk DeMicco's lovely animated musical: an emotionally rich, vibrant, charming film featuring songs by word-slingin' Hamilton creator Lin-Manuel Miranda, who also voices the main character. This 'last song' takes on a range of different meanings, from literal to metaphoric, comprising an actual musical performance and representing a moral imperative for the protagonist—a tropical rainforest mammal named Vivo.
See also:
* All new streaming movies & series
* Movies now playing in cinemas
A kinkajou, to be precise, which in the movie business simply means cute furry creature whose face looks good on lunch boxes and plush toys; this little dude can move merch. The audience hears and understands Vivo, but characters inside the narrative universe rely on his body language and (helpfully expressive) pantomime.
The opening jingle establishes camaradie between Vivo and his elderly 'owner', to use a word that feels crass given the deep relationship between them—reflecting a gap in vocabulary when it comes to defining human family members of animals ('father' sounds too much; 'friend' too little). He is the loveable Andrés (voice of Juan de Marcos González), a Cuban street musician with a goofy grin and spectacles half the size of his face.
Their knee-slapping act, working a street crowd for pesos in a town square in Havana, Cuba, continues a long history of jubilant musical numbers evoking a strong sense of place—from Little Shop of Horrors' Skid Row to Hairspray's "Good Morning Baltimore". Musical convention implies this location will be central but instead Andrés receives a letter from an old flame, Marta Sandoval (Gloria Estefan), who is now a jazz superstar, inviting him to her final concert in Miami. Andrés decides he will attend—hand delivering a very special love song he wrote for her a long time ago.
Alas: the chimes of fate ring a different note, and the old man dies while clutching the song in his hand. Grief-stricken Vivo has a moral impetus to deliver it and fulfil his companion's final wish. What a lovely, bittersweet premise; the protagonist motivated by something deeper than a desire for adventure or longing for 'the other', which often permeates these sorts of stories. The idea of completing a process interrupted by death recalls Soul, the Pixar movie about a jazz pianist who slips down a manhole before performing his dream gig, but I prefer Vivo. The premise resonates more because death is final—not a launchpad into a zany 'Great Beyond' (although Soul makes a memorable point in the end: about how ticking off boxes on a bucket list does not necessarily bring us any closer to fulfilment).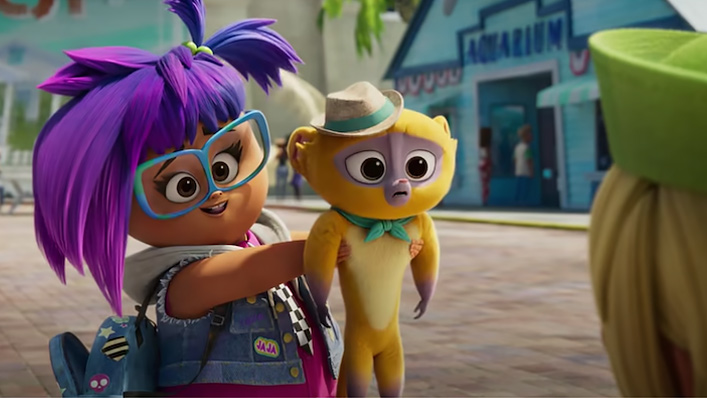 The loveable lil kinkajou grudgingly partners with an annoying girl, Andrés' grand-niece Gabi (Ynairaly Simo), who is skilfully drawn to become more likeable as the story progresses—simulating the process of getting to know her. The pair bumble through an escapade-filled journey narrative with the kind of pit stops and detours we have come to expect—including interactions with friends and foes, some comic relief and colourful set pieces.
It's derivative at times, but you never forget the reason for Vivo's journey; it gives the essence of the picture a big, swelling heart and a lingering warmth. The tone is upbeat, lively, zany—yet its moments of melancholia can take your breath away. They tend to involve characters misplacing or losing something—a companion, a precious object, even the life of a loved one. Loss is mourned, the fallout dealt with, and a plan made to keep going, making a point about resilience in the face of adversity—a great message for kids (or audiences of any age).
Animated movies have, built into their aesthetic, a nifty ability to alter a moment's visual makeup to reflect greater truth or a certain purpose. In one early scene, for example, Andrés elatedly sings about his chance to deliver his "note from the past," strumming an acoustic guitar that suddenly changes colour into bright electric blue. This transformation would fracture the realism of live-action, but here it's part of a glossy, surreal fabric, and indicates the scene's larger purpose: to stimulate and illustrate the old man's dream of meeting Marta again and finding closure, which we come to realise is associated with the colour blue.
Sign up for Flicks updates
Vivo detects this upcoming change before we do, grabbing the glowing guitar and throwing it in the fridge. But he's fighting the very form of the film. One by one the drums Andrés plays turn blue also. Then this rich colour streams in through the windows before the pair ride outside on giant piano keys arranged like a magic carpet, journeying towards a shared hallucination of the Mambo Cabana—the venue where Marta will perform her final gig—the animation now presented in a flatter, retro aesthetic.
This aesthetic combines old and new, acknowledging that this moment isn't based in the past (because Andrés' is old) nor the present (because Marta is young). Other scenes also change form to reflect content, for instance a stop-start rap from Gabi flavoured with garishly colourful backgrounds and hand drawn style images, reflecting a child's perspective. Some moments are much livelier and original than others—but the film is always smart and captivating, underpinned by a simple but affecting emotional trajectory.