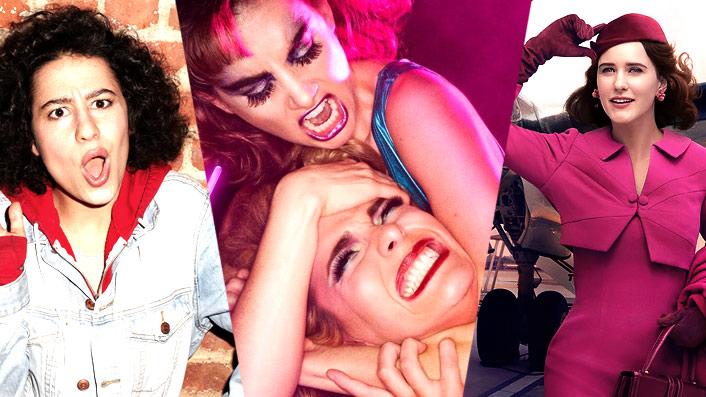 Top 5 shows to stream about female friendship

---
TV shows about female friends come in many forms. From period dramas to contemporary comedies, critic Craig Mathieson picks five of the best.

In the streaming age there are few limits to how female friendship can be represented. Deep empathy, seditious solidarity or riotous distraction can all be expressions of how women relate to each other, especially in environments where they've had to carve out their own space.
Female showrunners and determined stars have moved the bond between women to the foreground of the frame, as these five shows available to stream readily demonstrate.
Sign up for Flicks updates
A web series that blossomed into a hit show with an assist from Amy Poehler, Broad City was a buddy comedy for the 21st century. New York City was an extended playground, full of cultural scrapes and weird side missions, for best friends and roommates Ilana Wexler (Ilana Grazer) and Abbi Abrams (Abbi Jacobson).
Whether pursuing their interests – illustration for Abbi and marijuana for Ilana – or simply trying to wangle a decent air conditioner, the duo's energy was both supportive and transformative: episodes would take unexpected turns, matching the wild ideas that the characters would rally around. The show, which went out strong, had its own screwball aesthetic, whether it was note-perfect guest slots or an episode shot as Instagram stories, which always came back to the unbreakable bond between Abbi and Ilana.
Arriving in the succinct – never truncated – form of seven 12-minute episodes, this low-key but terrific Australian series is about a pair of best friends reunited in the midst of adversity and, you come to realise, protective self-delusion. Set in the suburbs of Brisbane, which become a doleful summer supporting character, the focus is Michelle (Michelle Law) and Chloe (Liv Hewson), a pair of 20somethings who worry that they're defined by illness.
The former has lost her hair due to alopecia, while the latter is recovering from breast cancer and a mastectomy. Their closeness allows not only for support, but also allowing for less. Michelle is happy to hide away even as Chloe wants to take on the world. Created by Law and Chloe Reeson, with sharp direction by Corrie Chen, Homecoming Queens is one of SBS's best local drama commissions.
Watching Homecoming Queens on SBS on Demand
The hair is big and the stage costumes garish in this ongoing comic-drama, which is set amidst a start-up women's wrestling league staged for television in sunny, sexist 1985 Los Angeles. But the acknowledgements and endorsements between the female employees are understated and enduring. The central, complicated relationship is between former friends Ruth Wilder (Alison Brie) and Debbie Eagan (Betty Gilpin). Ruth had an affair with Debbie's husband, a decision pitched between self-destruction and jealous yearning, which Debbie learns of in the first episode.
The narrative isn't afraid to let their difficulties stretch out, foregoing a quick and simple resolution. That intricacy, hidden beneath scabrous laughs and weird circumstances, is integral to this Netflix series.
Now a Netflix staple, having been developed under the radar as a niche title, this half hour comedy is a showcase for its esteemed stars: Jane Fonda and Lily Tomlin. They respectively play the titular Grace and Frankie, long-time friends through their husbands – played by Martin Sheen and Sam Waterston – who are thrown together when the two men reveal that they're both leaving their wives, to be together after a covert two decades long affair.
With Fonda as an imperious force of nature and Tomlin as an idiosyncratic bomb-thrower, the duo are initially shocked but soon unstoppable. The show says that nothing is set in life, for good and occasionally bad. As housemates, start-up business partners (vibrators for the mature woman) and confidantes, both Grace and Frankie redefine their boundaries together.
Watch Grace and Frankie on Netflix
Stocked with period detail that verge on the dreamily excessive, and fond of choreographed production numbers, there's no shortage of attention-grabbing elements in this comic-drama. It s about a prim and newly separated Manhattan housewife, Miriam 'Midge' Maisel (Rachel Brosnahan), who discovers she's a naturally gifted stand-up comic. But the core of this melodramatic show, created by Gilmore Girls architect Amy Sherman-Palladino, is the partnership, forged in commercial need and steadily evolved, between Midge and her manager Susie Myerson (Alex Borstein), who like her client is a neophyte in a male-dominated industry.
The back and forth between the two women is quick-witted and warm-hearted. They each know when the other has to be told the truth, even if their respective approaches in delivering it can be eye-opening.